Other Links
Editorial Board
Editor - Bill Kenny
Assistant Webmaster - Stan Metzger

Founder - Len Mullenger
Google Site Search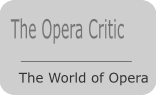 SEEN AND HEARD BBC PROMENADE CONCERT REVIEW
Prom 5 – Wagner, Mendelssohn, Gunther Schuller, and Strauss: Viviane Hagner (violin), WDR Symphony Orchestra, Cologne, Semyon Bychkov (conductor). Royal Albert Hall, London, 20.7.2010 (MB)
Wagner – Lohengrin: Prelude to Act One
Mendelssohn – Violin Concerto in E minor, op.64
Gunther Schuller – Where the Word Ends (United Kingdom premiere)
Strauss – Eine Alpensinfonie, op.64
If this concert proved a little mixed in quality, that was in no way the fault of either the fine WDR Symphony Orchestra, Cologne, or its outgoing – outgone? – Chief Conductor, Semyon Bychkov. The Prelude to Act One of Lohengrin kindled in its burnished glow memories of Bychkov conducting the complete opera at Covent Garden last season. Wagner's unendliche Melodie was to the fore, even before the letter. The orchestra's silken strings ensured æthereal beauty, whilst Bychkov guided the music's progress with a sure hand. Even a barrage of coughing and, immediately in front of me, mobile telephone usage could not entirely obscure the performance.
The problem arose when Viviane Hagner arrived on stage for the Mendelssohn Violin Concerto. I had heard Hagner once before, at the Proms in 2007; whilst underwhelmed, I had given her the benefit of the doubt in the Beethoven concerto on account of so lacklustre a contribution from the podium. Here, I am afraid, there was no one else to blame, for her constricted tone and tight vibrato, unrelieved throughout, contrasted so starkly, and not in a creative fashion, with the warmth of the WDR SO's strings and its enchanted woodwind. If only a Mendelssohn symphony or the Midsummer Night's Dream music had been on the programme instead… At best, this was a merely efficient rendition, with no sense of any meaning lying behind the notes, no soul. Hagner sounded as if she would have been happier playing Paganini or Vieuxtemps, especially when she engaged in self-conscious, quite inappropriately virtuosic antics during the finale. Sometimes, arbitrary fussiness of phrasing intruded, once again in stark contrast with Bychkov's handling of the orchestral ebb and flow. All the while, that tight, unremitting vibrato would not let one go. It was like hearing a Schubert Liederabend from a mechanical soubrette.
The final item in the third half could hardly have been more different: the United Kingdom premiere of Gunther Schuller's Where the World Ends. Written for the 125th anniversary of the Boston Symphony Orchestra in 2006, it was eventually performed, after the necessary extra rehearsals, in 2009 under James Levine. Though I was not entirely convinced by the piece – the fault, upon a single hearing, may well, I own, be entirely mine – this is just the sort of thing the BBC should be supporting. We are not exactly overburdened with performances of New England modernism in this country; sadly, orchestras or at least orchestral managers prefer to foist crowd-pleasing Adams or excruciating Glass upon us rather than take a chance with Babbitt. Schuller is a figure more difficult to pin down: as Calum Macdonald's programme's note put it, 'he has absorbed many different musical tendencies (post-Schoenbergian serialism, Stravinskian orchestration, the combinatorial thinking of Milton Babbitt, big-band jazz, electronic music and popular commercial ballad style, all of these sometimes seriously and sometimes in parody) in a remarkably undoctrinaire way, calling on whatever means he has thought appropriate for the matter in hand.' One could certainly hear a few of those tendencies in Where the World Ends, so titled, according to the composer, because music takes over where words can no longer express. In essence, one might speak of a concerto for orchestra: Schuller, himself a conductor, clearly has an expert ear for orchestral sound. One of the most absorbing sounds was at the very opening, when we seemed to hear a primaeval string becoming, extremely finely played by the WDR SO strings; it was fun to hear a Fafner-like tuba towards the end too. Trombone slides and muted trumpets would evoke the world of jazz, whilst the ghost of Stravinsky hovered over the repeated-note figures of the final Allegro vivace section. Leader, Slava Chestiglasov performed his solo in the trio of the third (of four) section ravishingly, so much better than Hagner in the Mendelssohn! The second, Adagio section, however opened in a fashion startlingly – doubtless unintentionally – reminiscent of the Khatchaturian Adagio of Spartacus and Phrygia. This set the tone for the neo-Romanticism – born, it would seem from Schuller's 'magic row', in which groupings of three adjacent pitch classes form tonal triads – of that section, which seemed a little too eclectic, incongruous even. Bychkov and his orchestra played with commitment throughout; they will surely have won the composer converts.
The second half of the concert was given over to the work I had most wanted to hear: Strauss's Alpine Symphony. Though there were many instrumental beauties en route, Bychkov's account was uncompromisingly symphonic, to the extent that occasionally, for instance as we passed the waterfall, I should have been happy to linger a little longer. He was doubtless right: the last thing this work needs, given the continued existence of nay-sayers, is a sprawling performance. The night from which the tone poem emerges was full of expectancy, which even a very noisy audience, or section thereof, could not quite obliterate. Key to this was a wonderfully clear, Rheingold-like bass line: Richard the Third indeed. If I found the sunrise slightly precipitate, there was clearly symphonic method to Bychkov's approach; the ascent was also no dawdle, but it was heroic, in a Heldenleben-like, even Beethovenian, way – all to the good. And the heft of the WDR SO string section – larger, it should be noted, than the paltry BBC forces for the Proms opener, Mahler's Eighth Symphony! – was both welcome and necessary, here and at the glorious summit itself. As I regretted the brevity of the mountain-side apparition, I appreciated its symphonic necessity: Bychkov's musical instinct was absolutely right not to linger over Strauss's phantasmagorical delights. We were lost in the thickets, but this was a conductor who knew how to put us on our way. I should not, however, mean to imply that there was no sense of Nature, far from it: here, in contrast to Mahler, a cowbell is just a cowbell. And how evocative those Alpine bells sounded! Within formal bounds, that is. Brass proved resplendent in the face of the glacier, whilst Manuel Bilz's solo oboe, Lothar Koch-like, provided a true sense of human frailty: faltering, but ever so musically. Upon the descent, Bychkov impressed upon us the battle between the physical and metaphysical Strauss thought he had settled – but this tone poem tells us otherwise. The rising mists and obscuring of the sun were properly ambiguous: are they just that, or is there something more? One can revel in Strauss's orchestration, and the orchestra did, but there was purpose here too, even if one cannot quite define it. Roderick Shaw sounded tremendous on the organ – what a work out it has been receiving during the opening Proms! – but the WDR SO brass were at least equally so, quite magnificent. Likewise the unsettling, even slightly nauseating strings, with their Frau ohne Schatten harmonies. I am not entirely sure that Strauss's storm evades melodrama, but Bychkov's no-nonsense way with it paid dividends. More importantly, the epilogue sang a noble tune indeed, the final horn calls moving this listener to tears. What a pity, then, that premature applause killed the mood before Bychkov had even dropped his arms. A little consideration would go a long way.
Mark Berry