Other Links
Editorial Board
UK

Editor

s

- John Quinn and Roger Jones

Editors for The Americas - Bruce Hodges and Jonathan Spencer Jones

European Editors - Bettina Mara and Jens F Laurson

Consulting Editor - Bill Kenny

Assistant Webmaster -Stan Metzger

Founder - Len Mullenger
Google Site Search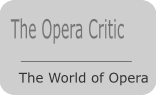 Peter Hope's 80th Birthday:
an interview with Bob Briggs (BB)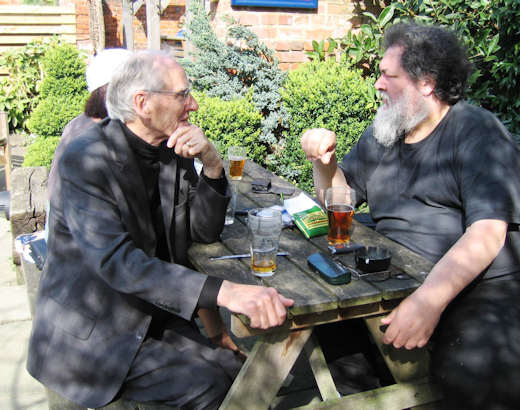 Peter Hope (L) with Bob Briggs. Picture © Melinda Bridges-Briggs
The composer Peter Hope will celebrate his 80th birthday on 2nd November. Born in Edgeley, Stockport, his father and aunt (father's sister) owned a ladies and children's outfitters shop, which traded under the name of "Clarkes", in Castle Street. The family shop itself was demolished to make way for the roundabout by the Armoury. Peter's father died in 1935, and his mother had, of necessity, to take over his place in the shop, which she continued to run in partnership with her sister-in-law. In the 1970s she moved to Wareham in Dorset, not too far from Peter's present home. This was Peter's happy introduction to the area where he now lives, and in his cottage he has the peace and quiet which allows him the space to compose.
He came to the public's attention with a series of light orchestral works such as the The Ring of Kerry Suite (1961), the Four French Dances (1968) and the brilliant orchestral showpiece Kaleidoscope (1970), as well as his many arrangements, many for the BBC Concert Orchestra, such as the Mexican Hat Dance. Spending much of his time making arrangements of popular and folk music, as well as working on original compositions, Peter's is a story of a jobbing musician, one who had earned his daily crust writing to entertain and delight. Since the 1990s he has turned to more serious compositions and created a growing body of chamber and orchestral pieces, including two very imposing cantatas for chorus and orchestra – The Song of Solomon and Along the Shore.
I met Peter, with his wife, the poet Pamela Zinnemann, who joined our chat occasionally, at the Sun Inn, in Faversham, before John Turner and the Oare String Orchestra, under their conductor Peter Aviss, gave his Recorder Concerto and the world première of his Geordie Tunes at the Alexander Centre on 24 April 2010. Over a couple of pints of Shepherd Neame's best, Peter talked about his life and work.
We started at the very beginning with a question which always fascinates me about composers – did Peter discover music or did music discover him?
I was a very late starter. I must have been about 12 or 13, I was in the senior school, and I heard Schubert's Unfinished and the Warsaw Concerto. Two very different works! And I thought, "Oooh! That's rather nice! I want to do something about music." We didn't have a piano at home, I hadn't learned an instrument, and I got very enthused about it, and I said that I wanted to learn the piano. My mother decided that it was going to be like my interest in fretwork and lots of other things which lasted about a month and then died a death! But she said. "Oh, we haven't got a piano, so you'll have to go to your Granddad's house," which was a quarter of an hour's cycle ride from where we lived, to play the piano. So I did this. I was extraordinarily fortunate that I had a piano teacher called Dora Gilson who came in to my school and she taught at what was then the Royal Manchester College of Music – now, of course, the Royal Northern College of Music. She was a wonderful and inspiring woman. And I fell in love with her because she was sort of flamboyant and wore beautiful clothes. We're talking about 1942 or 1943, the war was still on and everything was very dour. School was very drab. It must have been a very difficult time for everyone with so many being away at war. Dora was wonderful and I had these piano lessons and I seemed to get on very quickly and soon found that I wanted to make up my own music. I was improvising and that was how I got on .
At this point Pam added: Your stepfather told us about a neighbour saying "you'd better get that lad o'thine a piano. He sits in the bus scribbling notes on the back of tickets!"
Yes, composition seemed to come naturally to me, once I started, though where it came from I don't know! I just found that I liked making up my own music. Even while I was at school I was writing my own things but nothing very marvellous. I wrote a solo piano piece, and a so–called Concerto for piano and school orchestra which was a wonderful combination of the Grieg, Rachmaninov 2nd [Piano Concerto], the Warsaw Concerto, you name it, I cribbed everything relentlessly! Of course I was wonderful! And then I went to Manchester University and the Royal Manchester College.

Of course, as soon as I got to college, I realised that I wasn't God's gift to music, but there were quite a few others who were! I realised that I should have started years ago because there were people like John Ogdon (1937 – 1989), who was even younger than me!, playing Balakirev's Islamey and so on. And I thought, "Oh my God, I'll never be able to do that!" It seemed that most of the people I now knew had all started at 4!
I studied composition with [Humphrey] Procter-Gregg (1895 – 1980), who was Professor of Music at Manchester. He was very old fashioned. He just about got as far as Delius, but nothing beyond that. Fortunately, when I started college, in the same year a chap called Maurice Aitchison started there. He was a fine pianist and he'd just come from Cambridge. He introduced me, and a few other people, to more interesting composers. At least we got as far as Hindemith! OK, it wasn't exactly the cutting edge that Birtwistle, Max and Goehr, who are only a few years younger than me, blazed forth from the Second Viennese School.
Whilst I was a student I wrote a Trumpet Concerto which Gary [Elgar] Howarth played. It was then played by the Halle's principal trumpet, William Lang, with what was then the BBC Northern Orchestra, and it was broadcast. My exam piece was a Divertimento for flute and string trio. Actually, it was quite a good piece! I am not ashamed of that! That was my start!
As soon as I'd finished my degree four years, I went down to London and worked in Mills Music with Ernest Tomlinson. I started as the lowest of the low, as a copyist. Obviously in those days we didn't have computers, and everything had to be hand written. So there I was copying out Ernest's scores, and other people's scores. I learned so much! I worked there for nearly two years, and then I went freelance. Fortunately, at that time the BBC was looking for new arrangers, and it set up a few sessions, purely experimental, and got people to do a couple of arrangements and the people in charge would see what came of it. Ernest very kindly suggested my name. One of my arrangements was of a tune called Flamingo [a 1941 jazz standard written by Ted Grouya and Edmund Anderson]. It wasn't written for a huge orchestra, just strings and winds, and they liked it very much. And immediately I was hired to do arrangements for the [BBC] Concert Orchestra. I did arrangements of things like Marching Through Georgia and Mexican Hat Dance and some of them are still played now.
While I was doing the arranging I realised that I could also be writing stuff and that was when I started. We're talking mid 50s. One of my first things was the Momentum Suite for strings (recorded by the Northern Sinfonia, conducted by David Lloyd–Jones in English String Miniatures Volume 4 (Naxos 8.555070) coupled with music by Frank Bridge, Adam Carse, Delius, Holst, Paul Lewis and Ernest Tomlinson). The Ring of Kerry Suite came fairly soon after. At the same time I was writing lots of Library Music – most of which is safely hidden and dead! Best forgotten.
At this point Pam added: He did it for so long and then he got bored with it.
I did all that and, obviously, for many years I had lots of success. And I was doing arranging and getting things played on the radio. Almost every day. There were a lot of Light Music Orchestras around at the time. That was financially very good, but towards the end of that, things weren't working out in my marriage and I had to leave. I didn't work for two years. I had enough money coming in from royalties and by that time I had the News Tune – the BBC TV News theme music. It lasted for twelve years!
But then I needed to find myself and, eventually, in 1971, I met Pam. We obviously realized that we wanted to spend some time together, which we have! I had a big house in Muswell Hill, which I gave to my first wife. She was looking after the children, although I was seeing a lot of them. And we had to buy a house and suddenly I thought, "Gosh! I've got to earn some money!" By this time light music had pretty well died. The BBC said to the public, "Well, you don't really want any more of this rubbish", it's too easy for them, the powers that be. They say, "Oh, light music, it must be rubbish". They used to totally ignore film music, but they don't now! I think that in the end people do want tunes. There's always a lot of kudos in things that are very difficult because you [the listener] can say, "Well, I'm a little bit special because I like this sort of music." And promoters tend to go along with the 'in' names of the time.
So when light music stopped, because I had a wife and children, I had to go on making a living and I had to ring round a few producers and say, "Do you remember me? Peter Hope?" "Oh, yes," they said, "I think we do." "Well, I needed some work!" And I started arranging again. I got a lot of work, from the BBC, with Moira Anderson, then I did a lot of work in Holland, Germany and Spain. I'm quite famous in Spain as an arranger. So they tell me.
PAM: But you've got two identities in Spain.
Yes, because I worked with [José] Carreras. I've done lots of things with operatic singers who wanted to do crossover stuff. But also I worked for a chap called Nacho Cano, who's the Spanish equivalent of Paul McCartney, and he was part of a group called Mecano. He rang me up and he wanted me to do some work and I was busy at the time and I said, "Oh, I can't". I had no idea who they were. I think he was so impressed because he's a multi-millionaire and nobody had ever said "no" to him! About a month later I got another phone call and he said he wanted to meet me in about a month's time. So I said OK and he said that they would all come to London. I rather liked this Nacho chap! He played me some of his things and said that he wanted to do a solo instrumental album. His work was not without interest, but I couldn't make very much of it. So I asked him what he wanted and he said, "Well, I'm working at the moment in New York. Do you think you could pop over for a week and we could talk about it." So I said, if you get the tickets, arrange an hotel and give us some spending money that's fine. He said, "Well, I've got an apartment in the same block where I'm staying. Would that be as good as an hotel room?" He promised to send the tickets and when they came they were for Concorde. I thought, "I'm in a slightly different league here!"
I went over and had a lovely week in New York. We talked for about 30 minutes each day. He had a chauffeur who took me wherever I wanted to go. We had meals together. It was just incredible. I couldn't believe what I'd hit on! Eventually we did the album, and all I had to do was the bloody strings! On top of his [here Peter does a vocal impression of the kind of music he was accompanying] stuff. It was a nice album.
At the time he was with Penelope Cruz, and she was 20, looking about 12! They came over and she said, "I want to see where Peter lives." We had a dog in those days. A lovely Labrador called Sally and when she died we said, "She had a good life. She met Penelope Cruz!" I did lots of things with him. Lots of CDs. Mainly just putting strings on. But then he was asked to do the music for the Madrid Olympic Bid. He wrote a tune of about twelve bars, an excellent tune for the purpose but it doesn't last very long. He said "could you make a 15 minute piece out of it?" So I did! He wanted two other versions of it - one a more "poppy" version – and when we recorded my orchestral version, in Abbey Road, he was thrilled with it. It was a knockout.
After that he was asked to write a tribute piece, more a celebration, for the engagement of the Crown Prince of Spain. He wrote a very appropriate melody and I made a ten minute piece out of it. I went to the event and I was presented to Royalty! The Spanish Royalty, in my suit and tie! I looked very smart!
And I learned so much from doing all these totally different musical things. I had a very interesting time as an arranger. I did Carreras, Kiri [te Kanawa] and Jessye Norman. Jessye had some of those strange things that the big stars have. When she appeared at the [Royal] Festival Hall there could be nobody else in any of the dressing rooms on the whole of that side. But I had a lot of fun and I worked with a lot of very orchestras and I learned a lot.
PAM: All musicians say how much they like playing your work.
I'm not going to go down in history as one of the great composers but I've got plenty [of work] to show for my labours and I'm not ashamed of it. Good craftsman- like work.
I pointed out to Peter that his work was more than merely 'craftsman-like.'
Well, I hope so. People enjoy tunes, of course, and that's why people enjoy my music. I get a very good reception. One of the things that I think about is that in my lifetime the standard of orchestral playing has changed. It's just unbelievable these days. Partly it's because the instruments have been improved as have things that used to be thought of as unplayable
So I did all the arranging, from 1970 to 1990, because I had to. But there didn't seem any space for me to compose. Nobody wanted light music. I wanted to write some serious pieces but I couldn't see any openings.
This was something which interested me, so I asked Peter if he'd ever had the urge, or felt the necessity to write something like a Symphony or Violin Concerto even if there wasn't a commission.


This really started towards the end of the '90s. I got this feeling that I wanted to write, but I didn't know what I wanted to write. I had my first idea for my first piece, in what I call the late spring of my work, as it were. And I thought that as I'd got a small pension, we'd just paid off the mortgage, and we could just about make do, I said "I want to wriote my own music again." So I wrote a Bassoon Concertino [published by Emerson Edition and recorded by Graham Salvage with the Royal Ballet Sinfonia conducted by Gavin Sutherland and, in his own work, by Arthur Butterworth in a programme of English Bassoon Concertos and coupled with Eric Fogg's Concerto, John Addison's Concertino and Arthur Butterworth's Summer Music on ASV CD WHL 2132) and that's getting played. I must confess that part of my thinking was that there wasn't much bassoon music around! A lot of young people like it. It's been done in American and recently a young chap in Vienna has said he wants to do it. I think that I'm probably better known everywhere else, except in this country!


The bassoon needs repertoire and I think it's a well crafted piece, with melodic interest. It's not quite light music, it's sort of moved on. It's obviously not what a lot of people would think of as contemporary music, because that tends to be either on the 12 tone side or the minimalist side. And it doesn't fall into those categories because I use harmonies [which people can understand and relate to], so there's nothing new in that sense. But I tried to make it interesting.


One of the things I wanted to do was a slightly jazzy bit, which in fact comes in the second movement, with a vibraphone joining the bassoon over a walking bass. After I thought of that I had one or two ideas for the first movement and I wrote it. I'd been in touch with Philip Lane, who'd been recording some of my earlier pieces and mentioned it to him and he said that he knew someone who wanted to do a new bassoon piece. Philip sent it to Graham Salvage, and he wanted to do it. This was great because in the middle of having some of my old pieces re–recorded, here was something new of my own. And that was the start of it.


Following that, because Graham's a northerner he knows John Turner and one day I got a phone call from John saying, "Can you write something for recorder and guitar?" And I wrote the Bramall Hall Dances, which has been done in various guises (there are versions for recorder and piano and recorder cello and harpsichord) and John does them from time to time. And I also wrote a Divertimento for guitar and string trio, which a local guitarist played quite a few times. Eventually Craig Ogden recorded it (Songs and Chamber Music, Dutton Epoch CDLX 7192 a fascinating disk which also includes the Serenade for String Trio, Bramall Hall Dances, Four Sketches for Oboe Bassoon and Piano and A Herrick Garland for countertenor with James Bowman, Craig Ogden, Stephane Rancourt, Graham Salvage, David Francis, Peter Lawson and the Manchester Camerata Ensemble) and that disk represents my best work from the last ten years. They're much more serious works than lovely old Ring of Kerry, bless its heart. I'm not ashamed of it, but it's from a past era as far as I'm concerned.


Shortly after writing the Bramhall Dances, I wrote the Recorder Concerto for John's birthday. He was very pleased that I'd written a piece for him and he did it loads of times, and then the opportunity came to record it (Dutton Epoch, CDLX 7154 in a collection called British Recorder Concertos, coupled with works by David Beck, David Dubery, David Ellis, Hans Gàl and Ian Parrott, with John Turner and the Camerata Ensemble, conducted by Philip McKenzie). And I use all the recorders.


John Turner told me that he is convinced that Peter wrote the piece after hearing him play the bass recorder, whose mellifluous tones are exploited in the slow movement of the Concerto.
It's gone on from there. I wrote two pieces for a local choral society – the Dorchester Choral Society (a setting of the Song of Solomon and a nocturne called Along the Shore). There's some nice moments in them, and some not so nice moments! (much laughter followed this statement). Along the Shore has a jazzy bit, you see, the old Hope still springs eternal! It's just the way I grew up. I played in a band, when I was about 14, but I was never really a professional performer.


The Geordie Tunes, which we're going to hear tonight, came about when I thought I was writing some simple recorder music, which I thought would sell. I sent the piece to John and he said "It's not too easy. Some of it is very tricky! But anyway, it's very nice and I'll play it." Tonight is the first performance of the piece with strings. John's done it with both piano and harpsichord.


So we arrive at the Sun Inn in Faversham a few hours from the premiere of a new piece, and, I wondered, what's on the cards for the future?


Well, I thought that I'd like to write a String Quartet. All pretentious stuff, you know! I've made a start but I'm not sure how good it is. We'll see. And I've got a little commission. Stockport Fair is having its 750th anniversary and John is organizing a concert and he found a funny old piece, a poem about the bells in the Church Tower being taken down. It's a celebration for that and I'm writing a piece for small choir and piano. Those are the two that are definite.
I'd love to do an opera for young people. A comic opera. I'd love to do that, but I don't know what it might, or could, be. I need to find something, or find someone who could do [a libretto].
But basically, I just enjoy writing music, it's what I do, I don't feel quite right if I don't do it. I get up in the morning and it's what I do! I've worked to dates for such a lot of my life, that now I'm working to my timescale. I've enjoyed my life in music enormously, and that's what I say to my children; "I shall be sorry to go but I want you all to know that I've had a really good life!" And when I think back, at school, when I said that I wanted to go and do music, they said, "Oh, music's a hobby, Peter, and you're quite good at history, you could be a history teacher! Or an English teacher, your English isn't bad!" I feel very fortunate
.
And we feel very fortunate for having Peter's wonderful music. I know that whatever Peter writes next it will be music of the very highest quality and will please and entertain. I, honestly, can't think of a better reason for writing music. And neither can Peter Hope. I wish him the very best for his 80th birthday, and for many more to come, years which will, I am sure, be filled with glorious music making.


© Bob Briggs



Back to Top Cumulative Index Page