Other Links
Editorial Board
Editor - Bill Kenny
Assistant Webmaster - Stan Metzger

Founder - Len Mullenger
Google Site Search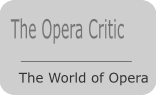 Oxford Lieder Festival 2010 : A preview from Clare Adams (CA)
Internationally-acclaimed singers are joined by emerging stars in the UK's biggest celebration of song, The Oxford Lieder Festival, which takes place from 15 – 30 October. The twenty-seven concerts include Schumann's Kerner Lieder sung by the legendary Austrian baritone Wolfgang Holzmair (15 Oct), Grieg, Rangström and Sibelius from Katarina Karnéus and Julius Drake (16 Oct), Hugo Wolf's complete Mörike Lieder with Sophie Daneman (soprano), Anna Grevelius (mezzo), James Gilchrist (tenor), Stephan Loges (baritone) and Sholto Kynoch (piano) (22 & 23 Oct.) There are also songs by Schumann, Ives and Copland with the world-renowned bass-baritone Sir Willard White and Eugene Asti (29 Oct). The closing concert features Jonathan Lemalu (bass-baritone) singing Schumann (Liederkreis op. 39) and Mussorgsky with Roger Vignoles (piano).
Other highlights include two world premieres performed by The Prince Consort (21 October); Herbstlieder by pianist-composer Stephen Hough and Ned Rorem's My Love is as a Fever, commissioned by Oxford Lieder. One of Britain's best loved singers, Felicity Palmer explores "Women on the Edge" - songs by Purcell, Tchaikovsky & Schumann (20 Oct). Kathleen Ferrier Award winner Sarah-Jane Brandon (soprano) presents a diverse programme including Brahms' Zigeunerlieder, Strauss, Duparc and Rachmaninov, and Guildhall Gold Medal 2009 prize winner Gary Griffiths (baritone), with Sholto Kynoch, performs Schubert's Winterreise (17 Oct). The Doric Quartet will be "in residence", performing Schumann's quartets in a rush-hour series, and appearing with Catherine Hopper (mezzo) (25th).
This year the Festival's other events have expanded to include workshops for adult amateurs as well as numerous talks, a lunchtime concert series and a Master Course led by Ian Partridge. The successful education programme will again take part in local Oxfordshire schools and culminate in a concert at the Ashmolean Museum.
Tickets £5 - £20 are available from 01865 305305 / www.ticketsoxford.com and www.oxfordlieder.co.uk
Clare Adams