Other Links
Editorial Board
UK

Editor

s

- Roger Jones and John Quinn

Editors for The Americas - Bruce Hodges and Jonathan Spencer Jones

European Editors - Bettina Mara and Jens F Laurson

Consulting Editor - Bill Kenny

Assistant Webmaster -Stan Metzger

Founder - Len Mullenger
Google Site Search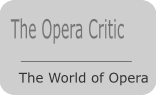 SEEN AND HEARD INTERNATIONAL CONCERT REVIEW



 Tippett, Richard Strauss, John Adams and Shostakovich: Orchestra of St Paul's, Ben Palmer, Purcell Room, Southbank Centre, London, 4.10.2010 (BBr)

Tippett: Little Music for Strings (1946)
Richard Strauss: Metamorphosen (1944/1945) (original version for string septet, edited by Rudolf Leopold)
John Adams: Shaker Loops (1977/1978 – 1982/1983)
Shostakovich: Symphony for Strings, op.118a (1964) (arranged by Rudolf Barshai from String Quartet No.10)



It was good to see that so many braved the difficulties of travelling in London, due to a strike on the London Underground, to attend this fascinating show. We were amply rewarded for our efforts.

Tippett's Little Music made a good starter for it's quite light and frothy, and it contains a marvellous joke with the echo-effect ending. The whole work was very nicely handled by Palmer and his 12 players, who simply took pleasure in playing the piece.

Strauss's Metamorphosen is a work for 23 solo strings, but it was originally written for only seven instruments, two each of violins violas and cellos with a bass. This score only came to light in 1990 and it is a revelation! Everything we know about the work is there but the lines are clearer and the textures cleaner. It's also easier to follow the plot, so to speak, because there is nothing to impede the forward flow. With the string trios sitting opposite one another, and the bass taking the central position, Strauss's antiphonal effects, and the dialogue between various instrumental groupings, could be clearly heard. At times I found myself thinking that this was the Sextet from Capriccio, but hot-housed into a more sublime and rich texture, and then Strauss would make a gesture which took that idea away. One wonders if that is why his original thought was of a septet. This was a fine and well thought-out performance of a difficult work, and full marks to Palmer for programming it. I wonder why it's never played in this version?

I first heard Shaker Loops when I reviewed the first recording of the work (a 1980 LP on 1750 Arch (S–1784) which has been re–issued on New Albion (NA014)) some 30 years ago. At the time I was thrilled with the piece and have always welcomed re–hearings of it, despite my interest in Adams's music waning over the years. It was good to hear this old friend tonight, for it came up as fresh and bright as it did on that first hearing. Shaker Loops is music to be enjoyed, and a real sense of fun was evident here, which made for a very happy performance.

To end, something more serious. Shostakovich's 10th Quartet is a much darker work than I had realised, but it was obvious to Barshai when he made this version, for with the added weight of a big ensemble the violence of the scherzo was frightening in its intensity and the slow movement was desolate and full of despair. Even the finale, which had always seemed like a kind of subdued frolic, appeared as troubled with disturbing undercurrents.

Palmer had drilled his orchestra well, and they responded to both the music and his interpretations. Fine performances and a fascinating programming made this a concert to remember.
Bob Briggs