Other Links
Editorial Board
Editor - Bill Kenny
Assistant Webmaster - Stan Metzger

Founder - Len Mullenger
Google Site Search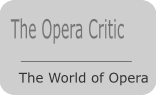 SEEN AND HEARD INTERNATIONAL OPERA REVIEW
Münchner Opernfestspiele 2010 – Wagner, Lohengrin: Soloists, Bayerisches Orchester. Chor der Bayerischen Staatsoper. Conductor:Kent Nagano. 25.7.2010.(JMI)
Production Bayerische Staatsoper.
Director: Richard Jones.
Sets and Costumes: Ultz.
Lighting: Mimi Jordan Sherin.
Cast:
Lohengrin. Robert Dean Smith.
Elsa: Anja Harteros.
Ortrud: Waltraud Meier.
Telramund: Wolfgang Koch.
Koenig Heinrich: Günther Groissböck.
Herald: Evgeny Nikitin.
Brabantian Nobles: Francesco Petrozzi. Kenneth Robertson, Todd Boyce and Il Hong.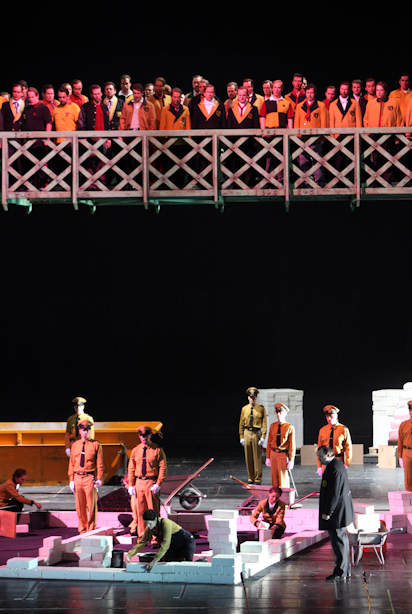 Caption: Production Picture © Bayerische Staatsoper / Wilfried Hösl
This performance of Lohengrin ends my stay in Munich and oddly enough, it is the same title and production that began my stay last year. This year there were no accidents and the performance, except for the stage production, was very exciting, an authentic grand finale for a much anticipated week of opera that never disappoints me.
I reviewed the production by Richard Jones last year and you can read my thoughts bout it here. This time we had Kent Nagano conducting once more and yet again his reading gained in depth and interest as the opera progressed, becoming truly excellent in both Acts II and III. I was somehow disappointed by Act I, but that could have been due to my very high expectations after Mr.Nagano's exceptional work with Die Schweigsame Frau two days earlier. He drew an excellent sound from his orchestra, truly at their best this time and Chor der Bayerischen Staatsoper, was magnificent once they came down stage to sing from the second part of Act II onwards. (Their earlier location on a high bridge upstage did not help the sound to come properly into the house.) This chorus is luxurious group comprising some 120 people.
Lohengrin was sung this tine by the American Robert Dean Smith, since Jonas Kaufmann was making his debut at Bayreuth in this same character on the same day. Robert Dean Smith is a tenor with an almost exemplary career. His vocal volume is somewhat smaller than Kaufman's, but he has a voice of great beauty, and his performances have almost always been highlighted by his musicality; never forcing his instrument, even though he has sung characters which, in principle, do not seem best suited for him, as in the case of Tristan. His performance here was good, although he couldn't quite erase the memory of Jonas Kaufmann in the role. He showed some signs of fatigue in the last scene, which he resolved with intelligence and with the invaluable collaboration of Kent Nagano.
Anja Harteros today is unmatched in the character of Elsa and will be very difficult to rival for some years. She is an exceptional interpreter with a most beautiful voice, full of strength and lyricism, depending of the moment, and her high notes are splendid and perfectly projected. I was more than happy that she was with us in Munich and not in Bayreuth.
This year's novelty was the having Waltraud Meier as Ortrud, one of the weaker points last year. She offered an outstanding interpretation of a character that fits her voice to perfection. Her instrument may not be quite the same as it was some years back, but she is still a great singer and always a great artist. The best part of her performance - and it was very good indeed - was her short intervention in the final act.
Wolgang Koch repeated his Telramund and was once again brilliant and compelling. He is a very competent interpreter of this evil puppet character and has the advantage over other colleagues of having a voice that is is fresh and bright.
Although there is a serious lack of Wagnerian bass singers just now, Günther Groissböck made a very good impression as King Heinrich. TheRussian baritone Evgeny Nikitin repeated his characterisation of the Herald and his performance was ratherless bright than last year. There is nothing to say about his stage performance, because there none. He always has to sing from a high chair, as if he were a tennis umpire.
A full house yet again, as on all the other days that I was in Munich with a few "suche karte" signs on display outside the theatre. There was a triumphant final reception for the artists, especially for the two ladies, Harteros and Meier as well as for Kent Nagano. There were also many cheers for Koch, Groissböck and Dean Smith. As I said, this was the end of my stay in Munich and as always the trip was more than worthwhile. I hope to return next year too because the program for the July 2011 Festival looks extremely attractive.
José M Irurzun