Other Links
Editorial Board
UK

Editor

s

- Roger Jones and John Quinn

Editors for The Americas - Bruce Hodges and Jonathan Spencer Jones

European Editors - Bettina Mara and Jens F Laurson

Consulting Editor - Bill Kenny

Assistant Webmaster -Stan Metzger

Founder - Len Mullenger
Google Site Search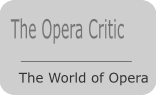 SEEN AND HEARD INTERNATIONAL CONCERT REVIEW
Mendelssohn, Elijah:Twyla Robinson (soprano), Alice Coote (mezzo-soprano), Alan Clayton (tenor), Gerald Finley (bass-baritone), Jennifer Johnson (mezzo-soprano), Benjamin P. Wenzelberg (boy soprano), New York Choral artists, Joseph Flummerfelt (director), Alan Gilbert, (conductor), New York Philharmonic, Avery Fisher Hall, New York City, 13.11.2010 (BH)

Mendelssohn: Elijah, Oratorio on Words of the Old Testament, Op. 70 (1845-46; rev. 1847)
To anyone still wondering whether Alan Gilbert is as devoted to the old as he is to the new, I would point them to this surprisingly assured and impassioned version of Mendelssohn's Elijah with the New York Philharmonic at Avery Fisher Hall.  Yes, Gilbert has stolen the hearts of many this year, programming some spectacular fare from the late 20th-century: György Ligeti, Magnus Lindberg, and just last week, landmark performances of Gérard Grisey's Quatre chants pour franchir le seuil.  But here Gilbert demonstrated that his taste runs the gamut, and this mammoth slice of the Old Testament—with more than a nod to Handel here and there—was unexpectedly moving.
As one friend said, "You need a good Elijah," and Canadian bass-baritone Gerald Finley seemed close to ideal.  From his very first entrance—clear, strong, and with enunciation making the surtitles unnecessary (but still very welcome)—Finley commanded the stage with sheer vocal prowess, ultimately creating a touching, three-dimensional portrait of the title character.
The rest of the cast did not disappoint. As Obadiah, British tenor Allan Clayton seemed ideally focused, with (like Finley) a presence that completely filled the room.  His adroit articulation never called attention to itself; I doubt anyone needed help understanding him.  Twyla Robinson offered a clear timbre, and her big aria, "Hear ye, Israel," that opened Part II made a dramatic impression.  Moreover, she completed a fine ensemble with her colleagues, depicting a trio of angels.
One of those angels was mezzo-soprano Alice Coote, who used her rich sound to make the most of the desolate passage from Hosea, "Woe unto them who forsake Him!" But later Coote, as the Queen, used that same richness to frame a malevolent side, ordering the death of Elijah. And the final soloist, Jennifer Johnson, sang with such sweetness that I wish we'd heard more from her; in Part II, she offered simple luster to an a cappella trio from Psalms.
My friend was right about casting Elijah, but equally important is the chorus, and here the New York Choral Artists exercised not only memorable musicianship but more than a bit of stamina.  Well-coached by Joseph Flummerfelt, the ensemble had many moments that might have turned flabby with lesser singers.  The Psalms finale of Part I broke through with massive intensity, and the precision in the earthquake depiction was thrilling.
Among the instrumentalists, a special word for one of the orchestra's recent arrivals, timpanist Kyle Zerna, who was having a marvelous night.  In "Yet doth the Lord see it not" (from Exodus), the chorus must have delighted in his spot-on accents.  Elijah isn't a timpani concerto, but Zerna played it as if Mendelssohn might have secretly wished it were.  But there is plenty for the rest of the ensemble to do.  In the Overture, the sheer sound of the Philharmonic strings gave pleasure, and near the end of Part I, Elijah and The Boy (pristinely sung by Benjamin P. Wenzelberg of the Metropolitan Opera Children's Chorus) are joined by a barrage of brass fanfares, which the Philharmonic's crew dispatched with regal buoyancy.
But above all, Gilbert was the one to whom all paths led.  At almost three hours, a performance of this could be deadly dull in the wrong hands, yet here interest never flagged.  The singers seemed to gain in energy as the evening progressed, and the orchestral contributions were often inspired.  It takes talent, creativity and a bit of backbone to avoid taking works like this for granted, and at this point in his tenure, "for granted" doesn't seem to be a part of Gilbert's vocabulary.
Bruce Hodges