Other Links
Editorial Board
Editor - Bill Kenny
Assistant Webmaster - Stan Metzger

Founder - Len Mullenger
Google Site Search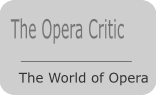 Joanna MacGregor's 'Deloitte Ignite' at The Royal Opera: 3, 4, 5 September 2010 (MB)
The award winning Deloitte Ignite contemporary arts festival returns for its third year with Joanna MacGregor, internationally renowned pianist, composer and auteur as curator. This unique festival, sponsored by Deloitte, opens the Royal Opera House Season spanning the first weekend in September, colonising the building's public and performance spaces with a range of spectacular and unexpected events and installations.

For Deloitte Ignite 2010 Joanna MacGregor has taken her inspiration from forests: forests as a place of quiet, reflective beauty, mystery and discovery; places of fairytale narrative as well as metaphorical spaces. She has invited artists to create forests all over the Royal Opera House in different materials including recycled and reclaimed wood, organic materials, old costumes and mannequins, shimmering projections and reflecting pools. There are films, music and dance performances, soundscapes and installations. In amongst the forests are hints of the forthcoming opera season as well as echoes of Covent Garden's old flower market.

By day, there will be contemporary, forest-inspired installations to explore: an epic Floating Forest in the Paul Hamlyn Hall built from organic materials and projections from a quartet of award-winning artists and filmmakers; opera designer Dick Bird's mysteriously playful Reclaimed Forest in the Linbury Studio; and theatre powerhouse Richard Williams's surreal, fantastical Faded Forest of discarded opera costumes and mannequins in the Crush Bar. Kathy Hinde's poetic, interdisciplinary installations Piano Migrations, One Thousand Birds and Dancing Cranes colonize a darkened Pit Lobby and other spaces, while the spooky Ghosts and Mirrors in the subterranean Supper Rooms enact echoes of operas. As a more permanent artwork, the brilliantly gifted Anglo-French artist Alice Anderson creates a special, fairytale installation of hair in the Link.
In the Clore Studio Upstairs, the distinguished writer and cultural historian Marina Warner will host Into the Woods, a series of films, animations and performances exploring the light and darkness of fairytales, with live music from WARP artist Mira Calix and the remarkable Eastern European duo Alexander Balanescu and Evelina Petrova. There are live and digital forest soundscapes from sound artists Matthew Fairclough and Scanner, and spectacular performances, in and amongst the forests, from Balinese Gamelan orchestra Lila Cita with Lila Bhawa dancers, percussion outfit ensemblebash, and operatic ambushes from Royal Opera House Jette Parker Young Artists.

There will also be specially-staged contemporary dance from Phoenix Dance and new dance works from ROH Associate Artists. Across the three evenings in the Paul Hamlyn Hall there is rich mix of performances set in a magical night-time Floating Forest ranging from Thomas Tallis's Spem in Alium and the London premiere of Alex Roth's massive, life-affirming Earthrise sung by the fifty-strong Ex Cathedra choir, through to Japanese music, both traditional and contemporary; from Finnish aerialist Illona Jäntti, grooves from pop genius Talvin Singh and Barcelona's funky Radio Zumbido, to a dramatic closing ceremony by the Tashi Lhunpo Monks of Tibet.
Joanna MacGregor said, "Being able to work across so many extraordinary, exciting spaces in the Royal Opera House and draw on so many art forms and wonderful artists has been a real joy. I hope exploring the building – and coming across unique environments and performances - will inspire and entertain people of all ages."

Deborah Bull, Royal Opera House Creative Director said, 'I'm delighted to welcome Joanna MacGregor as the inspiration behind this third Deloitte Ignite. Her impeccable musical pedigree allied to her insatiable and wide ranging curiosity made her a natural choice and through the programme she has put together with ROH2, she has found new and surprising ways to explore opera and dance. Every year Deloitte Ignite puts the spotlight on contemporary culture at the Royal Opera House and challenges audiences to look at the art forms, themselves and this long-established organisation with new eyes. Joanna's programme, set amongst its floating, faded and secret forests, promises to do just that.'

Heather Hancock, managing partner for innovation and brand at Deloitte, commented, "Each year we want the festival to challenge conceptions about the way both Deloitte and the Royal Opera House think. This year Joanna's forest theme brings an exciting and fresh perspective to the Deloitte Ignite festival."
Further details are available from www.roh.org.uk/deloitteignite.
Mark Berry