Other Links
Editorial Board
Editor - Bill Kenny
Assistant Webmaster - Stan Metzger

Founder - Len Mullenger
Google Site Search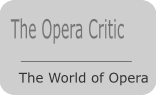 SEEN AND HEARD UK CONCERT REVIEW
Chopin: Lucy Parham (piano), Wigmore Hall, London, 18th July 2010 (J-PJ)
Chopin: Nocturne in C minor, Op. 48 No. 1
Polonaise in A, Op. 40 No. 1
Waltz in C sharp minor, Op. 64 No. 2
Etude in A flat, Op. 25 No. 1
Mazurka in D, Op. 33 No. 2
Ballade No. 3 in A flat, Op. 47
Mazurka in A minor, Op. 67 No. 4
Prelude in D flat, Op. 28 No. 15
Prelude in G minor, Op. 28 No. 22
Waltz in D flat, Op. 64 No. 1
Nocturne in D flat, Op. 27 No. 2
Ballade No. 4 in F minor, Op. 52

This year's 200th anniversary of Chopin's birth has led to a plethora of musical tributes. But there was something particularly intimate and revealing about this recital by Lucy Parham, interspersed with readings by Sam West and Harriet Walter.
Building on the experience of previous similar recitals tracing the musical and personal relationships of Clara and Robert Schumann and of Franz Liszt, Parham compiled 'Nocturnes – The Romantic Life of Frederyk Chopin' from the diaries, memoirs and letters of Chopin, George Sand and their contemporaries. Wisely, Parham did not try to include music which corresponded chronologically with the readings. Instead, she devised her programme as a kind of 'mood music' background to the sentiments expressed in the readings. What we ended up with was a passionate, humorous and deeply moving portrait of the relationship between Chopin and Sand, from its unlikely beginnings in 1836 to its acrimonious end eleven years later.
The piano music was well-chosen – ranging from the dreamy, mystical C minor nocturne, through the earthy mazurkas, to the final, lingering ballade in F minor. The playing, however, was less uniformly satisfying. Overall, Parham took a rather stiff, distanced approach – focusing, perhaps, on overcoming the music's technical demands rather than its emotional inner workings. On occasion, this led to a few fluffed notes and some heavy handed playing. The A flat ballade, for example, was particularly stodgy, with a very lumpy central section. After the interval, Parham seemed to relax into the music more. The trickily delicate D flat prelude ('Raindrop') sounded gentler and lighter. The D flat waltz (known as 'Petit Chien', but often nicknamed the 'Minute Waltz') seemed to evoke a more personal response, although even here there were some uneven passages.
West's and Walter's participation was subject to availability until shortly before the concert, so it was not clear how much rehearsal time the trio had managed to fit in. Certainly, there was the odd misread line. But their characterisation breathed life into texts, and gave us a convincing portrait of this well-loved but enigmatic composer.
John-Pierre Joyce