Other Links
Editorial Board
Editor - Bill Kenny
Assistant Webmaster - Stan Metzger

Founder - Len Mullenger
Google Site Search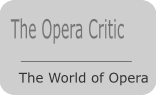 SEEN AND HEARD INTERNATIONAL OPERA REVIEW
Rossini Opera Festival (ROF) Pesaro (1) La Cenerentola: Soloists, Chorus and orchestra of the Teatro Comunale, Bologna, Conductor, Yves Abel; Director, Luca Ronconi; Sets, Margherita Palli; Costumes, Carlo Diappi; Lighting, Guido Levi. Adriatic Arena, Pesaro. 14. 8.2010 (JB)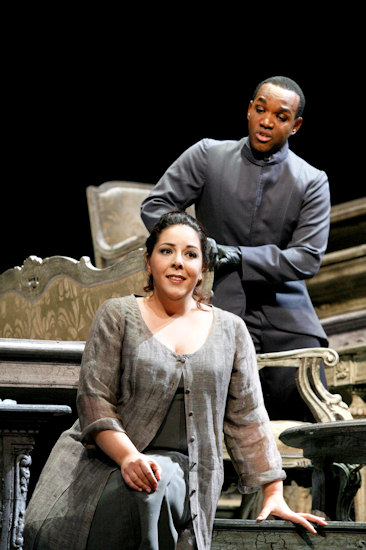 Marianna Pizzolato (Angelina / Cenerentola) and Lawrence Brownlee (Don Ramiro)
Theatrical comedy made its first appearance close on two and a half centuries ago with the bitingly witty plays of Aristophanes, only a few years after its more respectable sister –tragedy. Surprisingly, Aristophanes' gags and plots and sometimes, his jokes, are still being played out by such masters as Woody Allen: mistaken identity, cross-dressing, accidental birth, the rites (and wrongs!) of society and improbable, unexpected encounters. Only Aristophanes' beloved lavatorial humour has got left behind, dismissed and cremated as pornography, as recently as our great grandfathers.
Take half a dozen people in a problematic situation and less than easy relationships, get them in the same room and watch them avoiding telling one another their real thoughts and reactions; the chances are they will do everything to cover up their real thoughts. But supposing they had see-through heads and we could see six different reactions to the same situation. Prose theatre cannot handle this. But it is a gift to the opera composer and especially the composer of operatic comedy. A gifted composer can even take on board the concealing of the character's thoughts: think Mozart in Così fan Tutte or Rossini in La Cenerentola.
Situational comedy shows Rossini's genius best: conflicting interests expressed perfectly as a harmonic whole. There is something genial about a composer who can show us so eloquently the harmony and absurdity of conflict. All in what seems like one stroke too! But the seeming-simplicity conceals a formidable contrapuntal technique. No wonder he is often the world's most loved composer.
Look carefully at the Quintet towards the end of Act one (Cenerentola, Ramiro, Dandini, Magnifico, Alidoro) –Signor, una parola. Or even better at the Sextet at the end when Cenerentola's identity is revealed (Clorinda, Tisbe, Cenerentola, Ramiro, Dandini, Magnifico) –siete voi? Abbado evidences this magnificent character drawing ( different people responding to the same situation) perfectly in his recording. Yves Abel, conducting last Saturday in Pesaro, seemed to have scant regard for this creative genius. But nor was he helped by an uneven cast of singers. How demanding the Pesaro composer can be!
In Rossini's youth, opera was divided into opera buffa and opera seria (comic and dramatic opera). They called for two different types of performer. For the comic, actors who could amuse the audience with gags, dances and clear enunciation of the jokes in the heightened speech of recitative. Little singing, as such, was needed. The dramatic operas had become little more than a string of demanding arias for the vocal virtuosity of the performer, with little or no acting requirements.
This history and its application has been superbly explored by the ROF's Artistic Director, Alberto Zedda in the Cenerentola Programme Book, and excellently translated into English by Michael Aspinall. I invariably throw away Programme Books as soon as I am home. But not so with the ROSSINI OPERA FESTIVAL PROGRAMME BOOKS. At over a hundred and fifty pages, they are encyclopaedias of the opera in question and perfect volumes for reference shelves. The same programme contains entertaining research on the libretto of La Cenerentola by Bruno Cagli: the demands and frustrations which Rossini went through before the librettist came up with material which sparked his imagination. The Rossini Opera Festival Programmes are available at €15 each from ROF, Via Rossini 24, 61121 Pesaro.
Rossini hit on the remarkable idea of combining opera seria with opera buffa in La Cenerentola in what he would call dramma giocoso. He was not the first to do this. Mozart did it in Don Giovanni and would never be surpassed. Still, Rossini's contribution to the form produced some of his best work.
This also presents problems for the casting director, notably, should it be an actor who can sing or a singer who can act? My own answer to that question would be that singers must always come first in Rossini.
That was not Pesaro's response. Paolo Bordona was so completely involved in the role of Don Magnifico –every gesture, every pause, every action- was utterly convincing; exaggerated, yes, but with such professionalism, the seams of the exaggeration were invisible. But he let Rossini down vocally in his big aria.
Alex Esposito was the perfect Alidoro, the philosopher who manipulates all the other characters (another Aristophanes invention, by the way) . Esposito is as handsome and athletic as Beckham, darting round the stage with the skill of a ballerino and singing with the vocal authority of Chaliapin. He is, after all, the only one who knows what is going on!
Nicola Alaimo was perfect on stage as Dandini though he failed to take advantage of his best vocal music which the composer so thoughtfully provides.
The two sisters –Manon Strauss Evrard as Clorinda and Cristina Faus as Tisbe - both pecked at their music rather than sang it. In fairness, the composer rather encourages this and both were unquestionably in character. Still, it was a mistake to restore Clorinda's aria at the end of Act two (usually cut). Ms Strauss Evrard's vocal preparation is simply not up to it. This is one of Rossini's most demanding vocal monsters.
Laurence Brownlee moved with ease and grace as the Prince, Don Ramiro. This role does not call for an actor but the vocal demands are great. Brownlee met them with admirable panache. I am only sorry that he sometimes sounds nervous when he goes for the high notes, but then instantly secure when he arrives there. Please feel more self-confident Mr Brownlee. You have the right preparation and an admirable Rossini tenor voice.
And what of Angelina / La Cenerentola / Cinderella herself? Actress or singer? A glance at the score will show you that a virtuoso coloratura contralto is needed; not too many of those around today. At least one interpreter also made an operatic milestone as an actor in this role.
The greatest timing mistake of my life was to have been born three years after the death of Conchita Supervia. Her acting in this role was fabled and in the recordings which survive, you can hear why. (See my review on this site of The Complete Supervia on Marston Records here.) Supervia was a glamorous woman whose unrivalled asset was vocal charm. Almost unintentionally, her geniality brought a touch of comedy to everything she sang. (This is why her Carmen doesn't work for me.) La Cenerentola was her most performed and most applauded role. I somehow doubt that Rossini had noticed that these touches of comedy were there. But after Supervia, he would doubtless have agreed that they are.
Nearer our own times, Teresa Berganza has been lauded for her performance and recorded the opera with Claudio Abbado. Rossini will never have a finer conductor than Abbado, but whether on the recital platform or the opera stage, Berganza turns everything into aristocracy. And that is the last thing Angelina should be. Abbado would chop off my head for writing this; he is unfailingly supportive of all artists who meticulously observe every detail of the score and on this, Teresa Berganza is faultless.
Pesaro announced Kate Aldrich as Cenerentola and I much looked forward to hearing her. But she was more advanced in pregnancy than she expected, and had to withdraw.
Marianna Pizzolato was called in. She sang most of the notes, though most of the time, I wished she hadn't. Angelina is supposed to be a poor wretch at the start of the opera and Pizzolato conveys this naturally. But she has as much vocal charm as a hob-caller at a village fete. Serious miscasting.
In Luca Ronconi's much-praised staging, La Cenerentola goes to the ball on a flying swan, which pulls this matronly lady across the stage on wires, whereon at arrival at the Prince's quarters, she is fished out of the chimney in Christmas red, by Alidoro. I laughed like a drain at all this appropriate Aristophanian irreverence, but I was the only one doing so.
This was a revival of Pesaro's own 1998 production with a colossal set built in the monstrously ugly Adriatic Arena, a few miles outside the city. The set designer was Margherita Pall. Don Magnificio's house looked like a cluttered auctioneer's showroom of eighteenth century furniture, on many levels, which tested the athleticism of the singers –a test they passed with grace and charm. The set is hoisted up into the rafters (stage hands in firemen's helmets appear to attach the chains) to reveal the Prince's palace below and beyond. A fine feeling of space and nobility in this second set.
Carlo Diappi's costumes didn't always work. His costumes for the sisters were perfect –silly to the point where you were forced to ask if this wasn't the latest in a school of design which you hadn't encountered. At the same time, he didn't overdo the parody element. Laurence Brownlee might consider suing Mr Diappi for the trousers he changes to when he becomes Prince. Disguised as the valet, he appeared sylph-like, but the Prince's pants publicised the roundness of his middle region. In fairness to Mr Diappi, the costume was designed for Juan Diego Florez who is indeed sylph-like, in the original 1998 production. Again, but for the same reason, Marianna Pizzolato's costume did nothing for her matronly figure.
Yves Abel has been conducting at the ROF since 1995. He seems to give undivided attention to the orchestra pit and scant care to the stage. It sounded not so much that he was following the singers as the singers were doing their best to follow him. The famous overture was a little stiff, and to my ear, missing some of Rossini's wit.
Jack Buckley
Picture © Rossini Opera Festival Pesaro