Other Links
Editorial Board
UK

Editor

s

- Roger Jones and John Quinn

Editors for The Americas - Bruce Hodges and Jonathan Spencer Jones

European Editors - Bettina Mara and Jens F Laurson

Consulting Editor - Bill Kenny

Assistant Webmaster -Stan Metzger

Founder - Len Mullenger
Google Site Search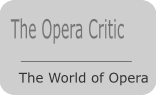 SEEN AND HEARD INTERNATIONAL OPERA REVIEW
Bizet, Carmen: Soloists, Orquestra Simfònica y Cor del Gran Teatre del Liceu. Conductor: Marc Piollet, Gran Teatre del Liceu de Barcelona. 30.9 and 1.10.2010. (JMI)
New production by Barcelona's Liceu in coproduction with Palermo's Teatro Massimo and Torino's Teatro Regio.
Direction: Calixto Bieito.
Sets: Alfons Flores.
Costumes: Mercè Paloma.
Lighting: Xavi Clot.
Casts:
Carmen: Beatrice Uría-Monzon/Jossie Pérez.
Don José: Roberto Alagna/Brandon Jovanovich.
Micaela: Marina Poplavskaya/María Bayo.
Escamillo: Erwin Schrott/Jean François Lapointe.
Zuniga: Josep Ribot.
Morales: Alex Sanmartí.
Dancaïre: Marc Canturri.
Remendado: Francisco Vas.
Frasquita: Eliana Bayón.
Mercedes: Itxaro Mentxaka.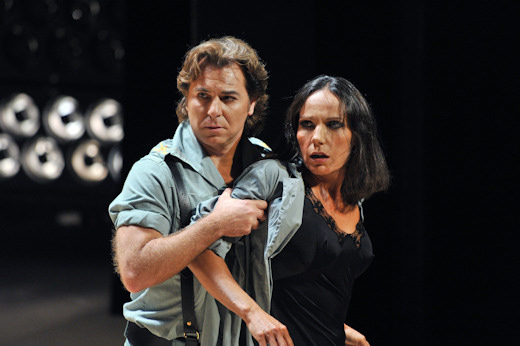 Roberto Alagna (Don Jose) and Uría-Monzo (Carmen)
After performances of the opera-ballet Iphigenie auf Tauris, the Gran Teatre del Liceu de Barcelona opened its true opera season with the evergreen Carmen. Carmen was first shown in Barcelona in 1881, 6 years after its premiere in Paris. Since then Carmen has been on the stage of the Liceu in 52 seasons with well over 200 hundred performances. There has never been a lapse of more than 6 years between Carmens at the Liceu, except this time, which is the first performance in 17 years. The reasons for this long absence I cannot account for.
But back Bizet's masterpiece is now and in the hands of Calixto Bieito, a director very familiar with controversy, scandal, and provocation—including his Liceu productions of Un Ballo in Maschera and Don Giovanni. But Bieito has mellowed apparently, and this Carmen offered a modern and attractive staging, with his typically outstanding stage direction and just a couple of isolated touches of provocation that are part of Bieito's personality.
This production is not a remake of what Bieito offered at the Perelada Festival in 1999, later seen in several European theatres. Now he moves the action to modern times—the late 70s—which is appropriate enough since the Carmen character is ultimately a myth and myths are timeless. As Elektra or Salomé, Carmen, too, can be presented in any time period, particularly recent times, since the confrontation between two ways of life—free and without ties to conventional mores for Carmen, traditional and patriarchal for Don Jose—is as current as ever. The circular stage, like a barren bull fighting arena, is surrounded by a barrier to the back with various puertas, the doors through which bulls (and their fighters) would enter in the real thing. Symbolic elements and colors to the large semi-circle change the scenes and create the necessary atmosphere. There is a telephone booth and a large mast in Act I, a Mercedes car in Act II (to me this was rather poorly staged) more Mercedes' and the Osborne bull in the third act and a totally empty stage for the final act. The well chosen costumes are attractive, with the men in the chorus wearing Legionnaires' uniforms, while the females wear the kind of house coats so common in 70s in Act I and colourful costumes for the remaining scenes. Excellent lighting complemented the production.
But where this production stands out particularly is in the powerful stage direction by Calixto Bieito, something truly worthy of a great theatre director since the work he gets from the chorus and extras is simply spectacular. Particularly notable is the parade of cuadrillas in Act IV, a parade not seen but something which can be guessed from the movements of the chorus, which goes nicely with a fantastic scenic and vocal performance. Bieito also makes a very good direction of actors, with a sexually free-spirited Carmen, a simple and violent Don José, an arrogant bullfighter throwing money to people (in Spain it was very common in those days to say, "to have more money than a bullfighter"), a not-so-simple and shy Micaela, and a pair of Carmen;s friends (Mercedes and Frasquita) much closer to the prostitutes and thieves described by Merimé, than the simple smugglers that the libretto suggests. There are a couple of (superfluous) sexual touches, inevitable with Bieito: Mercedes performing fellatio on a soldier in exchange for money and a completely naked soldier in the prelude to Act III, in a simulated bull fight under moon light, for example.
Musical direction was entrusted to the French conductor Marc Piollet, who made his debut at the Liceu. His reading had remarkable, very intense moments, especially the first and last acts, while Acts II and III were rather flat. Giraud's recitatives were used, but much reduced. The Orchestra was better than usual, and the chorus was truly outstanding. Two different casts sang this run of performances and the Liceu always considerably lowers ticket prices for the second cast, a policy that some other theatres, like Teatro Real, do not follow.
In the first cast the protagonist was French mezzo soprano Beatrice Uría-Monzon, whose stage work is hard to beat, and if she wasn't vocally at the same level, she was always more than adequate. She follows the ideas of Mr. Bieito fully and she achieves a truly outstanding interpretation, one that's difficult to match, aided too, by the her very attractive figure. If her singing matched her dramatic ability and looks, she would undoubtedly be the definitive reference for Carmen.
In the second cast, the Carmen was Puerto Rican mezzo Jossie Pérez. She also cuts a compelling figure and moves quite well about stage, if not quite at the exalted level of her French colleague. She is a rather lyrical mezzo soprano, not quite sufficient to meet the demands of the score. The middle range is acceptable, but the lower register is rather weak: hwe top notes are also too tight, but not unpleasant.
There were high expectations for Roberto Alagna as Don Jose and they were partially achieved. Although in principle better suited to the first two acts, he actually excelled in the last one. He was little more than flat in the famous Flower Song and his duet with Micaela wasn't brilliant, either. His performance clearly improved in the third Act though, in his duel with Escamillo where he proved what a thrilling singer he can be.
The second cast featured American tenor Brandon Jovanovich. I liked the timbre of his middle range, but his 'expensive' notes came across as rather cheap. In the Flower Song he went for a high B in piano, but it came over as falsetto.
Russian soprano Marina Poplavskaya has achieved stardom in a short time and I still don't quite get why. After seeing her live on several occasions, I can't understand her meteoric rise, apart from an attractive figure and her lyric soprano's dark timbre. This performance was her debut at the Liceu, since she had to cancel the premiere. I don't know whether she had completely recovered, but her Micaela was pretty weak with serious limits to the top notes. It used to be that if you didn't succeed as Micaela there wan't a great future for you out there, but today's world of opera follows a different path.
María Bayo was the 'second' Micaela—her voice now wider than before and occasionally a little tight at the top, but in fine form.
More than once I have asked myself if there is a really good Escamillo around anywhere today or even if there ever really was one. I must admit that one of the few current interpreters that can cope with this most difficult tessitura is Erwin Schrott. However, his performance was not fully convincing on this occasion. Disappointing in the Toreador song, he was much improved in the last two acts.
Canadian baritone Jean François Lapointe's Escamillo was altoegether insufficient in the lower range. He is a lyric baritone who still sings Pelleas (excellent, by the way) but Escamillo needs something different. He was more convincing as an actor.
Among the secondary characters Marc Canturri (Dancaïre), Francisco Vas (Remendado), and Itxaro Mentxaka (Mercedes, too tight at the top) were generally good. But Eliana Bayon was miscast as Frasquita and Alex Sanmartí, though possessing an interesting voice, showed some musical problems as Morales. Josep Ribot's Zúniga was vocally poor.
The Liceu was full on both occasions with Roberto Alagna and both Micaelas expectedly receiving the warmest receptions.
The Liceu has the lovely habit of including the past history of the season's operas at in the program information. I always read these with much interest and often nostalgia. Just 40 years ago a youngster named James Morris sang Zúniga in Barcelona. In a few days tine he will be Olin Blitch in Bilbao.
José M Irurzun
Picture © Antoni Bofill