Other Links
Editorial Board
UK

Editor

s

- Roger Jones and John Quinn

Editors for The Americas - Bruce Hodges and Jonathan Spencer Jones

European Editors - Bettina Mara and Jens F Laurson

Consulting Editor - Bill Kenny

Assistant Webmaster -Stan Metzger

Founder - Len Mullenger
Google Site Search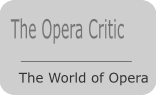 SEEN AND HEARD INTERNATIONAL UK OPERA REVIEW

Puccini, La Bohème: (sung in English). Soloists, Chorus and Orchestra of English National Opera/Stephen Lord. London Coliseum, 18.10. 2010 (CC)
 Cast:


Gwyn Hughes Jones: Rodolfo
Elizabeth Llewelyn: Mimì
Roland Wood: Marcello
Mairead Buicke: Musetta
Pauls Putninš : Colline
George von Bergen: Schaunard
Simon Butteriss: Benoit
Richard Angas : Alcindoro
Philip Daggett : Parpignol
Christopher Ross: Customs Sergeant
Andrew Tinkler: Customs Official
In Feburary 2009, my colleague Jim Pritchard wrote a detailed and perceptive review of this Jonathan Miller production. I agree entirely that the 1930s Depression setting is not particularly Parisian, and the placement of the lads' bohemian pad above the Café Momus is far from ideal. Some of Miller's productions have been inspired (I think of his Rigoletto and his Mikado in particular) but this is something of a miss. In addition, the crowd scenes are overly busy, to put it mildly. A rethink is required rather than a wholesale resurrection of a previous production.
The original production's cast included Alfie Boe, Roland Wood. Pauls Putninš, Simon Butteriss and Richard Angas, amongst others and can be re-experienced via the DVD medium on NVC Arts 50-51865-9489-2-6. No Boe on this night, however (he sings later in the run) – Gwyn Hughes-Jones instead, who recently sang Rodolfo in San Francisco as a role debut. The opera swings between scenes of extrovert playfulness (the friends at the opening) and scenes of the utmost intimacy (the Rodolfo/Mimì scenes a little later on, for example, or the closing part of the fourth act). It demands a conductor who can realise these differences and switch between them sometimes in lightening-quick time, and yet who can also give Puccini's famous long lines the space they require. Stephen Lord, who appears to enjoy a considerable Stateside reputation, seemed unable to honour either of these prerequisites. He also allowed the orchestra to overwhelm the soloists on occasion and the glowing Puccinian spark the ENO orchestra can deliver when inspired was notable by its absence. It was Lord's fault, too, that the drama of Musetta's entrance in the final act (when she announces that Mimì cannot even climb the stairs) was almost completely lost. The NVC DVD gives testament that this moment was far more effective in the previous performances under a different conductor.
Hughes-Jones was an adequate Rodolfo without ever asserting true individuality and his voice does not have the size when Puccini demands the projection of heroic lines: his final cries of "Mimì!" in the opera's final scene were all but inaudible. His "Che gelida manina" (This hand of yours is freezing), however, was nice and eloquent, and yet he was instantly eclipsed by Mimì's answer, "Mi chiamano Mimì" (Well, I'm always called Mimì). The Mimì, Elizabeth Llewellyn was winner of the 2009 Voice of Black Opera Competition and was here making her ENO debut. Llewellyn's voice is powerful throughout her entire range yet she is capable of great sweetness, too. Her legato was faultless, her tuning excellent. Her eminently believable acting enabled her to be absolutely heartbreaking at the end of both the third act (when she sings of her possessions), and of the fourth act (as she finally expires). The other important female role in this opera, that of Musetta, was given a reading by ENO Young Singer Mairead Buicke that seemed more sophisticated than most. Buicke's voice could be uncomfortably cutting in its higher reaches.
George Von Bergen made the most of his Act 4 Coat aria, while Roland Wood's Marcello had compelling stage presence as well as confidence and firmness of voice. Nice to see Richard Angas back at ENO (as Alcindoro) too. Despite some strong individual performances, however, this remains a flawed Bohème by dint of flawed conducting (the orchestra sometimes actually sounded disengaged).
Colin Clarke