Other Links
Editorial Board
Editor - Bill Kenny

Founder - Len Mullenger
Google Site Search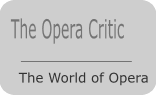 SEEN AND HEARD UK OPERA SEASON PREVIEW

Welsh National Opera's 2010/2011 Season: Bill Kenny looks forward to another busy year for WNO (BK)
Welsh National Opera embarks on its Eternal Light series, offering audiences an opportunity to explore operas of Austria and Germany. New productions of Beethoven's Fidelio, Johan Strauss's Die Fledermaus and Mozart's Così fan tutte set the scene; there are also revivals of Neil Armfield's production of Ariadne auf Naxos and Dominic Cooke's production of The Magic Flute, inspired by the masters of Surrealism. Austrian and Germany opera is sometimes unfairly regarded as less attractive than its Italian counterparts, so from 2010, WNO puts the spotlight firmly back on operas from this repertoire, emphasising both the compelling stories to be told and the extraordinary music that brings these stories to life.

WNO's new Music Director Lothar Koenigs conducts Fidelio, Ariadne auf Naxos and Puccini's Turandot in the new season. Koenigs received huge critical acclaim for his first season as WNO's Music Director in Autumn 2009.

International artists new to WNO for the season include the renowned director and choreographer Giuseppe Frigeni, who will direct and design a new production of Beethoven's Fidelio. Frigeni worked for many years with Robert Wilson as co-director and choreographer on opera productions as well as video projects and installations, including a new production of Orfeo at Teatro alla Scala, Milan, for the 2009/10 season.
Sarah Connolly returns to WNO to sing The Composer in Ariadne auf Naxos. She made her opera debut with WNO in 1994 in a production of Der Rosenkavalier and WNO also welcomes back Rebecca Evans, who makes her role debut as Liù in a revival of Christopher Alden's production of Turandot. Gwyn Hughes Jones makes his role debut as Manrico in a revival of Il trovatore.

A new generation of designers and directors is being nurtured by WNO from 2010 onwards. Benjamin Davis directs his first mainscale opera for WNO with a new production of Così fan tutte. The designer is Max Jones, who has worked regularly with the Company on pieces beyond the mainstage after winning the Linbury Biennial Prize for Stage Design in 2001.

The season's details are as follows:
 
Autumn

New Production: Beethoven, Fidelio 17th, 25th September and 1st and 8th October at 7.15pm. Sung in German with English and Welsh surtitles

Beethoven's only opera is a rousing, triumphant affirmation of his belief that the most important human qualities – love, courage and kindness – can exist in even the most inhuman of conditions. WNO Music Director Lothar Koenigs, acclaimed for his interpretations of German repertoire, will conduct Guiseppe Frigeni's powerful production of Fidelio.

Cast:
Leonore - Lisa Milne
Florestan - Dennis O'Neill
Rocco - Clive Bayley (until 22 Oct) and Petros Magoulas (from 22 Oct)
Don Pizarro Robert Hayward (until 22 Oct) and Phillip Joll (from 5 Nov)
Marzelline Elizabeth Donovan
Jaquino Robin Tritschler

Conductors: Lothar Koenigs (excluding 20th and 22nd Oct) and Anthony Negus (20th and 22nd Oct) . Director and Designer and Lighting :Giuseppe Frigeni. Costumes: Amélie Hass
This production is on hire from Opéra National de Bordeaux and is supported by the Friends of WNO
 
Revival: Mozart, The Magic Flute 24th September, 2nd and 6th October at 7.15pm and Sunday 26th September at 4pm. Sung in English with English and Welsh surtitles.

Mozart's joyous extravaganza contains some of his most beautiful music. Director Dominic Cooke's fantastical, fun production is a feast for the imagination. This production will transport you to a world of flying fish, dancing animals and sinister monsters.

Cast:
Tamino - Peter Wedd
Pamina - Elizabeth Watts
Papageno - Neal Davies (until 6th Nov) and David Stout (from the 11th Nov)
Sarastro - Tim Mirfin
Queen of the Night - Laure Meloy
First Lady - Camilla Roberts
Second Lady - Carolyn Dobbin
Third Lady - Joanne Thomas
Speaker - Eddie Wade

Conductors Gareth Jones (excluding 1st-14th Nov) and James Southall (1st-14th Nov.) Director Dominic Cooke. Set Designer Julian Crouch.Costume Designer Kevin Pollard.Lighting Designer Chris Davey. Original Movement Sue Lefton

Revival: Richard Strauss, Ariadne auf Naxos 7th and 9thOctober at 7.15pm
Sung in German with English and Welsh surtitles.

Ariadne auf Naxos is one of Richard Strauss's finest achievements. Strauss masterfully combines deeply moving, tragic opera with boisterous comedy to create an exquisite celebration of the power of music. Lothar Koenigs conducts a cast including acclaimed mezzo-soprano Sarah Connolly who makes her UK debut in this role.
Cast:
Ariadne - Orla Boylan
Composer - Sarah Connolly
Zerbinetta - Gillian Keith
Music Master - Robert Poulton
Dancing Master - Stephen Rooke
Major-Domo - Eric Roberts
Naiad - Mary-Jean O'Doherty
Dryad - Patricia Orr
Echo - Joanne Boag
Harlequin - Owen Webb
Saramuccio - Aled Hall
Truffaldino - Julian Close
Brighella - Wynne Evans
Conductors Lothar Koenigs (ex 19th Oct) and Simon Phillippo (19th Oct.) Director Neil Armfield, Revival Director Denni Sayers, Set Designer Dale Ferguson, Lighting Designer Tim Mitchell, Choreographer Denni Sayers
 
Spring

New Production, Johann Strauss II, Die Fledermaus 12th, 19th, 25th February, 3rd and 5th March at 7.15pm and Sunday 27th February at 4pm. Sung in English with English and Welsh surtitles.

The Waltz king Johann Strauss II's comic operetta is a delicious Viennese treat, filled with sumptuous music. Celebrated director John Copley's new period set production promises to create an evening of opulence, elegance and sheer frivolity.

Cast:
Rosalinde - Nuccia Focile
Eisenstein - Mark Stone
Falke - David Stout
Adèle - Joanne Boag
Orlofsky - Helen Lepalaan
Alfred - Paul Charles Clarke

Conductor Thomas Roesner, Director John Copley, Set Designer Tim Reed. The production is supported by the WNO Partnership
Revival, Verdi, Il Trovatore: 24th and 26th February and 4th March at 7.15p. Sung in Italian with English and Welsh surtitles.

Peter Watson's period production returns with celebrated Welsh tenor Gwyn Hughes Jones making his role debut as Manrico. Following his acclaimed performances as Iago in Otello, David Kempster returns to WNO to tackle another great Verdian villain

Cast:
Leonora - Katia Pellegrino
Manrico - Gwyn Hughes Jones
Count Di Luna - David Kempster
Azucena - Patricia Bardon
Ferrando - David Soar

Conductor Andrea Licata, Director Peter Watson, Set Designer Tim Hatley, Lighting Designer Davy Cunningham, Fight Director Denis Agnew. This production originated at Scottish Opera and is supported by the WNO Idloes Owen Society.

Summer
New Production, Mozart, Così fan Tutte: 20th and 27th May, 2nd and 4th June at 7.15pm. Sung in Italian with English and Welsh surtitles.

Benjamin Davis directs his first new production with the Company, working with designer Max Jones, on his first main scale production with WNO. A cast of talented rising young singers has been brought together for this seaside-set production including Gary Griffiths making his company debut as Guglielmo, the very same role in which Bryn Terfel made his WNO debut in 1990.

Cast:

Fiordiligi - Camilla Roberts
Dorabella - Anne-Marie Gibbons
Ferrando - Robin Tritschler
Guglielmo - Gary Griffiths
Don Alfonso - Neil Davies
Despina - Charlotte Ellett

Conductor Daniele Rustioni. Director Benjamin Davies, Set and Costume Designer Max Jones.
Sponsored by Associated British Ports.

Revival, Puccini, Turandot: 28th and 31st May, 3rd June at 7.15pm and Sunday 5thJune at 4pm. Sung in Italian with English and Welsh surtitles.

Christopher Alden's spectacular, potent production sets the opera firmly in the 20th century creating a portrait of society suffocated by a brutal regime. Rebecca Evans makes her role debut as Liù and Lothar Koenigs conducts.

Cast:
Calaf - Gwyn Hughes Jones
Liù Rebecca Evans

Conductor Lothar Koenigs. Director Christopher Alden, Set Designer Paul Steinberg,Lighting Designer Heather Carson, Wigs and Make up Peter Owen. The production is sponsored by WNO Sponsors' Group.

Bill Kenny

Welsh National Opera's web site is Here.