Other Links
Editorial Board
Editor - Bill Kenny


Assistant Webmaster -Stan Metzger

Founder - Len Mullenger
Google Site Search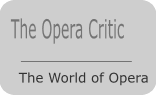 SEEN AND HEARD COMPETITION REPORT

The Welsh Singers Competition 2010: Tenor John Pierce is this year's Winner (MK)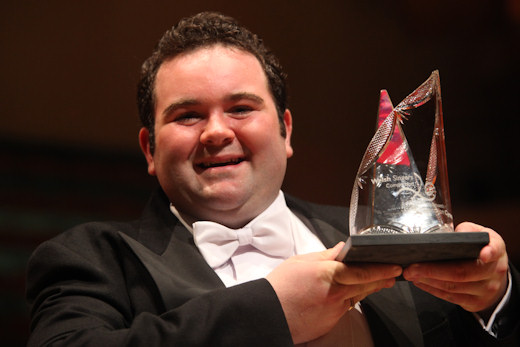 John Pierce - Picture © Brian Tarr
Wales has long held a reputation for sending great singers onto the international scene and judging by the quality of the singing by all these competitors there is no risk of that stopping.

The job of the judges at the Welsh Singers Competition in St. David's Hall, Cardiff last night was not only to choose a winner who would get a decent cash prize but who would also carry the mantle of Wales' representative in Cardiff Singer of the World 2011.

The Completion's 1988 winner Bryn Terfel, a judge for the first time, acknowledged it had been a very tough job but pointed out there had to be just one winner. And that was the youngest competitor, twenty seven year old tenor John Pierce from Holywell. The enthusiastic applause from the packed house indicated that there was strong agreement.

Echoing the singing style of Bryn Terfel, it was the developing precision of the musicality of the voice that made its mark. John Pierce's final aria, a fine rendering of Puccini's Che Gelida Manina from La Bohème particularly captivated the audience.

This was second time lucky for recent first-time father Pierce. In 2008 he was pipped at the post in this biennial competition by Swansea soprano Natalya Romaniw who went on to reach the final of the Song prize in Cardiff Singer of the World in 2009. He left the stage pocketing £2000 and carrying a fine trophy donated by Welsh Royal Crystal.

The other finalists were a truly dynamic soprano, Catrin Aur Davies from Beulah who was a favourite with the audience; a warm, rich baritone, Samuel Evans from Aberaeron and Montgomery-born mezzo Rebecca Afonwy-Jones who opened the evening and set the high standard for the Competition. They each received a £750 prize. You can guarantee all three singers will be heading for a successful career in their own right.

The BBC National Orchestra of Wales conducted by Grant Llewellyn, who did a great job in inspiring confidence in the competitors produced the perfect accompaniment for the competition which is organised by Live Music Now, created by the late Yehudi Menuhin in 1977, in association with BBC Cymru Wales and supported by The Arts Council of Wales. There will be a second broadcast of the concert by BBC Radio Cymru on Sunday July 4.
Michael Kelligan