Other Links
Editorial Board
Editor - Bill Kenny
Assistant Webmaster - Stan Metzger

Founder - Len Mullenger
Google Site Search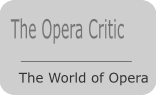 SEEN AND HEARD OBITUARY

Wolfgang Wagner (1919 - 2010): An appreciation by Jim Pritchard (JPr)

The death has been announced of Wolfgang Wagner, the grandson of composer Richard Wagner who was in charge of the Bayreuth Festival for more than half a century. He was 90. The Festival - in what is a typically brief statement on its website - says that he died on Sunday (21 March) but does not give any further details. The Festival said 'Wolfgang Wagner dedicated his whole life to the legacy of his grandfather'.

'His grandfather' is important here for despite the controversies surrounding Wolfgang's wartime activities and his directorship of the Festival, the loss of this direct link in time to Richard Wagner is the thing that we should regret most with Wolfgang's passing. Together with Wieland, his older brother, from 1951 onwards Wolfgang managed to re-establish the reputation of the Bayreuth Festival after it had been tarnished by its Nazi associations. Following Wieland's early death in 1966 when only 49, Wolfgang took a firm grasp on the leadership of Germany's leading opera festival which continued for more than 40 years until age and infirmity began to take their toll on his abilities during the early years of this century.

The brothers' parents were the composer's only son, Siegfried, and his British-born wife, Winifred Williams from Hastings. She had gone to live with her musical, anti-Semitic adoptive parents Karl and Henrietta Klindworth in Berlin at the age of nine, in 1908. At 17 Winifred Klindworth, as she was then called met Siegfried Wagner, aged 45, at the 1914 Bayreuth Festival and married him a year later. At the time, it was hoped that the marriage would put a curb on Siegfried's homosexual activity and the associated costly scandals, and would provide an heir to carry on the family business. Wolfgang was born on 30th August 1919 and despite his mother's origins, never spoke English. His German was not that easy to follow either even for his compatriots, as he preferred to stick to his local dialect, regardless of whom he was talking to or addressing. I had the difficulty of overcoming this problem in October 1991 when I had to translate Wolfgang's, mercifully short, acceptance speech after he received the Sir Reginald Goodall Memorial Award from The Wagner Society in the UK.

Of the two brothers, Wieland had the greater theatrical talent whilst Wolfgang was always the more practical one, with a considerable flair for management and for money. In comparison to Wieland's perceived genius, Wolfgang's own productions - though he initially followed Wieland's style in his Bayreuth stagings of Lohengrin (1953), Der fliegende Holländer (1955), Tristan und Isolde (1957) and Der Ring des Nibelungen (1960) - were usually considered comparatively efficient but unremarkable. Rivalry built up between the siblings and led during the 1960s to Wolfgang directing nothing further at Bayreuth until after Wieland's untimely death. Wolfgang's administrative skills were however acknowledged as crucial underpinnings to Wieland's widely praised artistic achievements. Wolfgang's subsequent productions, either at Bayreuth or elsewhere, continued to be thought of as adept, conservative and leaving no particular artistic legacy.

It was probably because he may actually have realised his limitations as an opera director that Wolfgang began to hire people capable of offering alternative views of his grandfather's works. Though his first choice was somewhat cautious - the conservative director August Everding - his next was the East German Götz Friedrich, whose Tannhäuser in 1972 brought the communist clenched-fist salute to the Bayreuth stage, as the Pilgrims expressed their solidarity, a gesture that caused suitably deep offence to some of the older members of the Bayreuth audience, as well as to Winifred herself. She died in 1980. Wolfgang's engagement of Patrice Chéreau to direct the centenary Ring in 1976 was an inspired choice however and to this day cannot be ignored for its importance within the Bayreuth Festival's history. Although nothing of Chéreau's prior theatrical work had ever been seen either by Wolfgang or by the Ring's conductor, Pierre Boulez, this potent - and politically overt – new approach to the 100-year-old work transformed Bayreuth into the most exciting theatrical place in the world in 1976 and for some years thereafter.

Wolfgang sprang another surprise in 1976 when he astounded many by abruptly divorcing his wife Ellen after 33 years together, especially since both he and Wieland had married dancers from Heinz Tietjen's ballet troupe during World War II. Wolfgang's second wife, Gudrun Armann, was a long-standing member of the Bayreuth press office, who was also divorced having been the wife of Dietrich Mack, one of the editors of Cosima Wagner's Diaries. Cosima was of course, Wolfgang's grandmother. Gudrun was twenty-five years Wolfgang's junior but predeceased him in 2007.

Wolfgang was fearsomely traditional through the whole of his life, a trait which intensified as the years passed. He was hostile both to most of his own and Wieland's offspring - indeed to almost the entire younger generation of younger Wagners - having prevented all of them from having any professional association with the Festspielhaus until Gudrun, by then his announced and appointed heir, died unexpectedly. The necessity of making alterations to his plan for the 'succession' immediately became a decidedly fraught business since his relations with his children by his first wife, his daughter Eva and especially his son Gottfried, were distant and less than cordial. Before Gudrun's death, Eva had become a professional expert on casting, but had only been allowed a very brief and limited association with the Festival while Wieland's son Wolf-Siegfried had become an architect after a very short career as an opera director and had retired to Majorca. By contrast, Wieland's daughter Nike was (and still is) renowned as a musical historian and cultural thinker who might have been a distinguished dramaturg of the Festival given the opportunity. Wolfgang's own son Gottfried, the member of the Wagner dynasty who physically most closely resembles the composer, had made a career of sorts by encouraging Wagnerian guilt for the crimes of anti-Semitism. I had the particular 'pleasure' of debating the merits of Wolfgang's leadership of Bayreuth with him once on a BBC Newsnight programme in the 1990s and it was clear that Gottfried's views had created an immeasurable breach with his father to the extent that he was permanently persona non grata in Bayreuth.

Until quite near the end of his long life, Wolfgang remained determined to exclude any other Wagner from staging opera at Bayreuth. He had a lifetime contract as director and his insistence on serving his contract out led to clashes with the Festival's board of directors, with German government officials and with others overseeing the public financing of this annual event. For years, Wolfgang insisted that only his second wife, Gudrun, could succeed him but she was not considered a suitable choice. So Wolfgang - latterly with Gudrun's backing – hatched a plan for their daughter Katharina, born in 1978, to inherit Bayreuth. He made every effort to help her acquire practical experience as a director away from Bayreuth while still in her early 20s. Eventually a deal emerged whereby half-sisters Eva and Katharina would share the job of running the Festival, in much the same way that Wolfgang and Wieland had shared the management of Bayreuth's reconstruction after World War II.

The half-sisters took over with the 2009 Festival so it is still much too early to say whether this new management scheme - Wolfgang's final gamble - will succeed and satisfy those now exercising responsibility for the public financing of Bayreuth. The signs so far are encouraging.

On 31st August 2008 Wolfgang Wagner stepped down after the 97th Bayreuth Festival ended, following the lengthy power struggle over succession which, along with Gudrun's death, had had a detrimental effect on his physical and mental health. I will never forget being present at the end of the last performance of the 2008 festival when the curtain calls for Parsifal were over and Wolfgang made his final appearance in the Fespielhaus to a huge, prolonged, standing ovation from the audience paying homage to a man whose life's work was to defend the Wagner heritage. Wolfgang Wagner did this for 57 years through employing combined cunning and a considerable amount of charm and is survived by three children, two of whom are now in joint charge of his legacy to the world.

© Jim Pritchard 2010