Other Links
Editorial Board
Editor - Bill Kenny

Founder - Len Mullenger
Google Site Search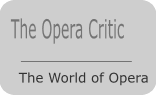 SEEN AND HEARD INTERNATIONAL OPERA REVIEW

Verdi, La Traviata: Soloists, Chorus and Orchestra of Teatro dell'Opera Conductor: Gianluigi Gelmetti, Teatro dell'Opera, Rome 31.12.2009 (DG)

Chorus Master: Andrea Giorgi.
Stage sets and Direction: Franco Zeffirelli.
Costumes: Raimonda Gaetani.
Choreography: Vladimir Vassiliev.
Lighting: Agostino Angelini.

Cast:
Violetta Valery: Myrtò Papatanasiu.
Flora Bervoix: Anastasia Boldyreva.
Annina: Antonella Rondinone.
Alfredo: Stefan Pop.
Germont: Dario Solari.
Gaston: Gianluca Floris.
Baron Douphol: Angelo Nardinocchi.
Marquis d'Obigny: Adrea Snarski.
Doctor Grenvil: Carlo Di Cristoforo.


As the curtain fell on La Traviata at Teatro dell'Opera on New Year's Eve, even the most entrenched Franco Zeffirelli critics found it in their heart of hearts to forgive him – at least until 2010 – for dropping Daniela Dessì from this gala performance. Zeffirelli explained at a December 10th press conference that the 52-year-old Dessì was "troppo matura e troppo corpulenta" for his Violetta. Say what you will, the man knows what he wants. And judging from the thunderous applause received by Ms. Dessì's "substitute" Myrtò Papatanasiu, he also knows what the audience wants.

Ms. Papatanasiu, of course, is no stranger to Rome, having appeared in the same role in 2007, as Tosca in 2008, and in 2009 as Nedda in Pagliacci. Her seamless crescendos, decrescendos, and variations in tone coloring were more than enough to persuade the public that her technique is just as important as her physique in suiting her for the role. Ms. Papatanasiu demonstrates an unparalleled ability to shape a vocal line ("Conforto, sostegno dell'anima stanca" in Act III was exquisite), a skill that far outweighs her slight lack of vocal flexibility ("Di volutta' nei vortici perire" in Act I was a bit sluggish). Zeffirelli explained that Violetta calls for "a young singer, perhaps even a bit inexperienced, who knows how to convey the freshness of this character". Indeed, the virtuosity required by the role often overshadows the incredible dramatic energy it demands, and this is precisely where Papatanasiu excels. In a way reminiscent of Mirella Freni, she manages to contrast Violetta's superficial frivolity, freedom, and external happiness with the internal suffering, attachment, and remorse that makes her so uniquely pathetic. Though few singers are able to execute the role's vocal swings from acrobaticism to lyricism, fewer still are able to convey the sudden emotional shifts represented by those passages through a sheer brilliance of acting. The most striking feature of Papatanasiu's interpretation is her ability to convince the audience that Violetta is no schizoid: she is one and the same woman longing for liberty and craving commitment. By means of a rare combination of subtle gesture and the gift of a broad vocal palate, Papatanasiu sings "Sempre libera" with a tinge of irony and "Addio, del passato" with the slightest hint of artificiality.

She and the rest of the cast received tremendous support from Director Gianluigi Gelmetti and a fine orchestra, all of whom seemed to revel in this music after an unconventional season for this house that included Tannhäuser and Pelléas et Mélisande. Maestro Gelmetti has an uncanny ability to let the tempo ebb and flow in a way that showcases the strengths of the individual interpreters without sacrificing the marvelous integrity of the music and libretto. Those who work with Gelmetti attest to his admirable blend of discipline and playfulness that lend themselves to productions of this sort.

The centerpiece of this performance was the brilliant exchange between Violetta and Germont (Dario Solari) in Act II Scene V. Not only does Solari produce a remarkably rich, pure baritone sound in every part of his range, he delivers the emotional restraint that paints Germont as both a solicitous father and a compassionate gentleman. He and Papatanasiu exhibit a chemistry that rivals even that of Papatanasiu and Stefan Pop (Alfredo), although Pop exhibits fine musical instincts and a refreshingly lively vibrato. Solari and Papatanasiu also benefit from having played opposite each another in the April 2007 production and from a compatibility of timbres that rings sublime even in the final scene.

The only significant change to Zeffirelli's 2007 production is the marvelous choreography by Vladimir Vasilyev, who makes generous use of acrobats and dancers to create an atmosphere of such extravagance that even the audience feels tempted to return to the peace of the country villa. Indeed, the entire production is set as a flashback, as we are given a glimpse of the dying and "rising" of Violetta during the overture. The idea is breathtaking both in its simplicity and in its fidelity to the musical genius of a man who preferred to downplay his ability as a composer, remarking "Sono solo un uomo di teatro". Yet if that is the reputation Verdi preferred, this production did him justice, for its emphasis on dramatic narrative and clarity of characterization would have prevailed even had the vocal competence of its interpreters been notched down a level.

Daniel B. Gallagher

Daniel B. Gallagher, a philosopher by training, specializes in metaphysics and maintains a keen interest in the aesthetics of music. He has published numerous scholarly articles and is a regular contributor to the Philosophy and Popular Culture series. A catholic priest, Father Gallagher is currently stationed at the Vatican.