Other Links
Editorial Board
Editor - Bill Kenny


Assistant Webmaster -Stan Metzger

Founder - Len Mullenger
Google Site Search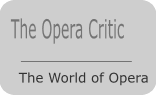 SEEN AND HEARD INTERNATIONAL OPERA REVIEW

Tchaikovsky, The Queen of Spades: Soloists, Orquestra Simfònica and Cor del Gran Teatre del Liceu. Coro Intermezzo. Conductor: Michael Boder. Gran Teatre del Liceu de Barcelona. 25. 6.2020. (JMI)

Production Gran Teatre del Liceu.

Direction: Gilbert Deflo.
Sets and Costumes: William Orlandi.
Lighting: Albert Faura.

Cast:

Hermann: Misha Didyk.
Lisa: Emily Magee.
Countess: Ewa Podles.
Tomsky/Pluto: Lado Ataneli.
Yeletsky: Ludovic Tezier.
Polina/Daphnis: Elena Zaremba.
Tchekalinsky: Francisco Vas.
Surin: Alberto Feria.
Tchaplitsky: Mikhail Vekua.
Narumov: Kurt Gyssen.
Governess: Stefania Toczyska.
Masha: Claudia Schneider.
Prilepa: Michelle Marie Cook.
Master of Ceremonies: Jon Plazaola.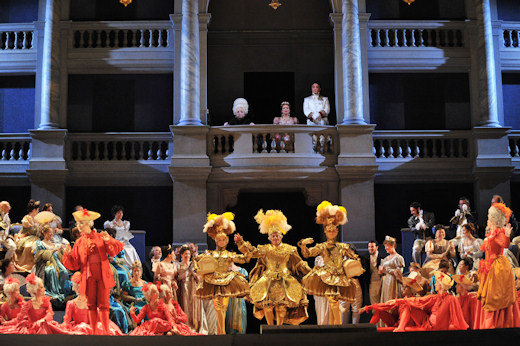 Production Picture © C.Antoni Bofill


Sometimes a particular aspect of a production makes such an impact that an almost forgotten opera can jump into the category of a repertory work and something of the sort is what happened with The Queen of Spades at the Liceu. After its première there in December 1922 it did not return for 45 years. Then in the 1991-1992 season, Plácido Domingo was announced as the protagonist and decided to a new production was commissioned for the event. Unfortunately, Superman was forced to cancel due to illness, but the performances were a great success, mainly due to the new production by Gilbert Deflo. Later on, and without major singers being cast, the production was revived seven years ago, and now it returns again to Barcelona, once more in Deflo's production.

The production is indeed very beautiful and surprising – surprising in that it is interesting to see how Gilbert Deflo has changed as a director over the last 20 years. At almost 66, it seems that the Belgian director has decided to follow the trend of modern minimalism, judging by his Il Trovatore shown in this same season.

But his production of The Queen of Spades is big and realistic work of the kind that you might expect from Otto Schenk or Franco Zeffirelli. Beautiful and spectacular sets, accompanied by gorgeous costumes are the basis of an outstanding setting. The presence of a solid, dark, mobile panel allows sets to change without stopping the action and there are some visually stunning scenes, particularly the reception in the Countess's Palace, the scenes in the rooms used by Lisa and the Countess, and the excellent moment when Lisa throws herself into the Neva river. I think that Hermann's hallucinations were less satisfactory, since it makes more sense to locate these in a closed and oppressive environment, rather than on a bridge across the Neva where the scene loses a good part of its impact. Even so, this is a production totally removed from what is usually offered these days at most opera houses and the audience enjoyed it. I think that the Liceu chose well in offering this revival.

The music was in the hands of the house music director, Michael Boder, whose interpretation was not wholly convincing. There is no question he is a secure and very efficient conductor, but I think this is not quite enough for a top flight opera house and after more than a year in post, I do not see signs of the Liceu orchestra really improving. The last time I saw this opera was two years ago with Tugan Sokhiev as conductor and the difference was more than remarkable. There was a good performance from the Chorus however, reinforced on this occasion by the Intermezzo choir.

As in 1992, we had to mourn Ben Heppner's cancellation as Hermann who after participating in all the rehearsals, had to pull out. He was replaced by Misha Didyk, who was to have played the main role in The Gambler the next day. Didyk is a compelling performer of Hermann, a role with which he seems to be quite familiar. (He sang it with Welsh National Opera last year. Ed) Obviously, he was not what might have been expected from a healthy Heppner in top form, but he was more than acceptable. His voice is not that big, but his figure and his pleasant timbre, work definitely in his favour.

American soprano Emily Magee was fine, but not compelling, as Lisa. Her main scene was not exciting, although she was always engrossing. Her voice is not especially large either and it is a little tight at the top, but it was always accurate.

Ewa Podles was the Countess and she won over the audience, as always happens with this character. Ewa Podles is not an old glory, as so often happens with the interpreters of this role, but she is not at her vocal best either. However, she took full advantage of her spectacular lower register.

Lado Ataneli was a good Count Tomsky, well suited to the role. He managed the high notes, although there were some signs of tiredness up there. The French baritone Ludovic Tezier is very used to singing Russian opera and he shone in Prince Yeletsky's aria, being highly acclaimed for it. Elena Zaremba was a luxury in the character of Polina, doubling as Daphnis in the Cantata. She was particularly good in the aria from Act I, and also in the duet with Lisa.

In the secondary roles I should mention first of all the excellent performance of Francisco Vas as Tchekalinsky. On the other hand, Alberto Faria was a coarse interpreter of his colleague Surin and it was surprising to see Stefania Toczyska in the minor role of the Governess, although she was very convincing.

The house had a few empty seats, which is quite unusual here. I am not sure if this had anything to do with the fact that at the same time Spain was playing a decisive football match in South Africa. The final reception was warm, the biggest applause going to Ewa Podles, Misha Didyk and Ludovc Tezier.

José M Irurzun