Other Links
Editorial Board
Editor - Bill Kenny

Founder - Len Mullenger
Google Site Search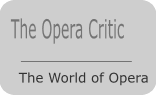 SEEN AND HEARD UK CONCERT REVIEW

Fauré, Roussel, Ravel: Lisa Milne (soprano), Christopher Maltman (bar), RSNO Chorus & Junior Chorus, Royal Scottish National Orchestra, Stéphane Denève (conductor), Usher Hall, Edinburgh, 15.1.2010 (SRT)

Fauré: Requiem
Roussel: Symphony No. 3
Ravel: La Valse
RSNO Music Director Stéphane Denève was firmly on his home territory here with three turn of the century French composers, and his orchestra was let off the leash to play with some deliciously authentic French colouring. Roussel's third symphony, with its colourful orchestration and frequent contrasts, felt almost like a concerto for orchestra at times, and La Valse carried just the right blend of sophistication and savagery, from its spectral opening (genuinely chilling here) to its final catastrophe. In fact Denève looked as though he might be about to take off during the closing pages as that nasty 4/4 beat sets about invading the waltz time. Whatever energy left was spent in an encore, the Farandole from Bizet's L'Arlésienne, which quite rightly brought down the house.

Fauré's ever-popular Requiem got an authentic Gallic touch too, not least in the unusually mellow string tone, with their careful use of vibrato helping them sound judiciously French. They were at their finest during the dark scene-painting of the Offertorio with the spine-tingling shudders from the cellos and violas. Elsewhere the climax of the Libera me lacked nothing in terms of power. Support from the chorus was refreshingly precise and a marked improvement from their last outing, the Sea Symphony last May. They showed plenty of light and shade to underline the impact, unlike Lisa Milne's soprano who was rather too mature sounding to evoke the innocence of the Pie Jesu. Christopher Maltman shaded down his rich baritone for the tender Hostias but picked up in strength for the Libera me, the hint of uncertainty here reinforcing the insecurities inherent in the text. Denève's tempi were on the whole broad, but his expansive view tended to work, not least in the inexpressibly tender Agnus Dei where, during the transition to the Lux aeterna, the music seemed to hang suspended in space for an eternity. Who would have thought that you could find such an authentically French sound in these chilly northern climes?

In something of a coup the whole company are taking this programme to the Amsterdam Concertgebouw on Sunday 17th January, and the Edinburgh concert will be broadcast on BBC Radio 3 on 20th January 2010.
Simon Thompson