Other Links
Editorial Board
Editor - Bill Kenny
Assistant Webmaster - Stan Metzger

Founder - Len Mullenger
Google Site Search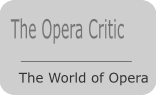 SEEN AND HEARD UK CONCERT REVIEW

Chilcott and Beethoven: Elizabeth Atherton (soprano), Wendy Dawn Thompson (mezzo–soprano), Andrew Kennedy (tenor), Derek Welton (baritone), Oxford Bach Choir, Royal Philharmonic Orchestra, Nicholas Cleobury, Cadogan Hall, London, 16.3.2010 (BBr)

Bob Chilcott: Requiem (2010) (London première)
Beethoven: Mass in C, op.86 (1807)

Premières are always special occasions and they are made all the more singular when the work receiving its première speaks directly to the heart and the emotions in a voice which is easily understandable: with music of such epic simplicity that its beauties are immediately apparent but will still reward one on further hearings. Thus, I was one of the lucky people to attend this performance and it falls to me to share with you the joy I experienced on hearing Bob Chilcott's new Requiem.

Chilcott is well known as a singer, he was a member of the King's Singers for 15 years, is a much sought after choral trainer and is currently Principal Guest Conductor of the BBC Singers. With his intimate knowledge of the voice he is far in advance of most composers who write vocal music – and this includes Beethoven – and is in a position to write music which is totally grateful for the singer. This new work, which was given its second performance tonight, following its première last Saturday in Oxford, is a major addition to the choral repertoire. In seven, very brief, movements this is not music for mourning, rather, as with John Rutter's excellent Requiem: instead,it is a work of meditation and reflection.

This is a true choral work filled with some imposing choral sections with much for the chorus to do, and there are also parts for soprano and tenor – taken by the marvellously radiant Elizabeth Atherton and the wonderful Andrew Kennedy. (Chilcott told me that he had written the tenor part for him and it shows in the deliciously lyrical lines, for Kennedy is one of this country's best lyric tenors, a fine wearer of the mantle passed on by the recently retired Ian Partridge). The orchestral forces are the same as Beethoven's in the Mass in C, but used with restraint, more as an accompaniment than as an entity in itself, so there are no outbursts from the band : all the argument is carried by the voices. Chilcott included a setting of the Pie Jesu which started with solo soprano – I thought, for a moment, that it might be demanded, somewhere that all settings of this text must be written for a solo soprano – but this setting also included some fine choral writing as well, a nice change from what might have been expected.
Chilcott's Requiem is a major work, and should be heard. It is to be hoped that choral societies all over the country will take it to their hearts as did tonight's audience, very well pleased with what it heard. This was a triumph for Chilcott and he deserved it for writing a work which grabbed the attention and moved those who were privileged to hear it. Interestingly, I later spoke with a friend of mine, a well known avant garde composer, and told him of my delight with this work and how it communicated with the audience. "Yes," he mused, "I expect that we really need that!"

I think it was soprano Noelle Barker who made the point that she loved performing contemporary music because, quite apart from enjoying singing it, it helped her with her vocal production so that when she returned to the classical repertoire, she could perform familiar works with new ears, strengthened by her understanding of how the music fell into the historical scheme of things. There is no reason why this should not be equally true for an audience: and thus we approached Beethoven's Mass in C with new ears.

I must be honest and tell you that I have avoided this work for years since Beethoven, no matter how great a composer, could not write for the voice in my opinion. I may be sticking my neck out here but to my mind Beethoven thought instrumentally and not vocally and that, for singers, can be a problem. However, listened to purely as music, and not as an exercise in compositional technique, the Mass in C is a gloriously festive work and the Oxford Bach Choir revelled in the challenges Beethoven, perhaps unconsciously, gave them. They produced a performance of such spirit that my misgivings were quite forgotten. The fine team of soloists added much to the performance too, and their contributions, even if they had only a single line to sing, were most telling. Such was the strength of this performance that I could hear exactly where Bruckner found the impetus for his own choral works.

A very satisfying experience then, with excellent choral singing, superb soloists and a Royal Philharmonic on top form, as they almost always are these days, under the strong leadership of Nicholas Cleobury. What more can one ask of a concert?

The performance was streamed live on the Cadogan Hall's website and it is available on demand. I would urge anyone interested in contemporary vocal music, or just has an interest in choral music, to spend the few pounds it will cost, to share the very satisfying musical experience I have had.

Bob Briggs