Other Links
Editorial Board
Editor - Bill Kenny
Assistant Webmaster - Stan Metzger

Founder - Len Mullenger
Google Site Search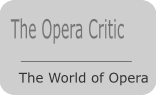 SEEN AND HEARD UK CONCERT

Rattle's Bach - The St Matthew Passion: Soloists, The City of Birmingham Symphony Orchestra and Chorus, The CBSO Children's Chorus, Sir Simon Rattle (Conductor) Symphony Hall, Birmingham, 7.3.2010 (BK)

Mark Padmore - tenor, Evangelist
Christian Gerhaher - baritone, Christus
Camilla Tilling - soprano
Magdalena Kožená -mezzo-soprano
Topi Lehtipuu - tenor
Thomas Quasthoff - baritone
Ulrich Heinen - cello continuo
Simon Linné - lute
Richard Tunnicliffe - viola da gamba
CBSO Chorus Director - Simon Halsey
CBSO Children's Chorus Director - Ruth Roberts

Sung in German with English surtitles

This concert was recorded and will be broadcast by BBC's Radio 3 on March 10th at 6.30pm. DO NOT MISS IT - and record it if you have the means - because it is simply magnificent from beginning to end.

Advertised by CBSO as Rattle's Bach and given two outings over last weekend, the performance is a glory from start to finish and a tribute not only to Simon Rattle himself but to his team of soloists, the CBSO's superbly well-drilled adult and children's choruses and of course to the constantly astonishing musicians in the orchestra. With these forces, this St. Matthew becomes the grandest of grand operas and all without need of scenery or directorial spin: Bach's music and Picander's narrative are more than sufficient.

This was an evening for beautiful singing and describing the soloists without lapsing into what sounds like a paean of uncritical adulation could be problematic. Even so, a better Evangelist than Mark Padmore is difficult to imagine. Placed in front of the podium and singing the work from memory, his effortless tenor filled the Hall with drama and with exquisite sound. Every word in the text was meaningful and compelling, full of interest and empathic sensitivity shaded carefully by ever-changing vocal colours. Mr Padmore knows this music inside out and clearly cares about it very deeply.

Christian Gerhaher's Christus was both strong and expressive, his vocal interpretation of what is after all, an increasingly anguished part never going beyond the good taste necessary to reflect the emotion in the narrative accurately. Like Mark Padmore he sang with dignified authority throughout.

Thomas Quasthoff, naturally enough, sang his multiple roles including the thrice denying Peter, with his usual beauty and depth. His 'Komm, süsses Kreuz' accompanied by Richard Tunnicliffe's limpid viola da gamba was particularly fine and he also sang along with all of the choruses, no doubt restoring some quiet balance to his soul. Magdalena Kožená's exquisite and burnished low mezzo was also a joy to hear, with only a few moments when there was a little loss of control and even those scarcely disturbed the flow.

Camilla Tilling completely lived up to the reputation she established as the Angel in De Nederlandse Opera's Saint François d' Assise in 2008 and after a slightly hesitant beginning, Topi Lehtipuu was in fine voice by the second half, revealing the beauty and mellowness of his lyric tenor.

Fine as the solo singing was, the evening belonged to the CBSO's players and singers and to Simon Rattle. The bond between musicians and their former Chief Conductor seemed as strong as ever and Rattle's direction was a model of quietly authoritative economy. His stamp was placed firmly on the work from the opening bars of 'Kommt, ihr Töchter helft mir klagen' through to the final choruses: conducting without a baton and with minimalist gesture, he sculpted ravishing and superbly controlled sound from his massive forces - no historically 'correct' performance this - to sustain the work's momentum as an organic whole. The vast CBSO chorus responded marvellously to his direction alternating demonstrations of quiet but weighty singing with perfectly controlled outbursts of genuinely angry passion while demanding the release of Barabbas and Christ's crucifixion. The CBSO Children's Chorus, a large group in itself with some 50 or more members, sang their ripieno 'O Lamm Gottes, unschuldig' very sweetly but with great accuracy and precision led by Simon Halsey, and were a real credit to their own Director, Ruth Roberts. Simon Rattle made a point of showing them his appreciation by applauding them warmly at the end of Part One as they trooped on for their bow - a generous gesture that was thoroughly deserved.

Rattle's Bach was a superb and impressive performance that will stay in the memory for years to come.

Bill Kenny

The BBC Radio 3 recording begins at 6.30 pm and will be available on the BBC I Player for seven days afterwards.