Other Links
Editorial Board
Editor - Bill Kenny
Assistant Webmaster - Stan Metzger

Founder - Len Mullenger
Google Site Search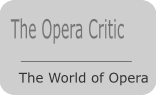 SEEN AND HEARD INTERNATIONAL CONCERT REVIEW

Mendelssohn, Beethoven, Chopin: Alice Sara Ott (piano), "Istanbul Recitals" at MKM Mustafa Kemal Center, Istanbul 17.3.2010 (AM)

Mendelssohn: Variations Sérieuses, Op. 54
Beethoven: Piano Sonata No.14 in C-Sharp Minor, Op. 27 No. 2
Chopin: Waltzes, Opp. 18, 34, 64, 69, 70; Waltzes posthumous

Young Ms. Sara Ott - hailed as 'Ms. Liszt' in music circles, may have deprived us of her Liszt (with the exception of La Campanella played as the sole encore) tonight, but her romantic program was seemingly no less taxing on her fingers than a set of Transcendental Etudes. That's because with Ms. Ott no phrase is an afterthought or black ink on white paper. She likes to work her way through the music one bar at a time. You may call it contrived, laboured, or even clearly prepared, but my inclination is that she is using her pianist-born right to place her mark on every piece she plays. To attempt this is indeed a right, but to pull it off is a privilege. Alice Sara Ott is clearly privileged, but this evening she might have relied on the kindness of the audience a little too much.
In order to chronicle an evening that got progressively better, one has to tell Ms. Ott's story backwards, and that's path I've followed here.

The second half of tonight's recital promised an [almost] full set of 17 Chopin Waltzes. Ms. Ott omitted a few as she went along, but overall we were treated to an almost one full hour of Chopin's genius in this sub-genre. Ms. Ott's performance was too varied to arrive at a definite conclusion, and thus it might be better to highlight a few highs and lows. Her performance was quite agreeable in Opp. 18 and 34. The Grand Valse Brillante was served with just the right amount of joie de vivre and was seasoned with enough breathing space. Op. 18 might be one of Chopin's most joyous compositions and its extrovert nature must always be prominently displayed. The piece is basically a brilliant burst of ballroom [over]excitement that does not pretend to contain any revelations and/or introspection. The audience is always more than happy to hear it in the way that it is written and cherishes the music for its expressionism alone. A few uneven repeated notes and whimsical ornamentations here and there aside, Ms. Ott let the music speak for itself and did nothing to over/under accentuate any of the passages.

Another high point (or two) was the first two waltzes of Op. 34 where the pianist communicated the opposing temperaments of the two works as if it was her second nature. The A-Flat flowed as if it was a continuation of the E-flat whereas the melancholic A-minor was particularly given a thoroughly pensive reading that hit all the right notes both literally and metaphorically.

What may have started to overlap into 'contrived' territory started with the Minute Waltz, Op. 64 No.1. This jovial music has little to offer besides wit and -if one is committed to fulfilling the nickname, technical showcase. This evening's rendition by Ms. Ott was a bit on the dry and brittle side. The music had a 'forced' feel to it that, in my opinion, did not sit well. Of course, the line between contrived and imaginative is a thin and often a subjective one. A case in point was her performance if the well-known C-Sharp Minor waltz of the Op. 34 set. Alice Sara Ott's extensive rubato in the opening may have gone against the indicated tempo giusto, but her dreamy approach which, apart from the rubato, featured untimely pauses and passages whose tempi were executed as if the piece was a mazurka produced a captivating and even enthralling experience that I enjoyed a lot.

The next Opus, 69, consists of two easier and, once again, thematically opposing waltzes. They are only easy in the sense that they are simple, and overworking them is a recipe for debacle. I wish Ms. Ott held herself back a little more, because the ornamentations and the awkward dynamic changes and stops felt as if these works were not the Op. 69's we know and love. Those alterations did not only affect the melody detrimentally, but they erased any waltz-y sense of rhythm with them. It is not a risk worth taking because especially with the B-minor, once the continuation is disrupted, there is little with which to go on.

Things got better with the F-minor Waltz of Op. 70. When played at its instructed tempo, as it was the case this evening, the music stops acting like a spoiled nocturne and becomes a grown up with a blithe character and subdued melancholy. Ms. Ott continued to drive the music in her own way here, but this time she paid more attention to detail and the subtleties. The end result was a highly personalized rendition, a little rough around the edges but far from sounding like heresy.

Ms. Ott's Waltz program continued with the posthumous works that suffered from that same over-assertion of personal style, but ended on a positive note with the under-played A minor. Perhaps, the simplest of all Chopin Waltzes, this miniscule gem has generally suffered from needless dramatization of its clean themes -either by driving the tempo down to almost a full-stop or by jumps en-gauche into phrases which the pianist thinks should receive more attention. Alice Sara Ott, fortunately, did not fall into that trap. Her pace could have been a little swifter, but apart from that her program came to a gracious close despite the hurdles along the way.

Speaking of pace, her triplets in Beethoven's Op.27 No.2 sonata, the 'moonlight' was perfectly timed and executed. It is of course very easy to think of a moonlit night and let the movement dread on and on, but Rellstab's ripples on the lake are moving faster than that. When a pianist can detect the difference between the two and plays the movement in a forward fashion, like Ms. Ott did here tonight, we are not left behind hypnotized, but instead we look forward to what is to come, which really is the point of good music anyway. Her second movement was playful as it should be, but the third movement presto was not agitated enough. Ms. Ott took a sterile approach and certain notes felt left alone hanging without resolving into the next. Her fingers carried enough apt and energy to successfully overcome the fast runs and octaves. A few missed and wrong notes are always an after effect and did not detract from the performance.

The recital opener, Mendelssohn's Variations Sérieuses, Op. 54, was where we heard Sara Ott at her best. The 'serious' theme in d-minor was presented with utmost clarity, almost like a solemn Bach prelude. Her pedal use was minimal in the initial baroque variations and gradually increased in the more dramatic ones that followed. Ms. Ott kept a sombre pose, her slender body barely moving at all, letting her fingers do all the work. Her thirds, fifths, and octaves were perfectly unison, her tone was clear and transparent both in the single melody lines and the denser passages.

Contrary to his other popular works, Mendelssohn's Op. 54 does not have one light bone in its body. The music may be grave but it's not pedantic. Ms. Ott breathed just the adequate amount of life into it without making the music lighter-weight. I only wish she had asserted that same amount of interference throughout the evening.

Alain Matalon