Other Links
Editorial Board
Editor - Bill Kenny


Assistant Webmaster -Stan Metzger

Founder - Len Mullenger
Google Site Search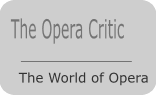 SEEN AND HEARD INTERNATIONAL OPERA REVIEW

Puccini, Turandot: Soloists, chorus, dancers and orchestra of Odessa National Academic Opera and Ballet Theater - Alexandru Samoile, conductor, Odessa, Ukraine, 20.6.2010 (BM)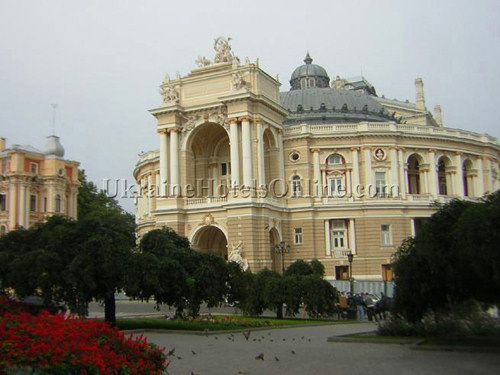 The Odessa Opera House
Picture Courtesy of Ukraine Hotels Online.Com


A scandal can be the best way to get the ball rolling, although that is hardly what Alexey Botvinov had in mind when he agreed to take on the job of artistic director at Odessa Opera some ten months ago. A distinguished pianist in his own right, with a noteworthy career as a soloist (watch this space for an interview with him in one of our next issues), he decided to give something back to his community and dedicate himself to putting his native city's opera house back on the map.

The building in itself is a jewel, one of the city's main tourist attractions, not to mention the many other beautiful sights that make Odessa well worth a visit for its intriguing multi-cultural society. It's a place teeming with life well after midnight, although it is still perfectly safe to walk the streets at all hours. The Opera House was designed by famous Austrian architect Fellner, and reopened just two years ago after 11 years of restoration, during which time opera productions were put on at the city's "Musical Hall". It is where the great Sviatoslav Richter, another distinguished Odessan, landed his very first job as a piano coach at the age of 15, at a time when this theater was known as an avant-garde stage, giving Puccini's Turandot its Russian premiere (Ukraine as we know it today did not exist yet at that time) and putting on Ernst Krenek's opera Johnny spielt auf to great acclaim for two seasons until it was banned by Soviet censure. As Stalin's regime tightened the screws, the authorities were no longer keen on innovative cultural ideas, an attitude resulting in very long-term repercussions, since today, a decade into the new millennium, opera in Odessa is still much the same as it was in the 1950's.

When Botvinov set out to change all of this by recruiting Christian von Götz to direct Turandot, he met with a wall of resistance from the theater's management against what they saw as the danger of being infiltrated by contemporary German Regietheater (director's theater), an attitude reminiscent of the Soviet era, and saddling the new artistic director with his very own 'Odessa File' - if I can get away with this reference to yet another, arguably even more tyrannical regime.

However, the ensemble at Odessa Opera went for von Götz's new approach big time, and the director could hardly get over the keenness and dedication of the chorus and corps de ballet in particular, calling this the most exciting of his 86 productions to date. But the theater's apparatchiks fought him tooth and nail, and literally to the bitter end, even banning the lead prima donna from singing the title role on opening night and denying the German team and Botvinov himself entry to the building during the final days prior to the premiere. They never stopped to think that their plan might backfire, as indeed it did, resulting in wide and daily media coverage throughout the country and VIPs lining up to attend the opening performance, as well as people congratulating Botvinov and his colleagues on the street, even long before choreographer Verena Hierhauser was obliged hold the final rehearsals with her dancers out on the sidewalks outside the opera house. Nor did it occur to the admindistration that Odessan audiences might actually welcome something novel (contemporary productions of plays are nothing new in this city, after all). But that is precisely what happened, so let's have a look at why Odessa's new Turandot has been such a success.

Odessans would seem to be the marrying kind, judging by the number of couples to be seen tying the knot in lavish style in the vicinity of their landmark opera house every weekend, though without a trace of the trepidation expressed by Princess Turandot, whose story is a slightly different take on matrimony – inventively introduced by the little gold sachets distributed at the entrance to the theater, containing what looks like a fortune-cookie ribbon but turns out to be the riddles Turandot's would-be suitors must solve. As the lights dim and the curtain rises, it soon becomes apparent that the stars of this production are the fabulous orchestra under Alexandru Samoile and the imposing chorus coached by Leonid Butenko - an Honored Art Worker of Ukraine, as the glossy program informs us, whereas the conductor is a People's Artist of the Republic of Moldova, titles still popular even in post-Soviet Ukraine.

Botvinov is not exaggerating when he refers to the tremendous potential of his company in terms of "raw material". The choristers, in costumes by Lena Brexendorf with a drab, paramilitary touch, allude to the masses oppressed by but also perpetuating unnamed 20th century dictatorships, gleefully discarding their blood-smeared gloves when Calaf solves the riddles, only to assist in Liù's interrogation and don them yet again when offers up her life. The principals are shown in garments resembling traditional Chinese dress, and the Princess's seemingly endless gown had initially been intended to adorn a replica of the Potemkin Stairs, another of the city's sights (made famous by Sergei Eisenstein's 1925 film and its fictionalized account of the Czarist massacre that took place there) but yet another idea sabotaged by the theater's management because it ostensibly would have "damaged" the stage. Instead, the sets were enhanced by video projections, which actually had the great advantage of making some sense of the unfortunate Alfano ending (not the director's choice, incidentally) by showing Turandot grimacing in horror on screen when Calaf kisses on her on stage at long last.

The tedious Ping-Pang-Pong scenes were made more bearable than usual by virtue of the sheer enthusiasm and impressive acrobatics displayed by Vasiliy Dobrovolskiy, Ruslan Zinevich and Vladislav Goray. Alas, Olga Spodareva-Perrie, billed as Ukraine's answer to Anna Netrebko, and with whom the riddle scene had been intricately choreographed as a psychological study of Turandot's character, was barred from singing the title role at the premiere and replaced by Tatiana Anisimova, who was in excellent voice but a bit stolid in terms of stage presence. Her prince was Valeriy Benderov, an artist clearly not accustomed to taming his formidable voice. As a result, he provided foreigners in the audience with much insight into the opera tradition in his country, holding his high notes until they were met with applause and coming across as a bellowing bull at times. Having said that, he is also undeniably a first-rate singer, with a pleasant baritonal hue to his tenor. The most impressive appearances were put in by Larisa Zuenko as Liù with her exquisite pianissimo, and Vasiliy Navrotskiy (teacher of Odessa's rising star, Alexander Tsymbalyuk) as Timur, imposing and humble at once, with a generous timbre to his baritone and admirable diction.

Not everyone may care for Turandot's attire in the final scene – red leather trimmed with crimson fur – but when she raises her arms and her costume forms a hideous heart, it is a welcome comment on the irony of a misconceived happy ending. The audience approved, and rightly so. What's more, this is precisely the spirit in which Alexey Botvinov's new approach was conceived. "Yes, our opera house is an architectural monument, but opera is not a museum," he comments aptly (echoing the words of Graham Vick in his memorable speech Opera has to Change. "and if opera does not evolve as an art form, it will be dead in a few decades to come. Some have referred to what I am doing as a cultural war, but I prefer to call it a war for culture!"

So if you happen to be planning your next opera trip, why not do yourself a favor and forget the Arena di Verona et al. There are new horizons waiting to be discovered in Eastern Europe in general – and in particular in Odessa!

Bettina Mara

The Odessa Opera and Ballet Company's web site is here.