Other Links
Editorial Board
Editor - Bill Kenny


Assistant Webmaster -Stan Metzger

Founder - Len Mullenger
Google Site Search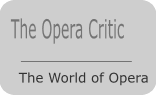 SEEN AND HEARD UK CONCERT REVIEW


Schubert, Richard Strauss and Kurt Schwertsik: Julia White (oboe), Morley Chamber Orchestra, Charles Peebles, St John's, Smith Square, London, 11.6.2010 (BBr)
Schubert: Excerpts from Rosamunde, Princess of Cyprus, D797 (1823)
Kurt Schwertsik: Epilog zu Rosamunde, op.33 (1978)
Richard Strauss: Oboe Concerto in D (1945)
Kurt Schwertsik: Schrumpf–Symphonie, op.80 (1999)
Schubert: Symphony No.6 in C, D589 (1817/1818)


A nicely, and quirkily, planned show of Austro-German repertoire ranging from the well known to new friends. Starting with two excerpts from Schubert's justly famous Rosamunde incidental music – including the lovely Entr'acte in B♭ – Peebles displayed a sure, but delicate hand, in these winsome and delightful pieces and they made a most welcome start. Kurt Schwertsik's Epilog zu Rosamunde, created as the final part of a danced version of Schubert's music, would have come as a shock to some – this isn't the kind of music Schwertsik wrote in his opera Das Märchen von Fanferlieschen Schönefüßchen (The Wondrous Tale of Fanferlizzy Sunnyfeet) – for this is Schwertsik in rather severe mode. The piece makes use of the Schubert Entr'acte which opened the show and he takes it through various transformations, looking at the music from different angles and presenting it in various guises. It's a kaleidoscope of ideas and a fascinating listen but it needs more than one hearing for it to really begin to make sense. A performance as assured as this, however, was a big help for the audience and the revelation of the new was thus more easily assimilated.

Richard Strauss's Oboe Concerto found an ideal interpreter tonight. Julia White is an alumnus of Morley College and after several years playing with the Santiago Philharmonic she has returned to her home shores to continue her career. This was a most assured performance, full of warm lyricism and dazzling virtuosity. From the outset the music floated on air, both White and Peebles understanding that this is not a serious piece but an 18th century divertissement, meant to be enjoyed and not pondered over. White was clearly audible throughout – not always easy in the big acoustic of St John's – and with a discreet accompaniment from Peebles and his orchestra – the wind band was especially good – this made for a fine performance.

Schwertsik's Schrumpf–Symphonie (Shrunken Symphony) plays for about 5 minutes. If you sneeze you could miss a movement but it is a fine entertainment, with much humour and some lovely touches of colour. How different from the Epilog, and how much easier for the audience. Why we don't hear more of Schwertsik's wonderfully entertaining music is beyond me, for he has the ability to communicate, whilst still being subversive, with the most attractive music.

Schubert's youthful 6th Symphony made a splendid close. Peebles gave a very stylish performance, with a light touch, and he exploited the Haydnesque nimbleness and sense of fun of the piece. At the end I wondered why we never hear this work for it has much to commend it, not least some lovely writing for the flutes in the first movement and a very racey finale.

This orchestra, Charles Peebles told me, was formed by Michael Tippett, in 1932, to give employment to musicians put out of work by the coming of the talkies and the great depression and it has a fine tradition, one which Peebles is proud to be keeping alive. The students of Morley College made a fine sound and obviously enjoyed the opportunity to play for us. If I have one complaint it was that the timpani was too prominent in the second half and tended to drown some of the finer details of the string writing, but, that apart, I really enjoyed the show.
Bob Briggs