Other Links
Editorial Board
Editor - Bill Kenny
Assistant Webmaster - Stan Metzger

Founder - Len Mullenger
Google Site Search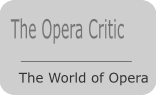 SEEN AND HEARD INTERNATIONAL CONCERT REVIEW
Edita Gruberova in Concert - Music by G. Donizetti, V. Bellini, G. Verdi and A. Thomas: Orquesta Sinfónica de Madrid.Conductor: Michael Güttler. Teatro Real de Madrid. 21.03.2010. (JMI)


Within the cycle called "Great Voices" one of the true living icons of the opera world comes to Madrid's Teatro Real. I refer to Edita Gruberova, who returned to this theatre after being absent for the last six years, when she gave a triumphant concert. The "Great Voices" cycle brings some of the very greatest artists to Madrid and there are fears among aficionados that Gerard Mortier will not continue with it in the future, or at least not in the same way. The cycle this season has brought singers such as Renée Fleming, Cecilia Bartoli and Diana Damrau - if we now add Edita Gruberova and Leo Nucci in June, we can conclude that it has been truly impressive.
As I said already, Edita Gruberova is one of the great opera icons, whose many followers go to the theatre not only to listen to her, but actually to pay tribute to her. Artists like such as she are very scarce and everyone should recognize that the existence of such great stars is essential to opera's survival. Such idols have always been rare and perhaps are even more so these days: they have such special qualities so that they are almost singing gods. I can hardly think of anyone except Placido Domingo and Edita Gruberova herself who really have this status although we might reasonably add Juan Diego Flórez and Cecilia Bartoli, as well as those excellent artists with a huge media appeal, such as Renée Fleming and Anna Netrebko. To my mind though, among all of them, only Mrs.Gruberova and Superman would be cheered even on a truly bad night. The true idols are worshipped, venerated and loved in any circumstances.
Because of her status I am convinced that today Gruberova fans come to the theatre or concert halls to see her rather than to hear t her, to pay tributes of admiration rather than to analyze her perfomances. She triumphed even before she opened her mouth, since she was cheered as soon as she appeared on stage. Her legion of fans do not even cheer her, they rather shout their enthusiasm in screams, if not actual roars. This diva simply has to be accepted for what she is: one of the most important light sopranos of the last 40 years, who has offered a technique and an intelligence available to very few singers in history. People who have seen her in the past (certainly the vast majority of those attending the concert) will know her strengths and weaknesses and there are almost no surprises with her even now - her vocal shape is a miracle for a singer who will be 64 next December. The voice has no signs of fatigue or even vibrato, her breath control remains outstanding and her high register is still impressive. To say that her low register is rather weak now, just isn't news because that's how it has always been.
In a concert of the opera icon howevere, one tends to think that the risks taken by the singer will be minimal. Not so with Ms. Gruberova, since the program was actually very demanding, consisting of five full scenes rather than arias. In the first part of the concert she gave us thLucrezia Borgia's scene when she meets the sleeping Gennaro: "Tranquillo ei posa… Com'è bello", the final scene from Beatrice di Tenda and finally the scene that ends Traviata's first act.

The second half was dedicated to mad scenes, beginning with Elvira from I Puritani and ending with Ophélie from Hamlet. In all of them Gruberova was true to herself, exactly what her worshippers were expecting from her. As encores she offered "O luce di quest'anima" from Linda di Chamounix, one of her very best pages in her long career, in which she was again outstanding. She finished Adele's aria from Die Fledermaus "Spiel ich die Unschuld vom Lande", where she was simply delicious as singer and performer. Years will pass until we see an Adele like Gruby.
The diva was accompanied by the Orquesta Sinfónica de Madrid under German conductor Michael Güttler. The orchestra gave out a better sound than it sometimes does and the conductor made a good impression, both in accompanying Gruberova and in the various overtures and interludes, that were also played, although there was rather too much sound in general.
The Teatro Real was fully sold out and the cheers, roars and indeed screams of her fans could easily have put the security of the building itself at a risk. Pure fans and more critical opera lovers alike are probably all agreed that Edita Gruberova is a phenomenon, part of the very best history of opera, and that concerts like this one should be given in all of the important opera houses.

José M Irurzun