Other Links
Editorial Board
Editor - Bill Kenny
Assistant Webmaster - Stan Metzger

Founder - Len Mullenger
Google Site Search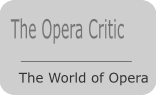 SEEN AND HEARD UK OPERA REVIEW

Philip Glass,  Satyagraha: Soloists, Orchestra and Chorus of the ENO, Stuart Stratford (conductor) , Skills Ensemble , English National Opera, The Coliseum, London 25. 2. 2010 (GDn)
 Cast:
Alan Oke (Gandhi)
Elena Xanthoudakis (Miss Schlesen, Gandhi's secretary)
Janis Kelly (Mrs Naidoo)
Stephanie Marshall (Mrs Gandhi)
Ashley Holland, James Gower, Anne Mason (co-workers and friends)
Robert Poulton (Prince Arjuna)

Production:
Phelim McDermott (director)
David Kneuss (revival director)
Julian Crouch (designer)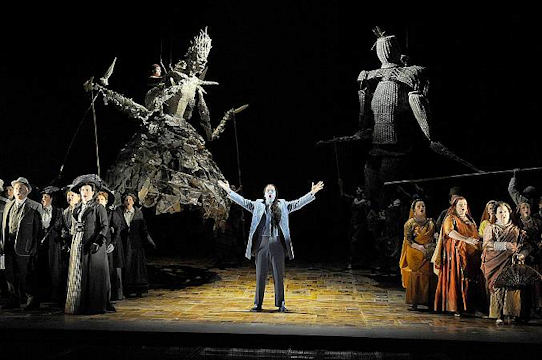 Production Picture © Alastair Muir


Loyalty of the singers to the production or (more probably) loyalty of the production to the singers has meant that Philip Glass' Gandhi opera has returned to ENO with few significant casting changes. So the variety of critical opinions about the original staging will no doubt be replicated by the revival. If you're a Philip Glass lover, the production is a treat all too rare on the London stage. If you're not (and I'm not) there is still plenty to engage in the work's philosophical themes and imaginative staging.
When the programme describes the work as 'semi-dramatic' it is overstating the case. Scenarios are evoked by each of the scenes, but the score provides little scope for narrative flow or stage action in the traditional sense. Director Phelim McDermott creates an opportunity for himself out of this paradox by combining relatively static singers, usually at the front of the stage, with elaborate puppetry, lighting effects and video projections behind. The combination succeeds by honouring the score's semantic and narrative ambiguity; momentous events are clearly taking place before us, but the audience is always left to decide the significance for themselves.

There is also a symbolic structure that underpins the work, with the three acts representing the past, present and future significance of the civic rights struggle by the Indian community in early 20th century South Africa. These are represented by significant and sympathetic figures, Tolstoy for the past, the Indian poet and activist Rabindranath Tagore the present and Martin Luther King the future. Each is represented as a benevolent, overseeing figure in their respective acts, acted in mime high above the stage. The device works powerfully in the last act, with King at a high podium, orating to an invisible mass beyond. It is less effective with Tolstoy, whose resemblance to Father Christmas makes him hard to take seriously.

Use of the Sanskrit text must have been signed off at the highest level by English National Opera. Perhaps they are attempting to garner support for their English language policy by demonstrating how obfuscatory the use of foreign (let alone dead) languages can be to opera performance. The non-Sanskrit speaking audience are kept semi-informed about the significance of the text with the projection of maxims and aphorisms onto the corrugated iron semi-circular backdrop. In one sense, this is a clever integration of the operatic convention of surtitling into the stage design. However, there is something pedantic about it too. In the first act, for example, the 'story' revolves around the founding of farm along collective lines. But the spectacle of a choir singing homophonic, major chord music about the virtues of collective endeavour, while maxims to that effect are projected above their heads, is suspiciously reminiscent of Soviet propaganda. Just as well that Gandhi's political credentials are impeccable – you could get in trouble doing this with Prokofiev.

The larger-than-life puppetry behind the singers is the defining feature of this production, and each of the acts is punctuated by visually spectacular events. A battle of Hindu legend between the Kuruvas and the Pandavas is played out through giant puppets constructed from the wicker baskets carried by the chorus. Giant papier-mâché heads represent figures of imperial oppression. Newspaper and even sellotape are manipulated into giant silhouette figures. To those (and here again I confess scepticism) who are wary of the encroachment of Cirque du Soleil style acrobatics and high wire acts onto the opera stage, I can offer the reassurance that these effects are employed as exceptions rather than the rule in the visual spectacle. However, there are one or two places where a crowd scene lingers for so long that you know one of its members is about to ascend on wires into the sky, and usually for no readily apparent reason.

Lighting effects play a subtle but significant role in this production, and credit is due to Paule Constable for its design. The signature style is narrow, white spotlights, creating bleached, arid effects or focussing attention on a character of group. One effect that makes a regular appearance is the use of a single spot directly above a singer, but so narrow that even the features of their face are obscured. It's an effect that powerfully accentuates the semi-dramatic status of the work, with none of the singers quite inhabiting the character with which the programme associates their name.

The lack of traditional operatic interaction makes it difficult to assess the relative merits of individual singers. With one bald and bespectacled exception, the singers are really only characters in name only, and most of the singing is in the form of continuous homophonic ensemble. For all that, the soprano of Janis Kelly is often a powerful and rich aural presence, and the stamina of James Gower's bass provides a strong underpinning to many of the ensembles. The chorus also coped admirably with the score's continuous, and arguably misanthropic, demands. The only moment of vulnerability came in the first scene of the second act. Here, the gentlemen of the chorus represent a mocking crowd, laughing at the protagonist in repeated semi-quavers: Hahahaha – Hahahaha – Hahahaha – Hahahaha...you get the idea, and it goes on for about 20 minutes. Fatigue is perhaps an inevitable consequence, for performance and audience alike.

But one singer in the production deserves unqualified praise – Alan Oke in the role of Ghandi. His tenor voice has the ideal balance of vulnerability and dignity to make the role convincing. His is not a big sound, but it carries and has an elegance that draws the ear in. The iconicity of Ghandi is an important dimension of the production; he starts out as a suited lawyer and both his costume and his behaviour gradually evolve into those of his ascetic maturity. Alan Oke's spindly frame and delicate, if deliberate actions make him the ideal singer for the role. He opens the opera unaccompanied, and did so exactly on pitch. After that, Glass is kinder on him, in fact he sings very little in the first two acts. But he is almost always there on the stage, a conduit for the high ideals that the work explores and a focus for its ethical conscience that communicates deeply, even to the most diehard of Philip Glass sceptics in the audience.

Gavin Dixon