Other Links
Editorial Board
Editor - Bill Kenny
Assistant Webmaster - Stan Metzger

Founder - Len Mullenger
Google Site Search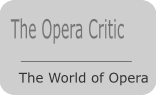 SEEN AND HEARD UK CONCERT REVIEW
Frank Bridge, Stravinsky and Rachmaninov: Alexander Soares (piano), Ealing Symphony Orchestra, John Gibbons,St Barnabas's Church, Pitshanger Lane, Ealing, London, 20.2.2010 (BBr)
Frank Bridge: Rhapsody: Enter Spring (1927)
Stravinsky: Le Sacre du Printemps (1913)
Rachmaninov: Piano Concerto No.3 in D minor, op.30 (1909)
English music was particularly blessed in the first half of the last century for it was filled with some towering masterpieces – starting with the Elgar Symphonies and ending with a major flurry, A Child of Our Time, Peter Grimes, Havergal Brian's Sinfonia Tragica and Malcolm Arnold's hair–raising 1st Symphony. Standing midway is a work which, had been written by a German or French composer, would be a repertoire piece – the Rhapsody: Enter Spring. For many, the name of Frank Bridge is still only remembered as Benjamin Britten's teacher, and this is, to say the least, unfair both to him and for us. Bridge was a fine composer who never really, especially after the first war when his style mature into something more akin to European trends than to English pastoralism, found a public. It was a performance of his earlier, impressionistic work, The Sea at the 1924 Norwich Triennial Festival which prompted the commissioning of a work for the next meeting. The result, and I imagine a very startling one for the committee, was Enter Spring. Despite its short playing time, a little under 20 minutes, this is a major work, and one which it is impossible not to relate to; the orchestration is magnificent, bright and vibrant, quite flamboyant in many ways, and totally unlike its contemporaries – there's none of Bax's rich romanticism, the excesses of Havergal Brian's early Symphonies, the jazz inflected works of Constant Lambert or the countryside of VW. Perhaps the nearest composer to Bridge, at this time, was Gustav Holst who was also forging a new style and language, albeit, a very different one to Bridge.

I have felt it necessary to put Bridge and his work into context for Enter Spring is still a rarity in our concert halls – the last time I heard it live was at a Prom in 1991 – and tonight's performance showed us exactly what we are missing. John Gibbons is a real friend to English music – with his Ealing Orchestra he is engaged, amongst other things, on a nine year project to give all of Malcolm Arnold's Symphonies, the first such cycle ever given in London – and it is to his credit that he introduced a packed house to the glories of this work. Even allowing for the large acoustic of St Barnabas's Church much of Bridge's fabulous orchestration was clearly heard, from the tone painting of the evocative winds, heralding the season, to the great, and make no mistake it is great, tune which crowns the work in all its glory. Gibbons is a most undemonstrative conductor on the podium – I have the feeling that he sees himself as a conduit, through which the music must pass so as to allow the music he is directing to be heard as clearly as possible, for he never imposes himself between the music and the audience – but the results he achieves are quite stunning. Enter Spring is not an easy work to bring off in performance but tonight we heard it in all its glory and, listening to comments made during the interval, Gibbons and his players won many over to the cause of Frank Bridge, and that is all to the good for the, still woefully misunderstood and seldom played, huge catalogue of English music. My one reservation was that I would have welcomed more of the military glockenspiel at the end.
Surely only a madman or someone who didn't understand concert planning would have followed this with Stravinsky's piece of orchestral Grand Guignol Le Sacre du Printemps? Not so for here again, is an example of Gibbons's understanding of music. "Too many people see Le Sacre as an orchestral showpiece, but it's not, it's a piece for dance", he told me, and his approach was just that. This performance wasn't the excitement-fest we so often hear but a studied conception which threw aside all thoughts of virtuoso display and, with carefully chosen tempi, and an ear for orchestral sonority, what we were given was a performance of a work which I never thought was possible, the reality that this music could actually be used for dancing! Gibbons was at his best in creating menace, and certain passages, I am thinking of the Procession of the Sage in the first half, where the climax, with tam tam strokes raisng goosepimples of excitement, and the Introduction to part two, were quite spectatcular, yet wholly gripping, in their restraint. His wasn't a performance of Le Sacre which would please those who love the work for its sonic thrills, but it was one for thought and reflection.

After the interval, as if we hadn't had sufficient excitement and colour, we had Rachmaninov's 3rd Piano Concerto, played with consummate ease, or so it seemed, by Alexander Soares. Soares is possessed of a technique far beyond his youth, he is currently studying at the Guildhall School with Ronan O'Hara, and he was the winner of the Ealing Festval Concerto Award, and he played the work as if it was in his blood. This was a young man's interpretation for all caution was thrown to the wind, tempi were fast, but never so fast that the music became confused or rushed, and it never seemed breathless, but it was very exciting and, because of this, I missed the moments of relaxation which are so important to this work. Soares will, of course, come to this in time, and his performance will be all the richer. For the moment, we reveled in some fine pianism and I look forward to watching this young man's career grow and the increasing maturity he will display. Gibbons and this orchestra provided a full and satisfying accompaniment.

Perhaps on paper this looked like a rather lop–sided programme but with Gibbons's knowledge of music, and his insights, it was thoroughly enjoyable and easily enjoyed. Bravo to all concerned.
Bob Briggs