Other Links
Editorial Board
Editor - Bill Kenny
Assistant Webmaster - Stan Metzger

Founder - Len Mullenger
Google Site Search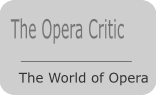 SEEN AND HEARD OPERA REVIEW

Donizetti, La Fille du Régiment: Soloists, Orquestra Simfònica and Chorus Gran Teatre del Liceu. Conductor: Yves Abel., Gran Teatre del Liceu de Barcelona. 9 & 10.03.2010 (JMI)


New Production based on the original co-production from New York Metropolitan, London's Royal Opera and Vienna Staatsoper.

Direction: Laurent Pelly.
Sets: Chantal Thomas.
Costumes: Laurent Pelly.
Lighting. Joël Adam.
Choreography: Laura Scozzi.

Casts:
Marie: Patrizia Ciofi/Nino Machaidze.
Tonio: Juan Diego Flórez/Antonio Gandía,
Sulpice: Pietro Spagnoli/Carlos Bergasa.
M. Berkenfield: Victoria Livengood.
Hortensius: Alex Sanmartí.
Caporal: Josep Ribot.
Duchesse de Crakentorp: Ángel Pavlovsky.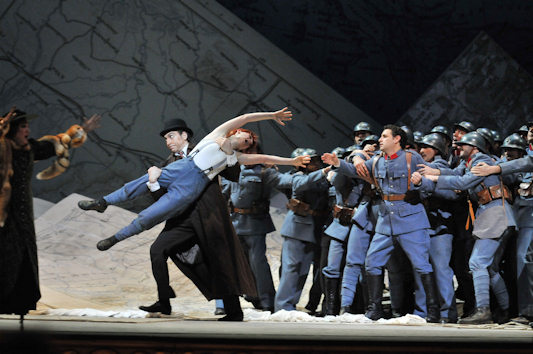 Production Picture - C. Antoni Bofill


La Fille du Régiment has not been a frequent visitor to Barcelona's Liceu. Its last outing there was in 1993, as a showcase for Edita Gruberova in the title role. Most opera-lovers would agree that this opera is not programmed for its intrinsic musical qualities, but rather as a vehicle for at least one great singer. If the last occasion the Liceu featured this work was for the Slovak diva, this time the presence of the work was assured the Peruvian idol Juan Diego Flórez.

Wherever he goes this great tenor is guaranteed a palpably triumphant atmosphere. The Liceu event was no exception. Success was in the bag before anybody even began to sing. After a little more than accurately played overture the first cheers, although quite sparse, could be heard in the theatre. The problem is that some people come to the opera with a full complement of "bravos" but lack the judgement to know how or when to unload them. "Tal dei tempi è i costume" (Carlo Gerard dixit).

The Laurent Pelly production was announced as a new item, which is rather strange, since this work has in recent years been present in many of the most important opera houses in the world, always with Juan Diego Flórez as Tonio. I guess that the Liceu had built fresh sets, but there is noting new in the production apart from a speckle of fresh touches in the final act around the figure of La Duchesse de Crakentorp. The last performance of this production at the Metropolitan took place on 22 February 2010, while the premiere in Barcelona was on 7 March 2010. There was precious little time for transport and rehearsals.

Laurent Pelly moved the action into World War I and this has had a very good reception, both from audiences and critics, since its premiere in Covent Garden in January 2007. Mr. Pelly does outstanding stage-work, in particular in the way he uses the choir and extras. It should be noted that he draws fine collaboration from all the singers, who have a great time on stage and this is immediately transmitted to the audience. When so often we have to attend so-called conceptual productions or encounter the work of directors who pay attention only to aesthetics, it is all the more praiseworthy when we come up against the work of a true man of the theatre who puts his job and imagination at the service of the opera. Pelly's sets are quite simple, consisting of a very rich room (no walls) in Act II and a few mountain-dominated maps of Europe. What stands out above all else is Pelly's great stage direction, full of imagination and gags that win the laughter of the public. Particularly notable is the appearance of the Regiment in the final scene with a tank and Tonio at the top. Then there's the final presentation on stage during the last ensemble "Salut à la France" dominated by a huge painted cock which puts an end to the opera with his "Kikirikí!" or "cock-a-doodle-doo!".

As so often with Juan Diego Flórez, the musical direction was in the hands of Canadian Yves Abel. Abel favours precision and lively tempos. He was also very much at the service of the singers – just as well in bel canto. The orchestra was not at their best but the Choir was truly outstanding.

Patrizia Ciofi was Marie in the first cast and she was quite convincing. I find her voice too metallic and rather small, but her interpretation is outstanding - a personal success. She is a soprano to be seen on stage rather than being listened to on studio recordings. In the second cast the daughter of the regiment was Georgian soprano Nino Machaidze. I have rarely seen in an opera such identification between singer and character. She had lots of fun on stage and this was immediately transmitted to the audience. Her voice is bigger than Ciofi's, but the timbre is not overly beautiful. In addition to her excellent singing she has a great figure and is an remarkable actress. At 26 a great future lies ahead of her. Ciofi and Machaidze are very good but neither of them could challenge in vocal terms the memories I have of Mirella Freni or June Anderson in that role.

Juan Diego Flórez was the much heralded Tonio and he proved that he has no rival today in this repertoire. His stage performance was helped by the fact that he has performed dozens of times in this production; he seems very comfortable. As I left the theatre I began to think of the damage the newspapers did to this opera, when they wrote of the triumph of a young Pavarotti at the Metropolitan singing an "incredible 9 high Cs". Since then it is now as if there is nothing else in this opera than "Ah, mes amis". Flórez has contributed to this with his encores of the piece. I say all this, because I will exchange a Flórez encore of "Pour me raprocher de Marie" for hundreds of high Cs. This does not undervalue his interpretation of the most famous cavatina, where he was as bright as can be expected, but it only serves to emphasize his singing of this second act aria, where he was absolutely outstanding. He sang with exquisite taste the like of which I have not encountered since Alfredo Kraus. For me that was the peak of the whole evening. In the second cast Antonio Gandía was a good Tonio. His voice is pleasant, although it gets rather backwards. He was quite bright singing "Ah, mes amis" but not at same level in the second act aria.
Pietro Spagnoli was a good Sulpice; better than Carlos Bergasa in the second cast. The Marquise of Berkenfield was the American mezzo-soprano Victoria Livengood, whose stage performance was better than her singing. She was great fun.

The auditorium was sold out and the public showed their enthusiasm repeatedly. Juan Diego Flórez encored "Ah, mes amis", in response to the seemingly endless applause. In the final reception, there were three artists truly cheered: Juan Diego Flórez, Nino Machaidze and Patrizia Ciofi. Both sopranos were absolutely delighted with their reception. For Machaidze it was her house debut. For Ciofi it was some reparation for the audience reception she encountered a few years back, when she sang Lucia replacing Gruberova. Victoria Livengood had a very good reception also.

José M Irurzun