Other Links
Editorial Board
Editor - Bill Kenny
Assistant Webmaster - Stan Metzger

Founder - Len Mullenger
Google Site Search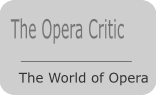 SEEN AND HEARD STUDY DAY REVIEW
Samuel Sebastian Wesley Study Day: Inner Parry Room, Royal College of Music, Prince Consort Road, London, 16.6.2010 (BBr)
If I wanted to show you the glory of, say, Schubert's Lied Heidenröslein, D257, the best I could do would be to let you hear it. The performance of a piece of music tells you more about the music than any amount of words spoken about it. Talking, and indeed writing, about music is a dangerous thing, for the speaker, or writer, can lose his audience if he isn't really on top of his subject.
Dr Peter Horton, of the RCM, put together this generally fascinating study day for a composer whom he claims to be, "…the finest English composer of the mid–nineteenth century." A big claim, but one which he set out to prove. Papers were read, talks were given and, best of all, some of the music was performed. But could Dr Horton's claim be upheld?
After two fascinating papers – Dr Horton's own Who was Samuel Sebastian Wesley? and Professor Philip Olleson's Wesley's Early Life: Family, Upbringing and Musical Education, we were allowed some music.
Samuel Sebastian Wesley: Jeux d' Ésprit: Quadrilles à la Herz (1846)
The bruised reed (c1834)
Did I possess the magic art
Rondo in G (c1834)
Mendelssohn: Lied ohne Wörter, op.19/4 (1830)
Wesley: There be none of beauty's daughters (c1835)
Mendelssohn: There be none of beauty's daughters (1833)
Wesley: March and Rondo (c1842)
Hiroaki Takenouchi (piano)
Alexandra Hutton (soprano)
Stephen Meakins (piano)
If the only work you knew by S S Wesley was the anthem Wash me throughly then this concert was going to be something of a culture shock. The Quadrilles were written after a comment made whilst at table, where someone told Wesley that he could not understand his Church music and would he write something of a lighter nature? Here is the result, a jolly romp for solo piano which has no pretentions to do anything other than entertain. Likewise the March and Rondo, mock serious with bizarre Berliozian outbursts and jaunty themes. These were played with his tongue placed firmly in his cheek by Hiroaki Takenouchi. The three songs showed two sides to Wesley. The first two were obviouslty of the drawing room ballad type, and the quality of the words might be questioned, but the Byron setting was a bold scena, full of passion and emotion. Alexandra Hutton was the full voiced singer and she was well supported by Stephen Meakins, who also gave the Wesley Rondo in G and Medelssonhn's Song Without Words. Fine performers all, but the small Inner Parry Room didn't allow for a pianissimo and thus everything was heard at forte or louder and such delightful felicities of touch as Wesley might have wrought were totally lost, and the sound was boomy and slightly unfocused.
Two more papers, Dr Horton's Wesley the composer, which proved to be a good introduction to the man's work, and Professor Robert Pascall on Wesley's Liturgical Masterpiece: The E major Service, led to an organ recital in Room 90 – next door to the Inner Parry Room.
Wesley: Introduction and Fugue in C# minor (original version)
Larghetto in F# minor
Mendelssohn: Organ Sonata No.1 (Allegro moderato e serioso)
Wesley: Andante in F
Asndante cantabile in G
Choral Song and Fugue
David Aprahamian Liddle and Simon Hogan (organ)
Here was some meatier work. Aprahamian Liddle gave a big account of the Introduction and Fugue, a magnificent work, and balanced it with the Larghetto, which proved to be a beautiful gentle meditation. Hogan gave the Andante in F, which is quite a sprightly piece, and brought to life the jubilant Choral Song and its vivacious Fugue. A well planned show, this, and it brought Wesley's musical achievement to life in a way which the songs and piano music failed to do. But as Wesley was renowned as a great organist – one of the best in the country – how could he not write well for his own instrument?
The most fascinating paper followed, Andrew McCrea's Some Perspectives on Wesley's organ music, and it was well placed for having just heard some of it we were taken through the mechanics of the music. I am sorry to say that I found Professor Stephen Banfield's The Legacy of S S Wesley to be overlong and unnecessary for when the music was played we could hear where his legacy lay.
The day ended, across the road, in the Holy Trinity Church,
Wesley: Credo, from the Service in E (1833)
Benedictus qui venit (1832)
Let us lift up our heart (c1836)
Ascribe unto the Lord (1851)
The Choral Scholars of St–Martins–in–the–Fields
Andrew Earis
Simon Hogan (organ)
and here, finally, was Wesley at home in liturgical music. The Credo is a fascinating setting, bold and vital, thrilling at times, and incorporates a long solo for soprano in the middle, which transcends the time of its composition. Benedictus qui venit is well laid out for soprano and tenor soloists and four part chorus and it gave us a little respite before two huge works. Let us lift up our heart is in six sections which encompass eight part choral writing, as well as an impressive bass solo and a movement for vocal quartet. Ascribe unto the Lord is a work of Wesley's maturity and it is an imposing piece, in seven sections. Starting with an bold setting for male voices, it's balanced by a beautifully lyrical section for four part women's voices. Then follow two movements of great urgency for the full choir, a gentle prayer for alto, 2 tenors and bass soloists and a superb rounding off with a chorus which takes the basses up to top F# and the altos down to a fruity A. This was virtuoso writing of the highest degree.
The Choral Scholars of St–Martins–in–the–Fields is a nine voice group and under the direction of Andrew Earis they gave fine performances of these, not always easy, pieces. However, good though he was, Simon Hogan did drown out the singers form time to time when using a full register on the organ.
Overall, a fascinating day, and I certainly know much more now about Samuel Sebatian Wesley than I did when the day started. Good performances and well informed papers all went to make this an informed and informing experience.
So was Samuel Sebatian Wesley the finest English composer of the mid–nineteenth century? I really don't believe that that claim can really be made for him – after all, what about Cipraini Potter, a major Symphonist at a time when most people think that nothing of musical interest was happening in this country? I do, however, believe that S S Wesley was a significant composer in terms of the music he wrote and the harmonic devilries that he perpetrated!
Bob Briggs