Other Links
Editorial Board
Editor - Bill Kenny
Assistant Webmaster - Stan Metzger

Founder - Len Mullenger
Google Site Search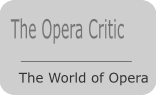 SEEN AND HEARD INTERNATIONAL OPERA REVIEW
Verdi, Attila: Soloists, Metropolitan Opera chorus and orchestra , cond. Riccardo Muti, dir. Pierre Audi, set and costume designers Miuccia Prada, Herzog & de Meuron, lighting designer Jean Kalman, Metropolitan Opera, New York, 23.2.2010 (BJ)


Under the baton of Riccardo Muti, making his long-overdue debut at the house to a reception of vociferous and richly deserved ovations, Verdi's Attila received its premiere performance in February at the Metropolitan Oratorio. Oops! I mean the Metropolitan Opera, but you would not have thought so, given the perversely statuesque and undramatic nature of the production.
When I first heard that Pierre Audi was going to be responsible for the staging I was immediately worried. The Lebanese-born director is a man of impressive intellect. He has done invaluable work in raising the profile of the Netherlands Opera, but the actual productions of his that I have seen there have tended to place directorial "originality" well above the demands of the opera being directed. (The earliest I have ever walked out of a production was at his
Così fan tutte,
after an overture embellished with a naked woman reclining on a chaise longue. I am as partial as anyone to the sight of a naked woman, but there is a time and a place for everything.)
Audi's
Attila,
by contrast, is blessedly free from adventitious vulgarity. On the other hand, it demolished the impact of an early but by no means negligible Verdi opera by presenting it almost in the manner of an oratorio. The set consisted, in the prologue, of an array of debris, huge blocks of broken masonry, supposedly to represent the remains of the sacked city of Aquileia. After this, there was just one set representing "the forest": a proscenium-high depiction of lush vegetation. A couple of holes were punched in this, relatively high above the stage, to provide the characters with a locale for their arias; in one of them, someone had thoughtfully placed what looked like a piano stool so that Ezio, the Roman general, didn't have to stand all through his big scene. Every now and then, first with the debris and then with the forest, the main set would rise, providing a featureless slot at the bottom to accommodate the chorus. Its members, roughly a hundred of them, were marshaled in three rows, just as on a concert platform, and were dressed in a variety of schmattas–Miuccia Prada schmattas admittedly, but schmattas nevertheless.
To the extent that it was possible, Muti and his forces rescued the opera with a musical performance of fantastic beauty, virtuosity, élan, and refinement. The Met orchestra can rarely have played with such stylistic aptness, ravishing tone, and pinpoint ensemble. The choral singing was as excellent as the choral acting was non-existent. There is no need to discuss the solo singers' dramatic achievements, since they were given no opportunity to act or to interact. But this was a cast of phenomenal vocal power and artistry.
In the title role, the Russian bass Ildar Abdrazakov magnificently fulfilled the expectations I had of him after his sumptuous and supremely intelligent contribution to the Verdi
Requiem
Muti conducted in Chicago at his inaugural appearance as music director designate in Chicago a year ago. As Odabella, Violeta Urmana sang with a welcome willingness to take risks–I would prefer a thousandfold such thrilling vocal flights to mere safety: the voice was projected with a compelling intensity, largely overcoming the pervasive dramatic nullity of the production. As her Aquileian lover, Foresto, Ramón Vargas unfurled a tenor voice of attractive timbre and impressive consistency throughout the range. Ezio was supposed to be sung by Carlos Alvarez, but on his withdrawal due to illness Giovanni Meoni took over at very short notice, and seized the opportunity afforded by his Met debut with a rich-toned and finely phrased performance.
To paraphrase what some unidentified sage once said, there are no small roles, only small singers. It was exciting to witness Samuel Ramey, the magnificent Attila in Muti's 1989 recording of the opera, showing that, even with now somewhat reduced vocal resources, he can still craft a dignified and authoritative portrayal of the Roman bishop Leone. And as Attila's slave Uldino, Russell Thomas did competently everything that Verdi and Boito asked of him.
After the final curtain, the contrast between the roars of approval that greeted the conductor when he took his bow and the seemingly unanimous booing that greeted the director showed–whatever view you take of booing–where the values of this musically inspired and dramatically inept performance lay. It is to be hoped, now that the ice is broken, that Riccardo Muti will return to the Met in a happier context, and that
Attila
will not have to wait another 164 years to be properly staged there.
Bernard Jacobson