Other Links
Editorial Board
Editor - Bill Kenny
Assistant Webmaster - Stan Metzger

Founder - Len Mullenger
Google Site Search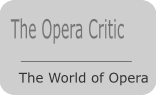 SEEN AND HEARD UK CONCERT REVIEW
Szymanowski and Rachmaninov: Michał Ćwizewicz (violin), RCM Symphony Orchestra. John Wilson, Amaryllis Fleming Concert Hall, Royal College of Music, London, 13.5.2010 (BBr)
Szymanowski: Violin Concerto no 1, op.35 (1917)
Rachmaninov: Symphony no 2 in E minor op 27 (1906/1907)
Szymanowski's 1st Concerto is of such fiendish difficulty that few violinists have dared to take up the challenge. You cannot blame them, for even if they did give time to learning the work, one wonders how often they would get the opportunity to play it in public. Tonight's performance was brought about by the choice of the soloist, and, being of Polish heritage, he has a vested interest in the music. So much so that, and despite the fact that nothing really holds terror for youth, Ćwizewicz played with a command and sureness which belied his 25 years. His understanding of the many moods and the ever changing direction of the music was masterly; in lyrical music he gave the fullest voice but he was also unafraid to attack the instrument in the many bravura passages. His octaves were breathtaking and one could believe that one was listening to a fiddler at the very top of his profession, not someone setting out on the threshold of what could be a major career. Szymanowski scored the work for a gigantic orchestra which he uses fully and loudly, but never once was the solo line obscured. Much praise for that must go to John Wilson for his inspired direction. It was a privilege to hear such a fine performance as this.
If the emotional onslaught of Szymanowski wasn't enough to drain us, Wilson pulled out all the stops in his interpretation of the glorious 2nd Symphony of Rachmaninov. The conductor told me that he had spent six months studying the score and this was time well spent for here was a performance of great stature. Wilson nailed his ideas to the mast at the very start – this was to be a big, bold, romantic and dramatic performance and he built a huge climax during the opening slow introduction to prove it. The ensuing allegro was truly dynamic with the entire orchestra resplendent in its full bodied sound with many brilliant touches. Wilson's keen ear allowed details of orchestration to come through which I, after 45 years of knowledge of this music, had never noticed before. The scherzo was fiery and exhilarating, but the music never got out of hand and although Wilson chose a very fast tempo everything was clearly articulated. The great slow movement with its overwhelming passions was also allowed full voice, the climax sounding as the very heart of the work. After this, Wilson allowed for some relaxation and reflection before unleashing a finale of astonishing power and energy. The big tune at the end was resplendent in its glory and fullness of tone.
Throughout the playing was of the very highest quality. I heard the Rachmaninov only a couple of weeks ago with Andrew Litton directing the Royal Philharmonic and this performance was as fine at that, if not at times even better. The students, for many of whom this would have been their first encounter with this great work, relished every note with a special attention. John Wilson, who until fairly recently was himself a student at the College, has become known for his work with music for film and musicals, as well as being a good friend of English music. Here, he proved himself to be a symphonic conductor of some stature and it is to be hoped that his new position as Principal Conductor of the Northern Sinfonia will allow him to grow and develop in this repertoire.
This concert will long be remembered by those of us lucky enough to be present.
Bob Briggs