Other Links
Editorial Board
Editor - Bill Kenny
Assistant Webmaster - Stan Metzger

Founder - Len Mullenger
Google Site Search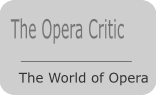 SEEN AND HEARD INTERNATIONAL CONCERT REVIEW
Gregory Spears, Requiem: Ruth Cunningham (soprano), Jacqueline Horner-Kwiatek (mezzo-soprano), Jacqui Kerrod (pedal harp), Larry Lipnik (tenor and recorder), John Olund (tenor), Kurt-Owen Richards (bass and tubular bells), Gregory Spears (synthesizer, tubular bells, and conductor), Elizabeth Weinfield (viola), Michael Wenger (tenor), Christopher Williams (troubadour harp). Dance New Amsterdam, New York City, 16.6.2010 (JE)
Requiem
I. Prelude
II. Requiem aeternam
III. Cigne ie Suis de Candeur (after Claude Le Jeune)
IV.Agnus Dei
V. Interlude
VI. Kyrie – Libera me – Lux aeterna
VII. Postlude
Requiems are for the living. They reconcile spiritual beliefs with physical existence. But a Requiem may address a broader social purpose, as Benjamin Britten's War Requiem did, and as Gregory Spears's quietly persuasive Requiem does. Commissioned to accompany Christopher Williams's new dance, Hen's Teeth, the piece calls forth a vanquished—or vanished—world of enlivened nature, magical happenings, and courtly love. It is a musical incantation summoning recesses of human nature no longer expressed in gleaming modernity; not unlike, in essence, Paul Gauguin's mesmeric painting of Breton women Vision After the Sermon, Jacob Wrestling with the Angel. The music amplifies the rapt temperament of the dance and stands entirely on its own.
The Requiem begins with a Breton text akin to "once-upon-a-time." It is a halting and hushed reverie introducing three chords of varying dissonance that recur throughout the work. The chamber music—mixed voices, pedal harp, troubadour harp, viola, synthesizer (electric organ), and tubular bells—conjures up a medieval aura, but conveys the sensations of Mahler saying farewell in Das Lied von der Erde and of Morton Feldman's valedictories to clock time. Mr. Spears proves a conscientious shepherd of deeply felt absences—convincingly hearing beginnings where others might find endings—and one of many indications of the composition's intricately woven uncertainty. In other words, you come to hear this music the way you come to know a person: an initial feeling of ostensible unity gives way to awareness of layers, some sensed rather than understood.
The Breton fairy tale, a prelude to the seven part work, drifts into the Latin Requiem aeternam, and throughout the work, Breton, Middle French, and Latin texts alternate, allowing magical and Christian sensibilities to imperil and enrich each other. The music intensifies the poignant incongruity of the texts. The Agnus Dei, for instance, begins as a tender pastoral. A vocal flourish suggests distant bleating of sheep as minor thirds gently sway on the harp. High and low voices, viola, synthesizer and bells stitch up the melodic motif like crewel embroidery. Suddenly dissonant chords in the harp unravel the musical texture, now a vague impress of troubadour harp glissandi, synthesizer and recorder drones, tranquil singing, and whispering. The sound is distinctive, alluding to the closing of Stravinsky's Requiem Canticles and the hermetic ritual of George Crumb's Vox Balaenae. The pastoral does not end; it withdraws as its innocence splinters, unable to purify sin.
The musical models for the Requiem are clear, such as musique mesurée, but the influences are ambiguous and touching. You never quite know if you are listening to music inspired by Monteverdi or La Monte Young. Are you hearing the spaciousness of contemporary Russian composers Vladimir Martynov and Alexander Knaifel condensed or the minimalist pulse of Steve Reich sprinkled over arpeggios? The result was delicately balanced by effective performers, most of whom are early music specialists, but the Requiem feels loosened from an explicit time. As with the music of Britten and the painting of Gauguin, Mr. Spears's art is not reconciled to the world most of us live in. It awakens a sharp longing to demagnetize the compass of modern sentiment. It is a paean to awe, a plea for enchantment, and above all else, a call for us to follow.
Jeffrey Edelstein