Other Links
Editorial Board
Editor - Bill Kenny
Assistant Webmaster - Stan Metzger

Founder - Len Mullenger
Google Site Search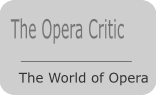 SEEN AND HEARD INTERNATIONAL CONCERT REVIEW
Ravel, Schnittke, Beethoven, and Brahms: Stephen Bryant, violin, Sue Jane Bryant, viola, Charles Jacot, cello, Allan Dameron, piano, The Bainbridge Commons, Bainbridge Island, WA, 28.3.2010 (BJ)


 A program that includes both the "Archduke" Trio and Brahms's A-major Piano Quartet would have to be very badly played in order not to be a delight. This program, quite to the contrary, was superbly played.
Set in a room that seats about 60 and was reasonably well filled, the evening got off to a stimulating start with two short pieces for the string players alone. Cellist Charles Jacot's arrangement of the fugue from Ravel's Le Tombeau de Couperin was followed by Schnittke's characteristically ambivalent Menuett for string trio, which curiously sounded for much of its brief course more like a saraband than a minuet.
The performance of Beethoven's "Archduke" Trio that followed was a paradigm of technical prowess combined with imaginative artistry. Any performance that Steven Bryant plays in must inevitably raise smiles of pleasure, so compelling is his own obvious enjoyment of every last nuance in the music, and Sue Jane Bryant and Charles Jacot, though less demonstrative, shaped viola and cello lines that were just as satisfying. Brahms's great Opus 26, after intermission, was projected no less compellingly, and with a richness and intensity of tone, grounded in some awesomely sonorous low tones from Jacot's cello, that nicely balanced the light touch and lissom rhythmic zest that had appropriately characterized the Beethoven.
The only fly in the ointment was that Allan Dameron –clearly, to judge from his sensitive phrasing and crisp articulation, a pianist of similar quality– was saddled with having to play a most unsatisfactory instrument. This was a smallish Yamaha grand that may well be a perfectly good piano, but is in dire need of proper regulation and maintenance. With deadly appropriateness of timing, the concert happened on the evening of the very day when I had received by eMail the hilarious take-off of the Toyota car company's recent travails, to the effect that Yamaha was instituting a massive recall of its pianos. One of the problems cited was that the pedals were sticking–and that, among other deficiencies, is exactly what was bedeviling poor Mr Dameron's noble efforts. I append the account of the said recall for the amusement of anyone that hasn't already seen it.
Bernard Jacobson




Yamaha Piano Recall:
Yamaha has recalled 20,000 pianos due to a problem with the pedal sticking, causing pianists to play faster than they normally would, resulting in a dangerous number of accidentals. The sticky pedal also makes it harder for pianists to come to a full stop at the end of a piece making it extremely risky for audiences. Although there have been a tremendous number of accidentals, fortunately it has so far caused no deafs. Analysts are wondering if it will put a damper on their bass market and if they will be able to sustain sales. Congress is also considering calling in the President of Yamaha for questioning as to when the company first learned about the treble.
Here's an update on that Yamaha piano recall: Congressional inquiries brought a sharp response from president Mitsuru Umemura of Yamaha, who quickly played down the scale of the problem before taking the fifth. "Only a few modal years are affected by what is a relative minor problem,"he replied tiercely. With no progression towards a resolution, sales of Yamaha pianos have gone flat, and market analysts predict an interval of diminished revenue for the company. The president announced that Yamaha would triadvertising more and would fine tune their marketing strategies in order to augment sales. (BJ April 1st 2010)