Other Links
Editorial Board
Editor - Bill Kenny
Assistant Webmaster - Stan Metzger

Founder - Len Mullenger
Google Site Search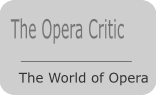 SEEN AND HEARD UK OPERA REVIEW
Opera North On Tour: The Lowry Theatre, Salford Quays.16-19.6.2010 (RJF)
Puccini. La Bohème. (Sung in Italian with titles).
Dvorák. Rusalka. (Sung in English with titles)
Donizetti. Maria Stuarda. (Sung in Italian with titles).

Opera North's Spring Season continues the recent practice of reprising one work from the previous season with cast changes, in this case the recent Winter Season La Boheme, coupled with a new production and a revival, this time the company's Rusalka from 2003. This is sound policy in the current economic climate which allows financial reserves to be built up for more adventurous days - especially if Opera North's advance planning so far comes to fruition. Several new productions are slated for 2010-2011 as well as concert performances of Wagner's Das Rheingold in the summer of 2011, the first instalment of a complete Ring. Let's hope forecast financial cuts for the arts, will not restrict Opera North's imaginative plans too much.

La Bohème.
The attic, with Marcello's paint all over the doors of a particularly a grubby fridge, an ancient stove, and a tattered chair were all that were needed to set the story. It's a typical living room for students the world over I guess. The rather posh motorbike continues to be somewhat incongruous, even for hedonistic but impoverished students, and the bicycle in Act IV would be altogether more appropriate, especially since Colline's former farewell to his biker's jacket has been replaced by the more usual greatcoat. This is one of many tweaks in this second run of this revival, with a largely different cast, which tighten up the story and improve on its visual impact. But I still don't get the reason for Schaunard appearing in drag in Act IV; had he been out on a sponsored mince somewhere that I simply failed to notice?

In last Winter's revival all the male quartet characterised well vocally and acted their roles with commitment, something helped significantly by conductor Richard Farnes pulling back the dynamics, after a strong orchestral opening, so that nobody had to over-sing. This was particularly important for the lovely Act I closer, the love duet that we old-timers used to call Fair Maid in the Moonlight. Mimi and her lover moved to front stage and a gauze descended to cover the attic, above which the moon rose and shone evocatively so that music mood and setting were perfectly balanced. This time though, Swedish conductor Tobias Ringberg, was less generous causing Australian tenor Aldo Di Toro's Rodolfo to strain his tightly focussed lyric voice to the detriment of characterisation and emotion. Sarah Fox, the Winter revival's Musetta, had moved on to sing Mimi too.. Her soprano is generally big enough to cope with the orchestral dynamics although there were one or two moments of strain. Tall, slim and somewhat angular, she made a convincing consumptive without erasing memories of her winter season predecessor's particularly affecting portrayal.

The set for Act II is still highly imaginative with the Café Momus' seating revolving regularly to show both interior and exterior. Jeni Bern's Musetta was more the ideal vamp than Sarah Fox had been and she also sang strongly. Her waltz song was histrionic, vocal joy. The Act III set and lighting - allowing us to see both the interior and exterior of the inn - continues to please although I still miss the Customs Gate and a hooker soliciting passing sailors hardly compensates for it. That motorcycle is there again leading the audience to think that it could usefully be sold as well as Colline's overcoat. Polish baritone Marcin Bronikowski carried on from the Winter to sing Marcello. He seemed less sensitive to his male colleagues this time round and even the famous Act IV four duet with Rodolfo went for little. As Colline, Tim Murfin had sonorous lower notes but lacked evenness throughout his vocal range. Thorbjorn Gulbrandsey sang and acted a convincing and particularly sympathetic Schaunard. Eric Roberts made the most of his considerable acting and vocal characterisation skills as both Benoit and Alcindoro whilst Paul Rendall skated around, literally, as an enchanting Parpignol.

Rusalka.
2003 was good for Dvorák's only wholly successful opera with this debut production for Opera North by Olivia Fuchs as well as a debut production at the Royal Opera. After a trip to Australia this production returned to Opera North, as did Olivia Fuchs to direct this revival complete with the original team of set and costume designer Niki Turner and lighting designer Bruno Poet. The new revival choreographer wasTim Claydon who also featured as revival choreographer in La Bohème. Looking back at my 2003 programme, I was surprised to find no fewer than six of the original principals also returning.

Supposedly partly based on Fouqué's Undine and Hans Christian Anderson, this Rusalka gives an overall more sinister and even greater starkness to the story, as Jezibaba appears as a scalpel-wielding, high-heeled harridan surgeon. The wood nymphs, looking like refugees from an avant garde production of a Wagner river opera, are her surgical assistants. Blood bag and transfusion equipment as well as an operating trolley are the accessories as Jezibaba does the necessary on the mermaid's tail sheath to give her human legs. Not for the queasy, particularly with Anne-Marie Owens having plenty of scheming and bite in her portrayal. All this takes place in a winter wonderland where transparent ice-cubes are centred on a small pool, providing refuge for coy nymphs and where Richard Angas reprises his melancholy Water Sprite with excellent diction and characterisation throughout.

Giselle Allen returned to the title role that helped to launch her considerable career in 2003. Her 'Song to the Moon' was sung with vocal elegance and sensitive phrasing along with good diction. If the diction went a little astray as Dvorak upped Rusalka's fraught emotions in Act III, Giselle's singing had more power, strength and appropriate passion. Her acting, particularly towards her lover, was highly appropriate and anguished as Rusalka pines to respond to his passion. No criticism of Giselle intended, but it was here that the audience gained most from the provision of the titles that were absent in 2003. Their presence contributed significantly to audience appreciation in this act in particular.

Susannah Glanville, dressed in blazing red, sang a formidably strong Foreign Princess. Tall and with the appropriate haughty manner, her temptation of the Prince was convincing both vocally and in terms of her acting. She has sung many roles for Opera North and if this one was a little on the brief side, it was done with full vocal and acted commitment. She now appears worldwide and will follow this season with Opera North singing the title role in Verdi's Luisa Miller at the Buxton Festival; a role she also sang with Opera North nearly a decade ago.

With a CV that includes some of Wagner's heaviest tenor roles, Richard Berkeley-Steele as the Prince was a serious disappointment vocally; his lyric toned voice often over-stretched to the point of loss of focus and unsteadiness, even though his acting in the final scene did something to lessen this poor impression. Mark Le Broq sang and played a convincing and tuneful huntsman and the wood nymphs were well sung by Natasha Jouhl, Kim-Marie Woodhouse and Alexandra Sherman.

Perhaps the most significant success of the revival was the orchestral playing under conductor Oliver von Dohnányi. He controlled much of Dvořak's tendency to be overwrought and allowed the picture painting within the score to create the necessary atmospheres for the opera's contrasting various scenes.

Maria Stuarda.
Although sung in the original Italian, all the pre-performance publicity for this work has used the English title of Mary Stuart. This sometime Queen of Scotland, whose Catholicism and background brought her into conflict with Elizabeth, Queen of England, threatening her throne: fitting the bald historical facts of the English split from Catholicism to permit Henry VIII's so-called marriage to Anne Boleyn are well known. The simple historical facts however are not the only basis of the libretto, which is largely based on a work by Schiller, a historian as well as a dramatist, who undertook detailed research for his plays. Consequently, while the framework of Maria Stuarda and her execution at Fotheringhay by Elizabeth's order, is based on historical facts, the opera's confrontation between the two Queens is pure invention for dramatic effect; the two corresponded but never met.

Schiller's invented scene between Maria and Elisabeth was originally set in the gardens at Fotheringhay where Maria was detained and in this production every ounce of drama is invoked, including Elisabeth's lifting of Maria's chin with a whip as the latter kneels in supplication. In the libretto this becomes too much for the Catholic Queen who vents her fury at Elisabeth accusing her of being the bastard daughter of Anne Boleyn and spitting out the ultimate insult Profanato e il soglio inglese, vil bastarda, dal tuo pie! (The English throne is profaned, despicable bastard, by your presence!). It is one of the most dramatic scenes among Donizetti's bel canto operas but in 1834 it caused problems. The opera was scheduled for presentation at the San Carlo, Naples one of the Royal Theatres where the King and his wife were often present in their box. On hearing of a furore between the two divas at the dress rehearsal, and perhaps influenced by his and his wife's distant family relationship with Maria, the King had the Naples censor ban it. In haste Donizetti set the music to another libretto, the opera Buondelmonte.

In this Opera North production the set with plain movable walls is utilitarian and easily adaptable within the acts and scenes. The costumes are less appropriate and of indeterminate period; no sign of ruffs for the men for example who they looked more Cromwellian than Tudor. The two queens were in long flared dresses too, no crinolines here. The courtiers of the opening scene were in modern dress however. If the designers and producer were trying to get over some subliminal message it passed me by, whilst the dumb show during the opening prelude was superfluous. This is a work that really should be set in period and since it would have cost no more to do so, Opera North missed a trick here.

Apart from a vigorous and vibrant contribution from the chorus, this work, like much bel canto of the period, needs strong and characterful singing from the principals, particularly from the two Queens. Antonia Cifrone, also much admired as Lady Macbeth, was a steely voiced Elisabeth. Haughty in demeanour and vividly costumed, her singing carried all the nuances of her jealousy towards Maria and her love of Leicester. Her contribution to the scene between the two Queens was biting in its vocalisation and fully realised in her acting. The first two acts are a big sing for the interpreter of Elisabeth. Too big as it turned out, since by the interval Antonia Cifrone had no voice left and an apology was offered for the cutting of scene one of Act III when Elisabeth, at the behest of Cecil, finally signs Maria's death warrant. The apology suggested dust inhalation. Seated in the circle, I was also suffering nasal and pharyngeal dryness due to the Lowry's air conditioning but the difference was that I had not had to give my all vocally in the first two acts, as Miss Cifrone had done, to significant dramatic effect and full realisation of Donizetti's creation for Elisabeth.

If Antonia Cifrone's contribution was first rate, how should I describe mezzo-soprano Sarah Connolly in the role of Mary, the Catholic Queen of Scotland? I had admired her realisation, sung and acted, of Romeo in Bellini's I Capuleti e i Montecchi in 2008 but this interpretation was a step even beyond that. From Maria's aria di sortita, with which she introduces Act II, to her aria finale in Act II, when Maria forgives Elizabeth in prayer and hopes that she suffers no qualms of conscience, this was the most complete character portrayal I have seen in bel canto for a very long time. Miss Connolly's vocal characterisation of Mary's desperation, frustration, passion for Leicester and hate for Elisabeth, were represented by vocal nuance, colour and expression allied to fine legato and excellent diction. To have experienced bel canto singing of this calibre, associated with consummate acting, is a rare privilege that I will long remember. The warmth of appreciation at the end, from a well filled Lowry, indicated that my view was widely shared.

The remaining woman among the soloists was Michelle Walton as Hannah, Mary's companion who supported her to the scaffold. In her Company debut role, she sang with vocal strength, good vocal characterisation and acted very well. Of the male soloists, I am pleased to report that my hopes for Bülent Bezdüz as a promising bel canto tenor, expressed after hearing his Rodolfo in the Winter, were fully realised by his portrayal of Leicester. Some have criticised him as having too small a voice but only in the final scene, when Leicester is distraught at being unable to save Maria and has to witness Maria's execution on the jealous Elisabeth's express instruction, did he lack a few decibels. Elsewhere his appealing lyric tenor, sincere acting and vocal expressiveness, including singing softly with good legato when required, were real gains for the role, exactly what bel canto is alol about if the man on the rostrum allows it, that is. David Kempster's physically imposing stature, greatly added to his characterisation of the implacable Cecil making him the fearsome character the libretto conveys. But while Kempster's singing was strong and idiomatic, I did not find Frédéric Bourreau, whom I had admired as Colline in the Winter's La Boheme, to be so as Talbot. His cavernous bass sounded ill suited to bel canto, sitting on the musical line uneasily and indufficiently mellifluous enough for expressing sympathy to Maria while offering her confession.

Maria Stuarda finally reached the stage at La Scala in December 1835 where Maria Malibran, despite warnings, insisted on singing the original words. After a mere handful of performances it was withdrawn on the instructions of the Milanese censors. The opera did not reach Naples in its original form until 1865 when both composer and Bourbon rulers were gone, after which it disappeared again until revived in 1958 in Bergamo, Donizetti's hometown. In the 1970s the likes of Joan Sutherland, Montserrat Caballé, Leyla Gencer and Beverley Sills took up the title role ensuring its future in opera houses in Italy and elsewhere, particularly after a significant production by Giorgio de Home Lullo for the Maggio Musicale in Florence in 1967 featuring Leyla Gencer and Shirley Verrett. For the La Scala production in 2008, the critical edition by Anders Wiklund was used which included the extended, and more complex overture Donizetti composed for La Scala, rather than the original brief prelude used here. While it might have extended the Opera North prelude's dumb show of dolls, the omission was some loss given the idiomatic and sympathetic conducting of Guido Johannes Rumstadt who made his Company debut with this production. I would be more happy to hear him again at Opera North.

The Opera North tour continues to the Theatre Royal, Newcastle, 22 – 26 June and concludes at the Theatre Royal, Nottingham, 29 June – 3 July.

Robert J Farr