Other Links
Editorial Board
Editor - Bill Kenny
Assistant Webmaster - Stan Metzger

Founder - Len Mullenger
Google Site Search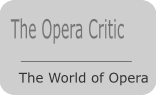 SEEN AND HEARD UK OPERA RELAY REVIEW
Met Opera Live - Thomas, Hamlet: Metropolitan Opera's HD transmission live to the Barbican Cinema, London. 27. 3.2010 (MMB)


French composer Ambroise Thomas's Hamlet, alongside Mignon, was one of his most successful operas, acclaimed by critics and public alike. Though Thomas was eclipsed by some of his contemporaries even during his own life time, his work remained in the repertoire of the Paris Opera until the early years of the 20th century. However, after his death in 1896, his operas have been mostly neglected or even forgotten. While Thomas was perhaps not as original as some of his contemporaries, like Gounod or Bizet, he had a special gift for melody and an excellent understanding of dramatic effects; both of which are clearly demonstrated in his Hamlet: One only needs to look at Ophélie's mad scene and the "play in the play" section.
The libretto to Thomas's Hamlet was written by Michel Carré and Jules Barbier, based on the play by Shakespeare. However, Carré and Barbier changed many aspects of the original tragedy and appear to also have used, as a source, a stage adaptation by Alexandre Dumas père, which has a happy ending: Hamlet does not die and becomes king. This deviation from Shakespeare was heavily criticised at the time (and even today), particularly though not surprisingly by the British; so much so that Thomas wrote a second (tragic) ending, where Hamlet dies, specifically for the Covent Garden premiere in 1869.
Shakespeare's "Hamlet" is of course one of the greatest masterpieces of English literature; however, to really appreciate the opera one must not look at it as one does at the play. Shakespeare followed the principles of Elizabethan drama when he created his tragedy but Ambroise Thomas and his librettists logically adhered not to these but instead to the elements of French opera at the time: A happy ending was not only traditional but also expected by the public. If put in this context, the opera can be enjoyed as the masterpiece that it truly is, both in musical and dramatic terms. This production of the Met chose to use the second ending, i.e. the one the composer created specifically for London that finishes with Hamlet's death.
Saturday's live transmission in HD was introduced, as often in previous broadcasts, by American superstar soprano Renée Fleming. Perhaps because she has hosted such events so many times before, she seemed far more relaxed and spontaneous in her approach, making it all the more pleasant. For example, right at the beginning she suddenly went silent in the middle of a sentence but calmly, without losing her smile or composure, accepted a couple of queue cards handed over by somebody waiting by the stage side; later, during the interval, when she interviewed Simon Keenlyside (who sang Hamlet), she directed a funny, good-humoured comment at him by saying, "Well, I'm glad we're wearing matching colours", referring to the fact that she was wearing a garish, bright pink top and he was totally drenched in red paint, after emerging from the final scene at the end of Act II.
Fleming informed us, during the brief introduction to the evening's performance, of two important facts: one that the Met staged this production of Thomas's Hamlet specifically with British baritone Simon Keenlyside in mind for the title role, and two that French soprano Natalie Dessay who had been scheduled to sing Ophélie in all performances, had to be replaced by German soprano Marlis Petersen, only a couple of days before the premiere, due to illness.
The Met staging of Thomas's Hamlet was produced by the famous duo of Patrice Caurier and Moshe Leiser, well known to audiences of the Royal Opera House for their productions of Rossini's La Cenerentola and Il Barbiere di Siviglia among others. It is an atmospheric production, rather economical in terms of the settings, which are scarce but efficient (designed by Christian Fenouillat); the emphasis being on the characters and their inner torments rather than what surrounds them. It predominantly uses dark colours, mostly black or grey, which contrast, on the one hand, with the pure white of everything related to Ophélie thus accentuating her innocence, and on the other with the vivid red of the blood, either as the result of a fatal wound or the symbol to the fratricide at the centre of the plot: these aspects were cleverly enhanced by sober but attractive costumes and lighting (respectively by Agostino Cavalco and Christophe Forey). To my mind, as a whole, it was an excellent interpretation of the opera and the story, outstandingly serving the drama, the music and the singers.
Simon Keenlyside fully justified his casting as Hamlet and the fact that the production was created especially for him. He was simply superb in a role that fits him like a glove. It was a dazzling, complete performance: flawless, beautiful, expressive singing and extremely accomplished acting. Keenlyside's tone is warm, rich and colourful in all registers of his voice, and his command of French very nearly perfect, with correct pronunciation and clear diction. He played the tortured, conflicted Hamlet in such a convincing manner that, after the initial few minutes, one easily forgot that it was a great baritone singing Hamlet but instead had the impression that one was seeing Hamlet, expressing his torment in song. He truly deserved the rapturous standing ovation that he received at the end from the audience present at the New York Met and, though more restrained, from the public in the Barbican cinema.
German soprano Marlis Petersen did not face an easy task with Ophélie, as last minute casting to replace the indisposed Natalie Dessay. Not only is Dessay perfect for the role with her small frame and frail appearance, she is also a consummate actress, celebrated amidst other things for her masterful delivery of several of opera's mad scenes. On top of this, Dessay possesses an impeccable, crystalline coloratura and she is French, therefore using the language in a manner that only a native speaker can. Marlis Petersen was undaunted however by all these facts; if she was nervous, she did not show it. She created a believable fragile Ophélie whom the audience easily empathised with, feeling her pain and confusion at Hamlet's ambiguous behaviour towards her. Her tone is richer than Dessay's and though perhaps a tad less crystal clear, it is sometimes warmer, which made the character more endearing, in the sense that one felt she needed protection. Her singing was accomplished and she has an assured coloratura; a fact that she demonstrated well during the celebrated mad scene, which she delivered in an outstanding manner. I personally thought that Petersen was a very worthy replacement and I do not think that Dessay could have done better.
The other great character in the opera is the one of Hamlet's mother, Queen Gertrude, wife of the murdered King (Hamlet's father), who knowingly marries the murderer: his brother Claudius. American mezzo Jennifer Larmore was magnificent in the role. Famed for her performances in the bel canto repertoire, due to a wonderful coloratura and an assured technique, she is also an excellent actress and injected the character with well judged dramatic intensity. On top of these qualities, she also has the presence and glamorous looks normally associated with royalty, which combined with the costumes (slightly more elaborate and striking than those of other characters) made her cut quite an impressive figure on stage. Her singing was as impeccable as it was beautiful and she was at her very best in the scene where Hamlet confronts his mother. It was delivered with great dramatic power; the interchange between Larmore's Gertrude and Keenlyside's Hamlet was not only beautifully sung but also very intense and emotional. It had great impact, definitely creating one of the highlights of the production.
As Ophélie's brother, Laërte, British tenor Toby Spence did not have much time on stage yet he did have some difficult singing to deliver. While his voice still fades slightly in its highest register, he has considerably improved since last time I saw him, a couple of years ago, at the Royal Opera House, delivering a slightly disappointing Count Almaviva in Rossini's Il Barbiere di Siviglia. Here, as Laërte, Spence gave a solid, convincing portrait of the loving brother and the betrayed friend: particularly good in his final scene when he fights Hamlet, accusing him of causing Ophélie's madness and suicide.
Bass James Morris as Claudius gave a strong performance especially during the dramatically clever set up of the "play in the play" scene, arranged by Hamlet to expose his uncle as his father's killer. David Pittsinger's sonorous bass combined with striking make-up and lighting delivered an effective, imposing ghost of the murdered king and made a believable, vengeful spectre.
The other minor roles were also excellently performed, effectively supporting the drama and the lead members of the cast. The choir and orchestra of the Met were at their best and French conductor Louis Langrée demonstrated his class and profound knowledge of French opera, leading the musicians and the singers in a magnificent performance, technically unblemished and dramatically powerful. Langrée's understanding of the voice as an instrument meant that he knew exactly when to be subtle and sensitive, as in Ophélie's mad scene, allowing the orchestra to merely cushion Marlis Petersen's singing; or when to unleash the power of the music, as in Hamlet's confrontation with his mother, intensifying the drama, compelling the singers to deliver something special, which indeed they did.
As a whole, this was a production of the highest quality, with exceptionally good singing and outstanding acting. It was expertly directed for the screen by Brian Large who cleverly used more close-ups than usual thus highlighting the inner conflict of the characters and fully accomplishing the objective of producers Caurier's and Leiser's concept.
I enjoyed this Met live broadcast of Ambroise Thomas's Hamlet immensely. I can only express my desire that other opera houses will be encouraged by the Met and will follow in its footsteps to stage the work more often and finally give it the recognition it deserves.
Margarida Mota-Bull
The next Met Opera Live broadcast is on 1st May of Rossini's Armida with Renée Fleming, in the title role, and Lawrence Brownlee as Rinaldo.