Other Links
Editorial Board
Editor - Bill Kenny


Assistant Webmaster -Stan Metzger

Founder - Len Mullenger
Google Site Search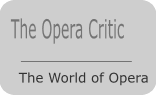 SEEN AND HEARD UK OPERA REVIEW
Garsington Opera (1) Gioachino Rossini, Armida: Melodramma in three acts. (1817). Sung in Italian with titles in English. Soloists, Chorus and Orchestra of Garsington Opera /David Parry, Garsington Manor, Oxford 7.6.2010 (RJF)

Armida - Jessica Pratt
Rinaldo - Victor Ryan Robertson
Gernando/Ubaldo - David Alegret
Goffredo/Carlo - Bogdan Mihai
Idraote/Astarotte - Christophoros Stamboglis
Eustazio - Nicholas Watts

Conductor - David Parry
Director - Martin Duncan
Designer - Ashley Martin-Davis
Lighting Designer - Malcolm Rippeth
Choreographer - Michael Popper
The Garsington Opera Orchestra and Chorus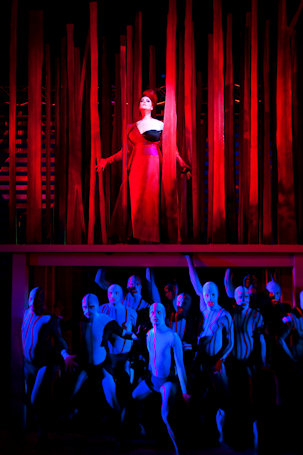 This is quite some year for Rossini's 22nd opera. Premiered at the San Carlo, Naples on 11th November 1817, after one hundred and ninety three years it recently had its American premiere at the New York's Metropolitan Opera and now has its British debut at Garsington. Given the quality and romanticism of Rossini's music there must be a reason for this neglect, which far exceeds that for any his other Naples opera seria. The story of Armida is based on one of the epic literary creations of the Renaissance, Torquato Tasso's Gerusaleme liberata. The plot concerns the First Crusade and is the story of the sorceress Armida who tempts the knight Rinaldo from military duties. Other composers were attracted to the same story, Lully, Gluck, Handel and Haydn among them.

New York's Met is hardly famous for premiering Rossini's lesser-known works, particularly his Naples Opera Seria, having left such activity to Allen Sven Oxenburg and his American Opera Society for much of the second half of the last century. Established in the 1950s with the intention of bringing concert performances of rare repertoire to New York audiences, Oxenberg upstaged the Met with Sutherland's debut in the city. He also introduced Marilyn Horne and Montserrat Caballé to the world and featured Callas in bel canto rarities when she fell out with the Met.

Garsington have gone one better than Oxenburg by offering full staged performances of many rarities and in doing so, they have done justice to Rossini as no other company in the UK, with national premieres of La gazzeta in 2001 and La equivoco stravagante in 2007. They have also staged the Naples opera La Donna del lago (2007), and the rarely seen La Pietra del Paragone (1998) originally written for La Scala in 1812. This is a record in which Garsington Opera can take pride, but this presentation of Armida must count as one of this adventurous company's greatest challenges. Some background information may be useful to put this performance and its production challenges in perspective.

In a sense, Rossini began composing his version of Armida in 1815 when the impresario Barbaja, who saw Rossini as the foremost opera composer of the time, tempted him to become Music Director of Naples' Royal Theatres. The contract required Rossini to write two operas each year and allowed him to undertake occasional work elsewhere. Barbaja had assembled a formidable array of singers including the coloratura soprano Isabella Colbran, renowned for her vocal range and dramatic skills. He had also gathered a fine array of tenors including Andrea Nozzari and Giovanni David whose extended vocal range was as renowned as Colbran's.

Rossini took full advantage of the provisions of his contract and after the premiere of his first opera for the San Carlo, Elisabetta Regina d'Inghiliterra on October 4th 1815 he went to Rome. There he presented Torvaldo e Dorliska on December 15th and Il Barbiere di Siviglia two months later. After returning to Naples to present La Gazetta in September 1816 and Otello in the Decembe rhe went off again, presenting La Cenerentola in Rome a month later and La Gazza ladra (The Thieving Magpie) in Milan on May 31st 1817. During this latest absence however, calamity overtook the San Carlo in the form of a fire which gutted the building.

Money seems to have been no object for Babaja however and the theatre was rebuilt with the best technical facilities of the time. To open the refurbished theatre, Barbaja was keen for a work of musical individuality, particularly one breaking away from prevailing conventions. Above all he wanted a Rossini work using all of the new facilities in terms of scenic effects and dance. Armida's fourteen-minute ballet, omitted at Garsington, was good practice for the composer's later Paris works where a ballet was de rigueur. With Armida, Rossini produced his most romantic and musically opulent opera to date including three extended love duets for Armida and Rinaldo, one in each act for which the accompaniment to the second and third uses a solo cello and violin respectively. The libretto called for lavish staging including Armida's palace and enchanted garden and there were to be much comings and goings on stage, chariots drawn by dragons, dances by nymphs and cherubs and the lovers Armida and Rinaldo were to descend on a cloudy chariot but turns into her castle at the wave of a wand. Then there was the matter of the tenors.

In an opera with only one female part, it must be unique to write six tenor and two bass roles, one of which as here, can be doubled. The tenor roles were originally divided into three coloraturas and three lyrics with two of them appearing only in Act I and a different two in Act III. This allowed for some doubling up at the premiere and also does so in this production. But Rossini took advantage of the situation to compose an extended scene and trio for the tenors in Act III which is surely equally unique, as well as vocally thrilling.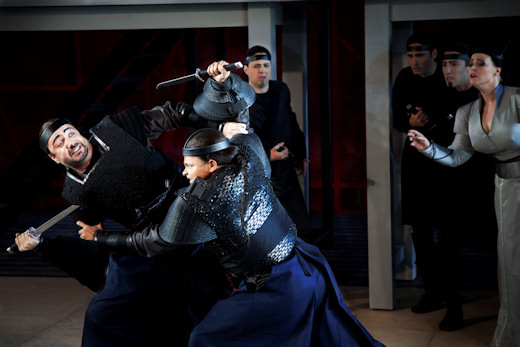 Ashley Martin Davis sets were necessarily sparse at Garsington and while the Met had the lovers descend on an escalator this would have hardly been feasible here. Instead, what was basic to the whole production was a series of large easily movable dais and tables. For Act I , each dais had four chairs where the Crusaders, looking a little like Samurai warriors, moved about or brandished their swords balletically to the music, or where their leaders commanded them: simple but effective. Act II's male demons were in close fitting striped turquoise with the sea represented on the stage floor and back. There was neither magic cloud nor chariots drawn by dragons, which hardly mattered - although a bit of stage mist might have been helpful to give atmosphere to Armida's arrivals and departures. As Armida had conquered Rinaldo's doubts about abandoning the Crudade, she also removed his armour and the raised dais became a forest, or at least a series of vertical branches . For Act II , the tables were moved into place and models represented the enchanted garden. The female temptresses entered on high wedge-heel shoes, dressed in body stockings, suspenders and sparkling cami-knickers. For the final two acts, Armida wore an appropriately vivid red dress and matching hair. Director Martin Duncan moved his forces about the small stage area appropriately to the action and, vitally, ensured that the many soloists were in the right positions for their contributions.

After an overture of rather exaggerated dynamics, particularly by the brass, David Parry kept his orchestra forces alert to Rossini's melodies and romantic music with well-paced tempi which allowed his singers every opportunity for careful phrasing and vocal display. As Goffredo, the tall Romanian Bogdan Mihai was first up. His opening and aria was tonally tight and somewhat dry and his divisions blurred, perhaps due to nerves, but once into his stride there were no further worries and he managed the difficult coloratura of the first act, and later his role of Carlo, with vocal strength, conviction and good characterisation. The Spaniard David Alegret as Gernando was warmer of tone if not as free at the top of the voice as his colleague. He acted convincingly to goad Rinaldo into the fight that leads to Gernando's death. In the role of Ubaldo, in Act III, Alegret played a fine full part in the renowned trio tenor trio and also his duet with Carlo. In the smallest of the tenor roles, Nicholas Watts sang with firm tone and good diction.

It is not to underestimate the contribution of the singers already mentioned to say there were three more outstanding male soloists to be heard. The first was the American Victor Ryan Robinson as Rinaldo. His command of tenor coloratura, expression and vocal characterisation was all one could have been expected or hoped for. It is difficult to estimate how his voice would carry in a large theatre but his CV includes the title role in Offenbach's The Tales of Hoffman for Dallas Opera, not a small theatre. Certainly in this repertoire, with his variety of tone, vocal colour and flexibility, I would expect to hear more of him in the future. In the two bass roles the Greek Christophoros Stamboglis is already carded for Rodolfo in Bellini's La Sonnambula at Covent Garden and has already sung Rossini's Basilio at the Met. His imposing physique and cavernous voice would make him a formidable Grand Inquisitor, although Wagner may claim him sooner. His declamation as well as vocal characterisation was first class.

I leave the very best until last. By some quirk of serendipity, awaiting me for review is a recording of a 2008 performance of Rossini's Otello from Bad Wildbad, 'The Pesaro of the North' with Jessica Pratt, who, in the title role here, sings Desdemona on that recording (Naxos CD). I left Garsington in sheer amazement that until this happy coincidence, I had heard nothing of this wonderfully gifted Bristol born soprano. As Armida, hers was the most amazing vocal performance of the evening. The role is one of the several manifestly vocally difficult and demanding ones that Rossini wrote for his mistress, and later wife, Isabella Colbran, one of the most renowned divas of the day. Not only are its vocal demands considerable, but also it is a very big sing too concluding with the final display aria demanded by all singers in Rossini's time to finish off the performance. Perhaps in this finale, as Armida rages against losing Rinaldo, Jessica Pratt might have given the words more bite but like the rest of the audience, I appreciated the fact that she sang it with musicality, clarity of diction and purity and beauty of tone, all allied to the smooth vocal extension and flexibility evident throughout her whole performance.

This first British production of Armida, one hundred and ninety years after its premiere at the San Carlo, is a fitting twenty first anniversary celebration for Garsington. It serves well to remind all lovers of opera, and bel canto in particular, the debt they owe to the late Leonard Ingram's and his wife before the company moves to its new home at nearby Wormsley Hall next year. I was very happy and privileged to share and enjoy such a fine evening in a delightful venue and to see a production of a work that I never expected to be staged in Britain. The fine singing cast, orchestral support and simple but effective staging, all show what can be achieved at modest cost, given the right kind of determination and goodwill.

Robert J Farr.

Pictures © Garsington Opera/ Johan Persson