Other Links
Editorial Board
Editor - Bill Kenny


Assistant Webmaster -Stan Metzger

Founder - Len Mullenger
Google Site Search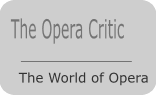 SEEN AND HEARD INTERNATIONAL FESTIVAL PREVIEW
Festival Pontino 2010: A preview from Jack Buckley (JB)

Aside from a dozen or so big cities, Italy is made up of spectaculour countryside, which throughout its long, varied and glorious history, is dotted with small civic centres. Even today they continue to offer the visitor unique architecture, culture and cuisine of striking interest. Until the unification of Italy, less than two hundred years ago, these centres were fairly well self-governing, with allegiance to the local aristocrat or the church –sometimes to both. In central Italy especially, there was a largely unspoken competition as to who had the best centre.

The Festival Pontino has two such centres, both less than an hour by train from Rome. It is set in what were the Pontine Marshes (thoughtfully drained by Mussolini) with Sermoneta, a mediaeval citadel, crowned with the castle of the noble Caetani family (themselves, even today's members, dedicated to good music) and a half hour's drive down the road, one of the country's finest ecclesiastical monuments, the Cistercian Abbey of Fossanova.

This year, the Festival is in its fortieth edition and was founded by the architect, Riccardo Cerocchi, who still coordinates all the activity and some ten years ago restructured the former hospital of the Fossanova Abbey as an ideal, small concert hall, a monkish Wigmore Hall in which Cerocchi has managed to retain all the original charm and fascination. Most who go there agree that there is something unmistakably therapeutic about the concerts: you feel better when you go out than when you came in. Just to be sure, there is an attractive outdoor bar and restaurant in the Abbey's precincts, and several others, inexpensive and good, just nearby. The concerts here are a memorable experience in more ways than one.

Still, the hub of the Festival's activity is at the Caetani castle. This is where the Festival's twin programme of Masterclasses takes place, under the excellent guidance of Franco Petracchi (his own, much-requested double bass course is from July 7 to 20). In Italy, enrolments at summer masterclasses have shown a downturn. In Sermoneta they have increased. Not surprising when you see the list of teachers, which includes Elissò Virsaladze (piano, 30 June to 8 July), Bruno Giuranna (viola, 12-21 July), Rocco Filippini(cello, and chamber music 10-21 July), Mariana Sirbu (violin, 18-27 July), Bruno Canino (chamber music with piano, 20-25 July), Alessandro Solbiati (composition, 5-18 July), Peter-Lukas Graf (flute, 21-28 July)

On application, these classes are open to visitors, as are the end-of-course concerts (Last year's concert of Virsaladze pupils was one of the finest concerts which I heard all year.) Staying with the piano, Charles Rosen will give two seminars, the first on 5 July on Eloquence Old Style in the Music of Elliott Carter (a former Sermoneta maestro and still alive and well at 101) and on 6 July, The Final Years of Beethoven and Chopin. If Rosen's insights are anything like as great as his essay on Chopin in the current issue of the New York Review of Books, both his seminar and recital should be memorable.

The Pontino Festival has always dedicated space to contemporary music and this year's is no exception. The opening concert on 29 June is given in the castle courtyard with the Ensemble Algoritmo, conducted by Marco Angius (one of Italy's most able conductors of this music) with pieces by Petrassi, Aldo Clementi, Carter (with Charles Rosen), Mosca, dall'Ongaro, D'Amico, Morricone and Solbiati; on 1 July, still with the same instrumentalists and Marco Angius at the same venue, a concert dedicated to the music of the Festival's President, Luis de Pablo.

Starting on Saturday 3 July, the piano comes centre stage with a Schumann recital by the Great Lady Herself, Elissò Virsaladze, in the castle courtyard and on Sunday 2 July at the Fossanova venue, Charles Rosen plays an all Chopin concert.

Anyone wanting incomparable violin playing should not miss Fabrizio von Arx's performance of the Bruch concerto and the Sarasate Carmen Fantasia, with the Mozart Hafner symphony played by the Prague Sinfonia in the castle courtyard on 10 July.
The tutors of the courses come together on Saturday 17 July with a rare Rossini for two violins, cello and double bass, Mendelssohn's Sextet Op 110 and Dvorak's Quintet op 77, in the castle courtyard. That same weekend, on Sunday 18 July, Roberto Prosseda plays a Schumann and Chopin recital at Fossanova; Maestro Prosseda, now an acclaimed international pianist, began life at the Masterclasses here.

The castle concerts start at 2100 and those at Fossanova at 1930. It is necessary to stay the night after the castle concerts with good, inexpensive accommodation available, but there are trains back to Rome at the end of the Fossanova concerts. Further information at www.campusmusica.it or email info@campusmusica.it tel 0039 0773 /60551 (and from 28 June also 30250)

Jack Buckley