Other Links
Editorial Board
Editor - Bill Kenny
Assistant Webmaster - Stan Metzger

Founder - Len Mullenger
Google Site Search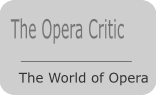 SEEN AND HEARD INTERNATIONAL CONCERT REVIEW
Patrizia Ciofi and Leo Nucci in Concert: Orquesta Sinfónica de Madrid, Conductor: Michele Mariotti, Teatro Real de Madrid 29. 6.2010 (JMI)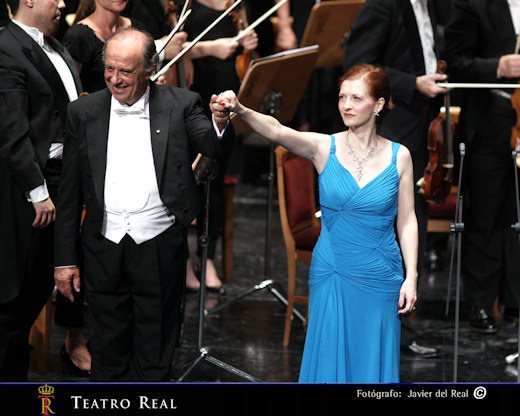 Teatro Real's 'Great Voices' cycle comes to an end with this concert featuring two of Madrid's most well loved singers. The concert raised great expectations, especially after Leo Nucci's triumph in another concert in Bilbao a few weeks back. The Madrid concert was truly spectacular and I have never seen the Teatro Real audience as excited before, a real madhouse.
The first outstanding performance of the evening came from conductor Michele Mariotti, who at 31 is already a splendid maestro. In addition to accompanying the singers with much care and delicacy, he also provided some excellent overtures. If he was very good with La Favorita, his interpretation of the prelude to La Traviata was truly breathtaking and he also gave two other outstanding performances of the overtures to Luisa Miller and Nabucco. He was not quite at the same level of quality - it is true - in I Capuleti but he drew a wonderful result from the orchestra, which has, in fact, improved remarkably in the last two years.
The program was quite demanding for the two singers on stage. Rather than arias, they mostly sang full scenes, ending with real firework encores, as if they had not sung enough during the official concert.
Patrizia Ciofi is one of those singers whose performances must be taken as a whole. Her voice is not spectacular in volume or timbre, her top notes don't leave the audience breathless, nor is her figure full of "charm" and "glamour" either. She possesses none of these qualities in especially large doses, but all of them are present in her performances all of the time, coupled with a capacity for communication that makes her one of the world's few singing artists. This is not a singer made for studio recordings, but an artist – here is the word again - to be enjoyed in full on on the stage. After a good prison scene from Maria Stuarda, she sang "Il faut partir" from La fille du Régiment, where she was as exciting as usual in the role of Marie. She finished the concert's first half with the duet betweeb Lucia and Enrico, in which both she and Leo Nucci brought the house down with a marvellous "Si tradirmi tu potrai". She was superb when singing Violeta's scene in Act I from La Traviata.

The official concert ended with two big scenes with Mr Nucci. Firstly, the duet between Violeta and Germont, and finally, the duet from Act II of Rigoletto, "Tutte le feste al tempio" and then crowned by 'la Vendetta.' A year ago these artists were forced to encore this last part by the sheer enthusiasm of their audience, which is exactly what happened again this time.
Leo Nucci is another singer who cannot be judged by separate elements in his performances or even by comparison with other other baritones from opera's history. This can be done, of course but actually it doesn't mean much: at 68 he is King of Baritones today, reaching the position after an exemplary career and remaining in miraculous vocal shape for a singer of his age. Nucci's voice is not as impressive as some other baritones of the past, but few of them have been able to offer so many thrills onstage. The ability to move the audience is not simply in his voice, but in what might be called his internal "hard drive" so that he continues to be able to perform at the highest level possible with great consistency.
He began his concert with the Riccardo's scene from I Puritani, where the voice was not at its best. He continued with the aria and cabaletta from La Favorita, in which the voice had already improved in the duet from Lucia Lammermmor Nucci was at his very best. In the concert's second part he sang Renato's scene from Un Ballo in Maschera, crowned with the aria "Eri Tu", in which he was magnificent from beginning to end. In the concluding duet Nucci was more brilliant that deep as Papa Germont, and his Rigoletto in a spectacular Vendetta, was an exhibition of power, technique and breath control that put the house structurally at risk.
To end, I should decribe what happened next. The program ended at 22,30 and we finally left the Teatro Real at 2 minutes past eleven, where there were still people cheering to an empty stage. In those 32 minutes, the ovations and cheering were difficult to believe, at least for Spain. As could be expected, they sang La Vendetta again and afterwards, Patrizia Ciofi sang the aria from La Rondine "Chi il bel sogno di Doretta" very well indeed. Then Leo Nucci asked the audience how about Chenier and he offered a spectacular "Nemico della patria", which simply couldn't have been any better. There was no way at all to stop the cheering and the singers decided to encore La Vendetta again. All told there were 13 minutes of encores and a further 18 of wildly enthusiastic cheering. This was the longest applause I ever have witnessed in Spain except after a performance of Gounod's Faust at Barcelona's Liceu in 1986. Alfredo Kraus and Mirella Freni were in the cast then.
The Teatro Real was apparently sold out, although a few empty seats were noticeable and I'd guess that the ticket holders decided to stay at home to watch the football game between Spain and Portugal.
Those that stayed at home missed something very special. Three great Italian artists at their best, baritone, soprano and conductor – with almost three generations between them in fact.

José M Irurzun