Other Links
Editorial Board
Editor - Bill Kenny
Assistant Webmaster - Stan Metzger

Founder - Len Mullenger
Google Site Search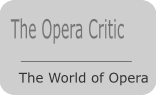 SEEN AND HEARD CELEBRITY LECTURE REVIEW
Alfred Brendel - The Light and Shade of Interpretation: Town Hall, Birmingham 7. 6.2010 (JQ)
Almost two years ago to the day I was among a sell-out audience in Symphony Hall, Birmingham to review Alfred Brendel's final recital in the city as part of his year-long farewell tour. I assumed that this wonderful recital would be the last time that I'd see Brendel in public. Happily I was wrong, for Brendel has now taken to the stage as a lecturer, dispensing some of the accumulated musical wisdom of several decades as a performer and as a thinker about music.
As was always the case with Brendel the pianist so with Brendel the lecturer: there was a complete absence of showmanship but everything was perfectly calculated and the product of careful thought. Over a span of some ninety minutes Brendel shared with his attentive audience some thoughts on the subtleties of musical interpretation, his discourse liberally sprinkled with musical illustrations. His key point, though not expressly stated as such, was that every small detail matters if one is to give an interpretation that is faithful to the letter and the spirit of the music in question.
Perhaps unsurprisingly, he focused particularly on the composers whose music has been the cornerstone of his own career: Mozart, Schubert and Beethoven. But he began with the Baroque, playing three recordings of short excerpts from the "Jealousy" chorus in Act II of Handel's oratorio, Hercules. These provided a fascinating contrast; each reading was radically different from the others. But Brendel's point was excellently made: interpretative decisions and presentational choices can make a passage of music sound completely different, depending on how the performer chooses to treat the text.
As anyone who has heard Brendel play will know, he was always properly respectful of the composer's intentions – though not in a slavish sense. It was no surprise to hear him comment a propos the Hercules extracts: "I mistrust ideas". The adjective "clever" was clearly implied! Soon afterwards he quoted a maxim of his teacher, Edwin Fischer: "You must give life to the music without violating it." Not a bad artistic credo, I'd suggest.
As the talk unfolded I was struck by just how much sheer common sense there was in what Brendel had to say. His comments were clearly the product of careful thought over a lifetime. One was hearing also the result of a lifetime's practical experience as a musician. It was very striking how insistent he was on the importance of cantabile. Indeed, he declared that "singing is at the heart of music."
Though basically serious in tone, the lecture was sprinkled with examples of Brendel's wry humour. His humour was invariably delivered in a gentle way but, just as invariably, he hit his target accurately. For instance, he is clearly suspicious of those who stress too much the idea that Baroque music in particular is dance-based. Clearly, in Brendel's view, a sense of proportion is required. "What a treat", he suggested, "to hear an Agnus Dei skip along!"
Although recordings were used for some of Brendel's musical examples, for the most part he illustrated his remarks at the keyboard. In the latter stages of the talk, as he discussed Schubert and, especially, Beethoven the musical excerpts became somewhat more extensive. As they did so I'm sure I wasn't alone in wishing at times that he wouldn't stop playing to resume his remarks. At one point he played several extended excerpts from Beethoven piano sonatas to illustrate how Beethoven developed the trill from a decorative device to a feature that was intrinsic to the musical argument and which was instead artistically and emotionally justified. In these Beethoven extracts we were given a powerful reminder of the master pianist at work. So, whilst what he had to say was invariably interesting and stimulating the glimpses of his pianism were tantalisingly short.
During his concert and recording career Alfred Brendel always impressed me as a thoughtful, articulate and deeply musical pianist. On the evidence of this lecture he's just as successful a musical communicator now that he's switched from the keyboard to the spoken word. His delivery was modest in style but held the attention of his audience throughout. It's good that Alfred Brendel's musical wisdom and insight are still on show to the public even after his retirement from the concert platform.
John Quinn