Other Links
Editorial Board
Editor - Bill Kenny

Deputy Editor - Bob Briggs

Founder - Len Mullenger
Google Site Search
SEEN AND HEARD INTERNATIONAL OPERA REVIEW

V. Martin i Soler, L'Arbore di Diana:

Soloists,Orquestra Simfònica del Gran Teatre del Liceu.Conductor: Harry Bicket.Gran Teatre del Liceu de Barcelona. 1 and 2.10.2009 (JMI)

New Production in coproduction with Teatro Real.

Director: Francisco Negrín.

Sets. Rifail Ajdarpasic & Ariane Isabell Unfried.

Costumes: Louis Desiré.

Lighting: Bruno Poet.

Cast

s

:

Diana: Laura Aikin/Ekaterina Lekhina

.


Amore: Michael Maniaci/Ana Nebot.

Britomarte: Ainhoa Garmendia/Elena Copons.

Clizia: Marisa Martins/Anna Tobella.

Cloe: Jossie Pérez/Gemma Coma-Alabert.

Silvio: Charles Workman/Andrew Goodwin.

Endimione: Steve Davislim/John McVeigh.

Doristo: Marco Vinco/Simón Orfila.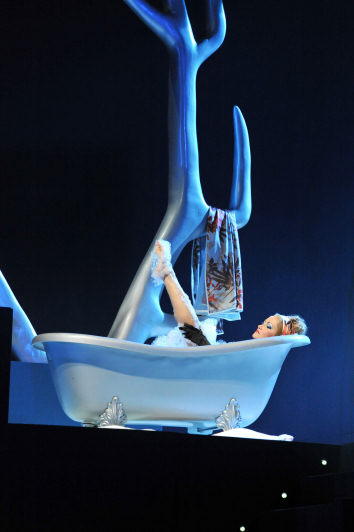 Barcelona's Liceu opened its new opera season with the first performance in the history of this theatre of "L' Arbore di Diana" by the Valencian composer Vicente Martín i Soler. It is curious that this opera, which has an outstanding libretto by Da Ponte and a musical score by far superior to many better known works, has never been performed in Barcelona before and in fact Martín i Soler should be much better known in the world of opera as a whole - and not only for the reference that Mozart makes in the last scene of Don Giovanni to Soler's "Una Cosa Rara". Happily, things have changed in Spain in recent years and the work of Martin i Soler, or Martini as he was known in his time, is being recovered thanks to the initiatives of Madrid's Teatro Rea on the one hand, and Valencia's Palau de les Arts, on the other. To have the Liceu joining the list is great news.

The production is a collaboration between Barcelona and Madrid, where it will also be performed next march. It is surprising to have two new productions of this opera in less than a year, since Daniel Slater's production for Valencia happened only last December. Of course the theatre named after the composer at the Palau de les Arts has a small stage, but it still slightly odd to have two news productions within so short a period.

Not that I am complaining, because Francisco Negrín's production is attractive, colourful and full of life. Like Slater in Valencia, Negrín avoids any kind of 'conceptual' reading and he narrates the story as it should be, as an opera buffa. There are attractive sets, consisting of a closed stage with curved walls, which open to let in new and bright elements to come to life. One of the assets of this beautiful production is the fact that it helps the projection of voices very well. Diana's tree is more figurative than real, but is still very pleasing. Costumes are original and beautiful, particularly the goddess Diana's robes and the remarkable lighting is a fine complement for the rest of the production. Negrín adds three dancers as additional nymphs who help bring the action to life and the stage direction is excellent with some highly original moments like Diana taking a bath while singing an aria, Silvio's articulated puppet-dog or the three nymphs deciding to overthrow the tyranny of chastity, while singing their ariettas in a most seductive way.

In the pit, I missed Argentinean Rubén Dubrowsky who conducted in Valencia. Here we had Harry Bicket, better known by his baroque executions whose reading was very different. This is a delightful comedy and it requires a spirit and lightness that Bicket did not provide completely. His reading was very effective and controlled, but this opera requires something more. A conductor very familiar with Mozart would be a perfect choice, since the music reminds much of Così fan Tutte and The Magic Flute. The Orchestra offered an acceptable performance.

Diana's character was interpreted at the premiere by the American soprano Laura Aikin, who offered a very creditable performance both as actor and singer. In vocal terms the role seems written for Diana Damrau, since some of its arias are every bit as demanding as the Queen of the Night's , while others are as sweet and lyrical as Pamina's. In the second cast we had the Russian soprano Ekaterina Lekhina. She has many virtues, among them a decidedly sculptured figure, a very secure upper voice and good coloratura. She may need to work on her middle register however.

Amore is a role that should be sung by a lyric mezzo soprano, but here we had a countertenor and a soprano instead. This decision can make sense from the point of view staging, but it does not work very well vocally. Both Michael Maniaci and Ana Nebot's stage work was amazing and difficult to improve on, but in purely vocal terms, Maniaci's voice is not especially beautiful voice and Ana Nebot has small volume: she is a light soprano with a hollow sounding lower register.

The first cast nymphs were Ainhoa Garmendia as Britomarte, an outstanding interpreter, while Marisa Martins as Clizia and Jossie Pérez as Cloe fulfilled their tasks well enough. In the second cast, the best of the three was Anna Tobella as Clizia. Elena Copons was a decent Britomarte, while Gemma Coma-Alabert offered a less attractive voice as Cloe.

Charles Workman was was a better actor than singer, the Australian tenor Steve Davislim was Endimione and sang with offered a small but pleasant voice. The second cast had two rather modest voices in these roles in the persons of Andrew Goodwin and John McVeigh. The Italian bass-baritone Marco Vinco was a sonorous Doristo, very good on stage bur somewhat uninvolving as a singer. Simon Orfila provided a more interesting vocal interpretation the following day.

There was a full house both days and good reception for the artists, especially Laura Aikin, Michael Maniaci, Ekaterina Lekhina, Ana Nebot and Simon Orfila. The large creative team (all disguised as such) was much applauded too, quite an unusual thing these days, it seems.

José M Irurzun

Picture © Antoni Bofill


Back to Top Cumulative Index Page