Other Links
Editorial Board
Editor - Bill Kenny
Founder - Len Mullenger
Google Site Search
SEEN AND HEARD INTERNATIONAL OPERA REVIEW

Haydn: La Vera Costanza:
Soloists,Orquesta-Escuela de la Sinfónica de Madrid. Conductor: José Antonio Montaño, Teatros del Canal de Madrid. 17.10.2009
(JMI)
New production
from
Madrid's Teatro Real in coproduction with Teatro Comunale di Treviso, Sofia's National Theatre, Fondazione Teatri di Reggio Emilia, Opera de Rouen Haute Normandie, Opera de Saint Etienne and Liege's Opera Royal de Wallonie.
Director: Elio De Capitani.
Sets: Carlo Sala.
Costumes: Ferdinando Bruni.
Lighting: Nando Frigerio.

Cast:
Rosina: Sandra Ferrández.
Baroness Irene: Susana Cordón.
Lisetta: Auxiliadora Toledano.
Count Errico: Yuri Gorodezki.
Marquis Ernesto: Pablo García López.
Masino: César San Martín.
Villotto: Károly Szemèredy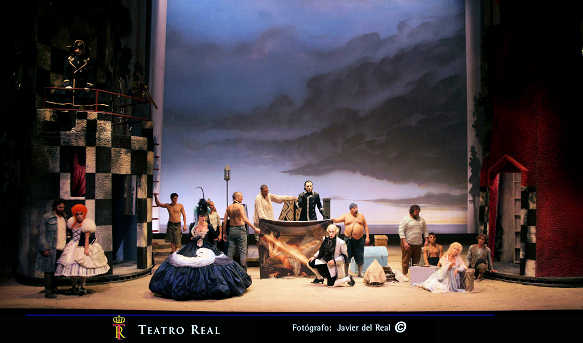 Hardly any music lover could doubt that Haydn was one of the most important composers in the history of music, particularly at the time of so-called classicism. However, his operatic work has never enjoyed great popularity, although in recent years it has been rediscovered to a large extent. In fact, during the past five years all - or almost - his operas have been on stage, although none of them have entered the 'great' repertoire. In Spain, some Haydn operas have already been performed in several different cities but the Teatro Real's commemoration of the two-hundredth anniversary of the the composer's death by presenting La Vera Costanza is still a very welcome initiative.

La Vera Costanza was composed and premiered in 1779 at the Esterhazy Palace, after which the whole score was rewritten by Haydn himself some 6 years later, because the original disappeared in a fire that took place at the Palace shortly after the opera's premiere. As a curious aside, it is said that Haydn rewrote the score entirely from memory. The work is a semi - serious opera, mixing up purely buffo passages with others which are melancholic and moving. The libretto by Francesco Putini and Pietro Travaglia narrates the love affairs of three couples, adding in an additional buffo character. In fact, all the characters satisfy the requirements of opera buffa, with the exception of the protagonist Rosina, the plebeian lover of Count Errico, and to some extent, the Count himself. The music is attractive and generally light-hearted with arias for every singer plus some outstanding ensembles. Like much else from Haydn, this is an interesting work although it lacks some of the inspiration shown by his contemporary colleagues, especially Mozart.

The plot involves the complicated relationships between a noble family rescued by fishermen after a terrible storm at sea and the villagers. Baroness Irene who owns the fishing village and the surrounding estate, the Marquis Ernesto, the fop Villotto and the baroness's maid Lisetta are rescued by Masino, his sister Rosina and other villagers The Baroness has heard that her unpredictable nephew Count Errico wants to marry Rosina and has been hoping to save face for the family by marrying her off to Villotto. The Baroness herself has promised her own hand to Ernesto if she succeeds in the plot but discovers she that not only did Errico marry Rosina five years previously, but a child was born to the couple soon after Errico's mysterious and prolonged disappearance.

After Irene attempts to persuade Rosina to accept Villotto, Rosina suffers the torment of loyalty to an absent and apparently indifferent husband. Unexpectedly (and naturally since this is opera) Errico arrives, and threatens to shoot Villotto while Ernesto attempts to support the Baroness's plan by threatening Masino unless he persuades his sister to accept her new suitor.

Errico cruelly tests his wife's constancy by speaking heartlessly to her, step by step, things go from bad to worse: Rosina begs Errico to kill her, but instead he embraces her. The Baroness is angry to find them together, and shows Errico a picture of an intended bride and when he incautiously expresses admiration, Rosina is convinced that she has lost him for ever.

In Act II Ernesto appeals to Rosina; his happiness depends on her acceptance of Villotto. His declaration that only she can bring him happiness is overheard and misconstrued by the Baroness and Errico who both turn on Rosina, as do Villotto and Lisetta, and she decides to flee. Errico, enraged by Rosina's apparent flight from him and her 'infidelity' commands Villotto to find and kill her. Lisetta realises the error and persuades Errico that Rosina is faithful. Dismayed at what he has done, Errico goes to look for her.

Rosina flees with her son to the fishing village and hides in an abandoned tower. Eventually, Errico finds a small boy alone, who leads him to Rosina: he begs forgiveness and embraces his son, defying the anger of the Baroness and Ernesto. After the Baroness makes a final attempt to divide the couple in Act III and sends Errico and Rosina forged letters, each apparently signed by the other. Both see through the trick, and they are drawn together to declare their renewed love. The Baroness finds the happily reunited family and is forced to accept Rosina as her nephew's wife. She keeps her promise to marry Ernesto, despite the social consequences of Errico and Rosina's relationship.

The production, a rare collaboration between no less than seven opera houses in Europe, including theatres in Spain, France, Belgium, Italy and Bulgaria, has stage direction by the Italian, Elio De Capitani. The production is simple, effective and funny, and conforms perfectly with what might be expected from a project of this type. The first part of the opera takes place in a fishing villae, with a house in the form of tower, where Rosina and her brother Masino live, and with a lighthouse to the right of it. In the second half, the two towers rotate away to show a forest, where Rosina and her child take refuge, while the other characters search for them. The costumes are very attractive and fun, perhaps with the exception of a poor characterization of the protagonist Rosina. Good lighting complements the production and Elio Capitani narrates the plot in a lively way. His direction of the actors is remarkable especially considering that the cast consist entirely of young singers.

The musical direction was in the hands of José Antonio Montaño, leading an equally youthful orchestra. His work is not easy to judge, since earlier performances were led by Jesus López-Cobos, who was actually responsible for the musical preparation. Having said this, I found Montaño's reading interesting, giving the score the required rhythm and lightness. The orchestra produced a very good sound.

The first performance of the opera offered a cast consisting of the winners from the Toti Dal Monte song contest in Treviso. In the performance that I attended, they had mostly been replaced by other young singers, mostly from Span, who managed the 'commoner' characters better than the noble ones.

Among the first group I should point out the young Valencian soprano Sandra Ferrández in the part of Rosina. She has an attractive and homogeneous voice and is an accomplished singer, although rather short of dramatic expressiveness as yet. Her costume, wig included, did not help her at all. Córdoba born soprano Auxiliadora Toledano, sang Lisetta, the Baroness Irene's maid and was continually very lively and great fun. Masino, Rosina's brother and boss of the fishermen, was the young baritone César San Martín, by far the most interesting voice in the cast. Hungarian baritone Karoly Szemeredy was a funny Villotto, with another very interesting voice.

As I said earlier, the 'nobles' were quite not at the same heights of excellence. Susana Cordón interpreted Baroness Irene. She is not exactly a beginner but her voice has not improved much over the last few years, since it still has a rather sour timbre and an unpleasant high register which take the edge off its more appealing qualities. Yuri Gorodezki, as Count Errico produced a light tenor voice of quite small volume and another young tenor Pablo Garcia Lopez (21 years) was Marquis Ernesto, Baroness Irene's lover: he too has rather a small voice and he needs to mature yet.

The public filled the main hall (approximately 850 spectators) of Madrid's Canal Theatres and gave a very warm reception to all the artists. The biggest applause was for César San Martín although José Antonio Montaño and the orchestra were well rewarded too.

José M Irurzun


Picture © Teatro Real, Madrid