Other Links
Editorial Board
Editor - Bill Kenny

Deputy Editor - Bob Briggs
Founder - Len Mullenger
Google Site Search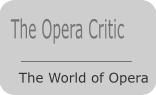 SEEN AND HEARD UK OPERA REVIEW


Korn/Ferry Opera Holland Park [2] Janáček, Kát'a Kabanova: Soloists and chorus of Opera Holland Park, City of London Sinfonia. Conductor: Stuart Stratford. Holland Park, London, 24.7.2009. (JPr)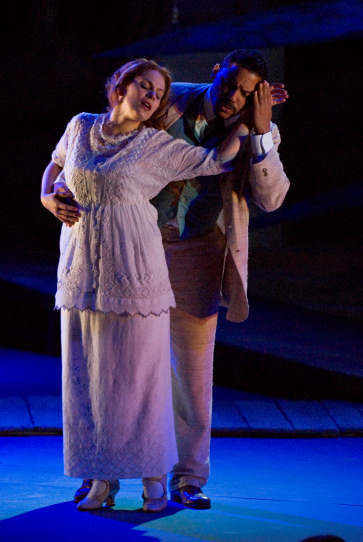 Anne-Sophie Duprels (Kát'a) and Tom Randle (Boris)


The last new production of the 2009 Opera Holland Park season is Olivia Fuch's staging of Janáček's Kát'a Kabanová. The opera is based on a translation of Alexander Ostrovsky's play The Storm and was first performed in Brno on 23 November 1921. The heroine Kát'a has a number of literary sisters, notably Anna Karenina and Emma Bovary, who both fall for the wrong man with typically tragic consequences. There is also Katerina Ismailova in Nikolai Leskov's novel Lady Macbeth of the Mtsensk's District which is the usual mix of subjugation of women, adultery, down-trodden servants, provincial life and ends with a drowning; the story of course was the basis of Shostakovich's 1934 opera. Hearing Kát'a Kabanová again reminded me very much of this later work - though of course there are no murders.

In an informative programme note, Robert Thicknesse writes 'There have been many ideas about what symbols stand for in Kát'a, most importantly the Volga itself. Is it the inexorable tide of Russian oppression, or the resistance to it? The implacable force of fate, or a polytheistic celebration of the oneness of nature? … The opera won't give you an answer. A conductor and director may try to, but the wonder of Janáček's opera is really that it takes the heroine out of a realistic play and turns her into something else: a symbol herself, who despite her fate is a representation of the possibilities of being human.' The author gives Kát'a some of the operatic characteristics of Butterfly, Carmen, Dido and Verdi's Leonora and continues with 'It's a lot to ask of a singer' before concluding by stating (very peculiarly before the fact) that 'Holland Park's incomparable Anne-Sophie Duprels … [role debut] promises to be one of the highlights of the entire opera calendar'.

I am assuming that Mr Thicknesse is not related to Miss Duprels. It is quite unusual for a programme note to build up anticipation of a particular artist quite so much: by the end of this review you will have my opinion on how it all went.

The plot seems simple enough. Kát'ais married to a real mother's boy Tichon … and what a mother he has! The Kabanicha is the mother-in-law from hell that must be the dread of every newly married woman. Kát'a encounters the handsome Boris and when their eyes meet, love at first sight strikes them both. Kát'a knows and accepts that her fate is sealed. A few moments of shared love will be followed by distress for all when she confesses and finally she must end her life with a watery suicide in the Volga. For lighter relief Kát'a and Boris's affair is paralleled by one between her sister-in-law Varvara and the schoolteacher, Kudrjáš; that has a happier ending when they elope to Moscow. There was an immediate problem with this production; I overheard a number of people in audience commenting they were unable to follow the synopsis in the programme, or the surtitles, thus compounding the strange decision to bring this work in the original Czech language to what is not a mainstream opera-going audience. Using Czech created not only a communication problem for the singers, but a more than usual difficulties problem in understanding the plot for members of the audience who had not done their homework. One typical comment I heard was 'I have no idea of the plot and I am just enjoying the music'.

Yannis Thavoris's designs ensure that Olivia Fuch's fairly traditional production looks good. Sets and costumes seemed to update the action from the time of Ostrovsky's original nineteenth-century play to that of the opera's composition. Despite the presence of a samovar in Act I, I was not certain whether we were still in Russia or Moravia or even the France of the Impressionists, Degas, Renoir or Monet. Large mirrored shards at the back of the platform seem to hint at the Volga and some rushes were seen permanently stage-left. There was a (bird?)cage-like structure for interior scenes at the Kabanovas' home in the first two acts which was replaced by the impression of a church where Kat'a's final admission of guilt takes place in Act III.
Olivia Fuchs has mentioned elsewhere that she and her designer were working in metaphors and the two walkways seen in the set were meant as crossroads - members of the rigid society staying on the walkways Boris and Kát'a stepping off them to go into the dangerous territories of love, creativity and passion. To a point this was fine but since the area off the walkways also seemed to represent the river Volga, when Tom Randle's Boris stepped into this space, he gave the distinct impression of walking on water: something compounded by his resemblance to a bearded Barack Obama!

The smaller roles were integrated well with the larger portrayals and a gesticulating chorus was used to help create Janáček's closed society where the traditions of the past stifle human feeling and individuality. The hand gestures were initially of the see/hear/speak-no-evil type but they ultimately they became accusatory, even though this was all somewhat against the overall naturalism of Olivia Fuchs's staging.

Over the first two Acts the drama builds well to Boris and Kát'a's lyrical love duet which reeks of Puccini's Madama Butterflyto which the composer was listening when he wrote this opera. Sadly what follows is a lengthy interval that dissipates any tension created and breaks up a work that would have been under two hours long if performed straight through. I suppose that the interval is necessary for the all-important bar takings,but perhaps this should be reconsidered in future years.

The approaching (emotional) storm is constantly heard in the music and it erupts in Act III before this pathetic fable concludes along with Kát'a's life at the end of the opera. Unlike the slightly disappointing Verdi from the equally small orchestra of 41 at Holland Park a few days earlier, Janáček's vision was impressively realised in this orchestral reduction and was finely performed by the City of London Sinfonia under Stuart Stratford's expressive and insistent baton. I particularly enjoyed the detail in the troika bells that underscored the departure of the soon-to-be cuckolded husband Tichon, on a business trip at the end of Act I. There was also much more to appreciate in this impressive account of the Czech composer's particularly heartfelt score. It is full of folk influences and has a craggy angularity although it is riddled with references to his own unconsummated love for Kamila Stösslová, the faithful wife of an antiques dealer.

Veteran singers Nuala Willis and Richard Angas provided interesting character studies as a bag-carrying servant Glaša and Boris's drunken, boorish uncle, Dikoj. (Who seemed incidentally, to be thoroughly enjoying the spanking the Kabinicha gives him in Act II althought the audience should not be giggling at this point in the opera.) Anne Mason was the dreadful harridan but although she sang well enough she did not have the domineering personality (the fear-factor) of some the notable Kabanichas of the past including the home-grown, Pauline Tinsley. Jeffrey Lloyd-Roberts portrayed Kabanicha's feckless, weak-willed, lumpen son, Tichon perfectly and sang sturdily enough. Singers of a younger generation, Andrew Rees and Patricia Orr, performed their puppy love spiritedly as Kudrjáš and Varvara. Tom Randle was ardent and full-throated as Boris and I look forward to hearing him sing Florestan at Holland Park in 2010.

Finally then, how did Anne Sophie Duprels do as Kát'a? Well, dramatically she was excellent and showed all of her character's vulnerability and neuroses, desire for release from her stifling existence and feelings for Boris, particularly in the compelling stage picture of her clawing out for him at the end of the Act II duet. Her youthful soprano though, as yet lacks the rapture and intensity to overcome and subdue the storm from even the small orchestra she had to contend with, although that may develop in time.

Like others in the audience, I would have been more able to empathise with Kát'a's plight had she been singing in English. Once again, I must make the point that all the singers were at a great disadvantage in having to learn and perform this work in the original language. I came to know this work first at English National Opera in the 1980's when it was conducted by a young Simon Rattle and a production as clear as this one is, could have had the ability to win a new audience for Janáček's masterpiece. But only if everyone (singers and audience) can understand what is going on and what the characters are supposed to be feeling.

Jim Pritchard

For more news of Opera Holland Park visit the website www.operahollandpark.com.

Picture © Fritz Curzon