Other Links
Editorial Board
Editor - Bill Kenny

Deputy Editor - Bob Briggs
Founder - Len Mullenger
Google Site Search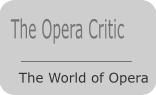 SEEN AND HEARD UK OPERA REVIEW

Puccini, La Bohème: (Sung in English) Soloists, Chorus and Orchestra of New Devon Opera, Paul Foster (conductor) Ugbrooke House, Chudleigh, Devon 25.7.2009 (BK)

Cast:

Mimi: Michaela Bloom
Musetta: Belinda Evans
Rodolpho: Arthur Swan
Marcello: Jeremy Vinogradov
Schaunard: Marcin Kopec
Santa Claus: Stephen Grimshaw
Benoit/Alcindoro: Gareth Davies
Colline: Russell Matthews
Vendor: Matt Straw
Tollgate Official: Andrew Massocchi

Production:
Direction and Set Design: Martyn Harrison
Lighting and Stage Management: Tony Greenfield
Costumes: Dressing Up Box, Essex
Conductor: Dr. Paul Foster
English Translation : Ruth and Thomas Martin
Venue: The Courtyard at Ugbrooke House (by courtesy of Lord and Lady Clifford)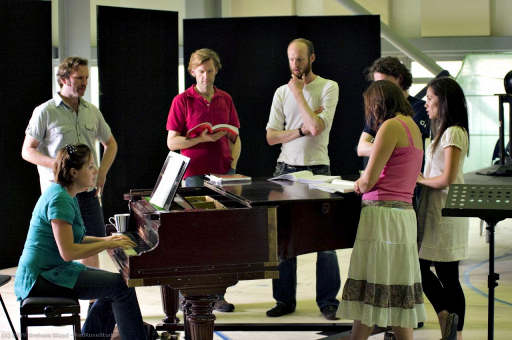 The principals in rehearsal with repetiteur Susan Stranders


Serendipity is alive and well and living at New Devon Opera. Expecting no more from an outdoor performance than some kind of 'show in the barn' - as Mickey Rooney used to say in his early films - I discovered instead a highly enjoyable production from Devon's newest - and indeed only - professional opera company. And if some things can lift the spirits unconditionally even in our doom-ridden economic climate, then this performance did all of that and more. In its own, and very distinctive way, this production provided a redefinition of the much over-used tag, 'world class opera.'

Five years ago New Devon Opera didn't exist. Its history can be seen in a recent Seen and Heard article but essentially it grew out of a series of Mozart concerts in aid of the charity 'SENSE' which provides education, training and care for people who are both deaf and blind. The concerts were held in the chapel at Ugbrooke House by courtesy of its owners Lord and Lady Clifford, and the first opera, Mozart's Magic Flute was presented in the Ugbrooke House Courtyard in 2005.

Much water has flowed liberally - and literally - in Devon since then and lots of metaphorical bridges have been crossed to set down New Devon Opera's foundations. The company has acquired a Board of Trustees and an Executive Management Group; it has persuaded no other than the Argentinian tenor José Cura to become its Patron and has committed itself to five years of productions at Ugbrooke House, while agreeing unconditionally to continue to raise funds for SENSE. Lord and Lady Clifford in their turn, have also continued to provide the facilities of Ugbrooke House for the opera productions at no charge to the company.

In the past three years, NDO has successfully produced a Rossini Barber, a Rigoletto and a Tosca and has also launched the José Cura Opera Project to help develop the skills of young singers setting out in opera. Auditions for places on the project's development courses have attracted applicants from across the world, and JCOP's activities have been so well received that the annual auditions for its opera casts now have applicants from a similar field. This international recruitment policy is NDO's first claim to providing 'world class opera' and this year we had principal singers from Australia (Mimi and Marcello) from South Africa (Rodolfo) from Poland (Schaunard) and from the UK (Musetta and Colline.) The orchestra is recruited from local professional players and the chorus combines other local professionals and particularly gifted amateurs.

Directed by English National Opera tenor Martyn Harrison, this Bohème was a no-frills and no-nonsense production set in 'a large European city in the 60s or early 70s' according to the programme. It used only the barest essential props - a few pieces of furniture, some pictures and a couple of placards, one showing the International Campaign for Nuclear Disarmament logo and another saying 'Drop Acid Not Bombs' as cues. A raised dais with a plain back wall provided the performing space at one end of the courtyard on which all of the action took place, while the 20 piece orchestra played under an awning along one of the courtyard boundaries, stage right.

There were no over-emphasised subtexts or artificial distortions of the plot in this elegantly simple presentation. The modern costumes, and the facts that Mimi wanted a new battery for her torch rather than a match, that Parpignol (rather cleverly) had become Father Christmas in the Café Momus scene and the students occasionally passing bottles of stimulating pills around (presumably to keep out the Christmas Eve cold) did not detract at all from the plot's plausibility. In fact, since most of the audience were people with vivid and probably fond(ish) memories of the chosen period, updating Luca and Illica's text proved positively beneficial in terms of personal involvement with the story: my wife said she kept thinking, 'I had a dress like that' and as for me… well, let's just say that I grew my lifelong beard about then. 'La lutte continue' and all that.

Personenregie as we say these days, was pretty well faultless too. The principals were thoroughly involved with their characters and with each other, all of them comfortable with their roles and blockings. Squeezing the substantial chorus into a limited area so that they had room to act as if they meant it, could not have been easy either. There was art concealing art here at its finest.

The next surprise was the twenty strong band and the chorus. Smartly and cleanly directed by Paul Foster, a man who obviously knows his Puccini, the orchestral sound was note perfect and emotionally involving at all turns. Tempi were carefully judged - Musetta's Waltz Song at the right speed for once - and balance with the singers was skilfully managed. Worse has been heard in many a regular opera house and the 15 voice chorus was right on the money too, apparently enjoying themselves thoroughly. They sang all of the written chorus parts (so far as I could tell without a score to hand) including the children's music in Act II.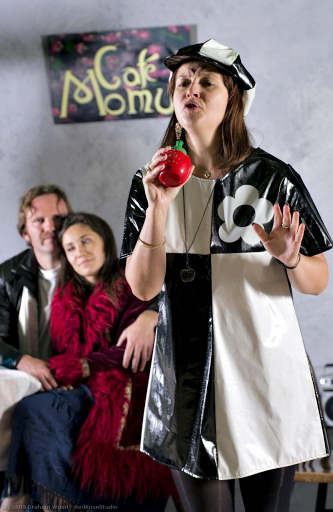 Belinda Evans (Musetta) Arthur Swan (Rodolfo) and Michaela Bloom (Mimi)

One of the greater virtues of this production was that the principals were more or less the right ages for the parts they played. They looked convincing, just for a change, and Michaela Bloom's Mimi radiated a welcome innocence that contrasted neatly with Belinda Evans' full-on brassy Musetta. Wearing a truly terrible Mary Quant -style mini – dress (made from vinyl and definitely not the one my wife owned, she swears) this was a hard boiled good time girl in the best 'tart with a heart' tradition.

Everyone sang unamplified of course in a roofless, high walled and acoustically difficult space and finding the right vocal levels seemed taxing for some of them initially. Once this problem had been overcome though, all of them settled and gave not only convincing characterisations but a thorough-going sense of pleasure in performing great music together. There were voices to watch out for among them and a few of the many highlights were Michaela Bloom's 'They call me Mimi', her duet with tenor Arthur Swan's splendidly powerful Rodolfo and Marcin Kopec's particularly sensitive portrayal of Schaunard. This was a young man behaving just as badly as the others when blackmailing Benoit out of his rent, but showing real distress at Mimi's dying moments.

To sum up the principals' performances collectively, the score sheet runs something like this:

Decent acting and role identification? Yes, definitely.
Appropriate emotional expressiveness? Certainly, in the main.
Complete technical mastery? Not entirely. Some passaggio problems here, some pitch inconsistencies there, some problems with vocal projection now and again.
Ability to communicate with an audience? Oh, yes; as that annoying dog says in those UK television insurance commercials.

And voices with real operatic potential? Of course, without any doubt. This cast is young and intelligent; they know what they need to do and they have the time to do it. The only caveat is the usual one: young voices need guarding against over-exposure and the lure of engagements that over-tax them too early.

I offer no apologies for this shameless rave and stand by my assertion that this NDO production offers most of the key ingredients for 'world class opera.' What the audience had from this mini-Garsington was a completely persuasive production that made them identify with the important elements in the drama, offered them more than decent interpretations of the music and allowed them to enjoy themselves thoroughly.

But NDO's real secret weapon is something much, much rarer. There's an enduring sense of good nature emanating from everyone in this company and a perceptible meta-pleasure is gained from watching a team of people deriving their own pleasure from giving pleasure to others, rather than simply seeking approval. Together, this team communicates a genuine humanity - both to its members and to the audience - in a most extraordinary way. That's easily 'world class' enough for me.

Bill Kenny

Pictures © Graham Wood

The New Devon Opera web site is here and their 2010 production will be Verdi's La Traviata