Other Links
Editorial Board
Editor - Bill Kenny

Deputy Editor - Bob Briggs
Founder - Len Mullenger
Google Site Search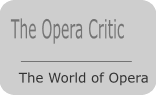 SEEN AND HEARD INTERNATIONAL OPERA REVIEW

Monteverdi, Il Ritorno d'Ulisse in Patria: Soloists, Les Arts Florissants. Conductor: William Christie. Teatro Real de Madrid. 21. 4.2009 (JMI)

New Production by Teatro Real in co - production with La Fenice, Venice.

Director: Pier Luigi Pizzi.
Sets and Costumes: Pier Luigi Pizzi.
Lighting: Sergio Rossi.

Cast:

Ulisse: Kobie Van Rensburg.
Penelope: Christine Rice.
Telemaco: Cyril Auvity.
Eumete: Joseph Cornwell.
Antinoo: Umberto Chiummo.
Anfinomo: Juan Sancho.
Pisandro: Xavier Sabata.
Eurimaco,Giove: Ed Lyon.
Melanto, Fortuna: Hanna Bayodi-Hirt.
Iro: Robert Burt.
Ericlea: Marina Rodríguez-Cusí.
L'Umana Fragilità: Terry Wey.
Minerva, Amore: Claire Debono.
Neptuno, Il Tempo: Luigi De Donato.
Giunone: Sonya Yoncheva.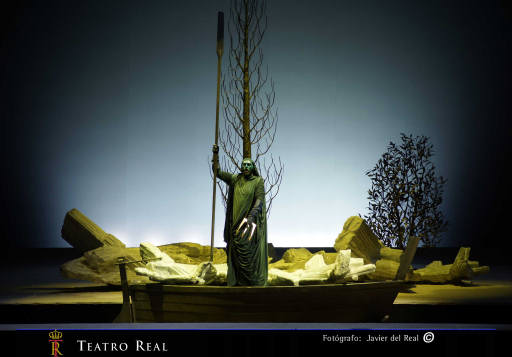 After producing L'Orfeo last year, 'Tutto Monteverdi' continues at the Teatro Real with this Ritorno d' Ulisse, and will culminate next year with L' Incoronazione di Poppea. This Monteverdi trilogy has been programmed with the tandem of William Christie as conductor and Pier Luigi Pizzi as director. There is no question that they are two prestigious figures in their respective fields and, particularly, great specialists in baroque opera, in which they have been working together for the last 25 years.

Last year, Pier Luigi Pizzi's work in L' Orfeo was very interesting in the first half and rather less so in the second. This time the whole production was less convincing than the first. The musical quality of Monteverdi is beyond any discussion, but I consider that an opera with three hours of music, in which the singing is mostly declaimed recitatives, demands an enormous amount of imagination and creativity from the director. The example of the production of L'Incoronazione di Poppea by Robert Carsen, which we saw in Barcelona less than three months ago, is a perfect case of how to bring life to the stage, using imagination. Pizzi always has been a director who has offered spectacles of high aesthetic quality, both in sets and costumes, but it is necessary to do more than this to fully succeed in Il Ritorno d'Ulisse.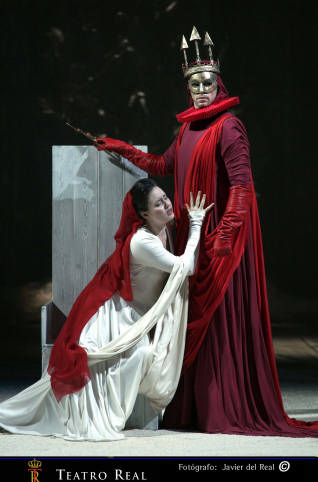 The sets fall somewhat short of what we usually expect from Pizzi, with trees and a beach in the first act, followed by more trees in Acts II and III. The possibilities that the libretto offers for the appearances of the different Gods are not developed in this production. The costumes are attractive in general, especially for the Gods and Penelope's suitors. It is in the stage direction where Pizzi's work leaves more to be desired.

William Christie and Les Arts Florissants are one of the best orchestras working in this field. Christie's direction from the harpsichord was a model of sensitivity and gentleness and without a doubt, he was the triumph of the evening. The small orchestra, composed of only 17 musicians, offered a wonderful version of the score.

The vocal casting did not offer singers of great character and though the singing was perfectly correct, it had little real distinction. The protagonist, Ulisse, was the South African tenor Kobie Van Rensburg, who replaced Dietrich Henschel, the German baritone initially announced. I believe that we lost out with the change to some degree, although Van Rensburg gave a good performance. English mezzo Christine Rice did not go much beyond acceptable accuracy as Penélope, except in the final duet with Ulisse, where she gave the best singing of the evening.
The French tenor Ciril Auvity was an outstanding Telémaco however. He has become one of best performing today in this type of repertoire and the English tenor, Joseph Cornwell, was a good Eumete. Among Penélope's suitors, Umberto Chiummo was a disappointing Antinoo, whose voice was less than attractive, at least to my ear. Juan Sancho was a good Anfinomo, whereas the countertenor Xavier Sabata was a truly remarkable Pisandro

The Gods did not do justice to their exalted rank. Another British tenor, Ed Lyon, also offered a rather unattractive voice as Eurimaco and Jupiter, while Luigi De Donato was somewhat coarse as Neptune and Time. The goddesses were much better than their gods, particularly Claire Debono as Minerva and Love. The Bulgarian soprano Sonya Yoncheva also made an impact in the very brief part of Juno.

Once again the young Moroccan Hanna Bayodi-Hirt made a good impression as Melanto and Fortune, while Marina Rodriguez-Cusí was good as Ericlea. Robert Burt overacted as Iro. Finally, countertenor Terry Wey sang with taste but not much volume as Human Fragility.

There was a full theatre, with some seats emptying during the performance and a warm final reception was given but without any great enthusiasm. The biggest ovations went to William Christie and his orchestra.

José M Irurzun

Pictures © Javier del Real

Back to Top Cumulative Index Page