Other Links
Editorial Board
Editor - Bill Kenny

Deputy Editor - Bob Briggs
Founder - Len Mullenger
Google Site Search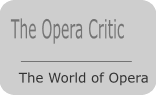 SEEN AND HEARD UK OPERA REVIEW

Verdi, La traviata: Soloists, chorus and orchestra of the Royal Opera House. Conductor: Antonio Pappano. Royal Opera House, Covent Garden, 18.6.2009. (JPr)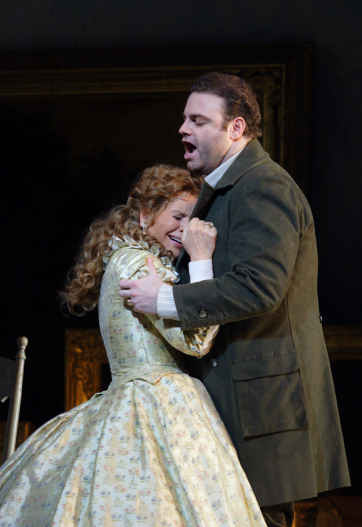 Renée Fleming (Violetta) and Joseph Calleja (Alfredo)


Up until now, as far as I am concerned at least, my opinion has always been Verdi wrote his best operas in two periods of his life - the middle years that produced Rigoletto, Il trovatore and La traviata, and the last years that produced Aida, Otello and Falstaff. It has been a revelation to hear the three works from the early 1850's over recent months at Covent Garden however and to note, as was patently evident here, how economical a composer Verdi was, recycling early musical ideas regularly. It was easy to hear - in Antonio Pappano's detailed, carefully-paced account of La traviata - just how much was owed to Il trovatore which was being rehearsed as he composed it. Il trovatore was premièred in January 1853 and Traviata a couple of months later in March. The wonderful duet at the end of La traviata Act I brings to mind clearly the Miserere from Act IV Il trovatore, and when Alfredo sings Dei miei bollenti spiriti there is something of Di quella pira about it nd the following scene between Violetta and Alfredo's father, Giorgio Germont, uses some of the 'haunting' music from Trovatore's Scene 1.

That Verdi was at the height of his powers at this time of his life is also evident in the realisation of how quickly an evening at La traviata passes. The dramatic structure of the opera is almost perfect with none of the longueurs of some of his subsequent works. Act I of course, recounts the consumptive courtesan, Violetta's attraction for the penniless aristocrat Alfredo Germont, Act II shows us the confrontation between Violetta and Alfredo's father who demands she give up the scandalous liaison with his son, followed by Alfredo denouncing Violetta at Flora's party and the last act shows their reconciliation before Violetta's death.

This production was first put on in 1994 when Georg Solti conducted Angela Gheorghiu, Frank Lopardo and Leo Nucci in the leading roles and I saw most recently early last year with Ermonela Jaho, Jonas Kaufmann and Dimitri Hvorostovsky conducted by Maurizio Benini. In neither of these performances, nor any other time I have heard it in between, has it sounded better than here with Antonio Pappano's stunning account of the score and with fine singing from the current three principals.

The staging by Richard Eyre is straightforward but atmospheric, undoubtedly helped along by Bob Crowley's monumental sets and costumes. Everything is solid and three-dimensional; admittedly Violetta's opulent salon with ice sculpture centre-piece in Act I seems a bit overpopulated with all her party-guests on stage but Violetta's country house in which her paintings are propped up against the wall ready to be sold clearly illustrates her financial plight. Later, her sparsely furnished bedroom in Act III with huge dilapidated mirror (in which Violetta cannot bear to see herself) 'mirrors' her decline perfectly. Only Act II Scene 2 with the guests partying around a huge green baize gambling table complete with overhead light and a semi-circular representation of a 'bullring' for the gypsy entertainers, seems out-of-place. It diminishes the dramatically tense Violetta/Alfredo confrontation somewhat but it is still a spectacular setting for the mock matadors, mock bulls and mock gypsies.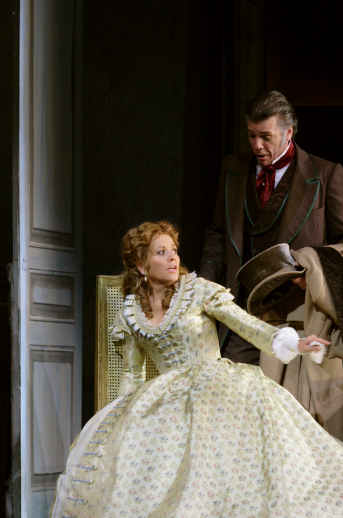 Renée Fleming (Violetta) and Thomas Hampson (Giorgio Germont)

In the spotlight - often literally - for this revival, is Renée Fleming's first Violetta for The Royal Opera. This is her first stage role at Covent Garden since singing Desdemona in 2005 although she has sung concert versions of Rusalka and Thaïs. Violetta is a role she that Ms Fleming has only just started singing in recent years and she has said that she will soon give it up. This declaration is a great shame because she has a lot to offer to the role since she must be one of the finest lyric sopranos on stage today. She cannot of course exactly portray Marie Duplessis, the inspiration for Violetta who was only 23 when she died having started her 'career' when she was 14. But what Ms Fleming gave us instead was a Violetta like Vivian Leigh as the impetuous Scarlett O'Hara in Gone with the Wind. The connection here is apposite because Ms Leigh was famous herself for her role in The Lady of the Camellias on stage. It would have been easy enough for any of the three principals to stand at the footlights and simply sing out their numbers but thankfully under Richard Eyre's direction - he has returned to oversee a revival for the first time since the original staging in 1994 - nobody did that. At the start of the second verse of 'Sempra libera', Ms Fleming flung the back doors to her salon open and sang there for a short while as if announcing to the world her need to live her life on her own terms. By this point she was settling into the role after getting through the difficulties of 'Ah fors'è lui' when for a brief moment she seemed at odds with Pappano's tempi and where there was a slightly unpleasant high note at one point. Here and throughout the rest of the evening however, she seemed to be very faithful to Verdi's phrasing yet could also abandon herself to the moment when required; exactly what great opera singing is all about, to my mind. Ms Fleming can shade her voice delicately from the most exquisite pianissimo to declamatory loudness without any artifice: at the end of the opera her 'Prendi: quest'è l'immagine' when she relinquishes her love for Alfredo to the girl he will eventually marry, was truly affecting. However, although she was bathed in radiant light as she imagined she was getting better - having her complete the notorious run around the stage felt ridiculous. She was required to wave her arms like a pantomime ghost trying to spook children at Christmas more bathos than pathos, unfortunately.

It is easy to give the impression that she was alone on stage but she was part of truly luxury casting - for once - at Covent Garden. The young Maltese tenor, Joseph Calleja, has a splendid and rare tenor voice, one that starts high and moves down smoothly without any distortion at all. He is also capable of softening a loud note and returning to full voice anger or passion without effort or unduly showing off. Some might find his quick vibrato slightly off-putting but given the overall sweetness of his voice, I didn't. Sadly there was only one verse of 'O mio rimorso!' and no top C something he could have done with ease surely? There are times when tenors should show off. His 'Parigi, o cara' with Violetta was accompanied at a leisurely pace by Pappano and was excellent. Calleja is rather tall and sturdily built and this gave his rather awkward, lovelorn interpretation an engaging appeal throughout the evening.

Most baritones turn Germont père into a rather one-dimensional character yet here he was given more depth and motivation by Thomas Hampson than is usual. Manipulative, yes - but as a loving father might well be - he only wants what is best for his son. His vehemence when he snatches Violetta's letter from his son's hand and then brutally pushes him to the ground after 'Di Provenza il mar' was palpable. Hampson sang smoothly and eloquently, though his high-lying baritone - close to low tenor - can get lost in the ensemble moments.

Jette Parker Young Artists, Monika-Evelin Liiv (Flora) and Kostas Smoriginas (Marquis d'Obigny) stood out in their small roles while another, Haoyin Xue (Gastone) was sadly out of tune. There were solidly sung vignettes from Eddie Wade as Baron Douphol and Richard Wiegold as Doctor Grenvil. Mostly everyone, including the always dependable chorus, was on top form. In addition to the good singing it was also splendidly played by the musicians of the Royal Opera House Orchestra who seem to be maintaining the high standards they have recently showed during the performances of Lohengrin and Lulu. Pappano too, excels in this music; the Prelude to Act I began with a scintillating shimmering in the strings where I heard a few snatches of Pappano's sublime Lohengrin performances at Bayreuth from about ten years ago. He has never been as good in Wagner at Covent Garden since then but here he imbues Verdi with an almost Wagner-like dramatic flow yet, while remaining alert to all of the Verdian colour and nuances available to him. He was respectful - though never over-indulgent - to his singers and so the overall performance lacked only the compelling frisson that could have elevated it from being simply very good one to something unsurpassable.

This La traviata production looks destined to remain in schedules intermittently for decades to come and indeed will have a further two revivals next season when Jaho and Gheorghiu both return as Violetta in two casts. Meanwhile tickets for this run of performances sold-out a long time ago even at the very high prices asked which stop ordinary credit-crunch affected opera-goers from ever getting to Covent Garden: very few, other than MPs on expenses can really afford to go there regularly. To compensate a little, it is good news that the Royal Opera are doing their best to show their regular good work by bringing this opera to a big screen near you on June 30th.

BP, who have supported these live relays of opera and ballet since 2000, and the Royal Opera House are to be congratulated on their continuing initiatives to bring the experience of these art forms to as many people as possible. For further details of the forthcoming big screen relays, please visit the website at www.roh.org.uk/bpbigscreens or at www.roh.org.uk/cinemas for the cinema showings. This La traviata contains everything that makes opera the great entertainment it is, so if you have the opportunity to do so please support one of the free screenings outdoors in your locality. Even if our British weather lets you down, the opera and ballet won't disappoint!

Jim Pritchard

Pictures © Catherine Ashmore

Back to Top Cumulative Index Page