Other Links
Editorial Board
Editor - Bill Kenny

Deputy Editor - Bob Briggs
Founder - Len Mullenger
Google Site Search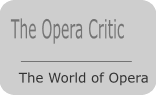 SEEN AND HEARD INTERNATIONAL OPERA REVIEW

Stravinsky, The Rake's Progress : Soloists, Orquesta y coro del Teatro Real. Conductor: Christopher Hogwood, Teatro Real de Madrid. 11. 1.2009. (JMI)
New Production from the Teatro Real, La Monnaie, Lyon, San Francisco and Covent Garden.

Director: Robert Lepage.
Sets: Carl Fillion.
Costumes: François Barbeau.
Lighting: Etienne Boucher.

Cast:

Tom Rakewell: Toby Spence.
Anne Truelove: María Bayo.
Nick Shadow: Johan Reuter.
Babá the Turk: Daniela Barcellona.
Truelove: Darren Jeffery.
Mother Goose: Julianne Young.
Sellem: Eduardo Santamaría.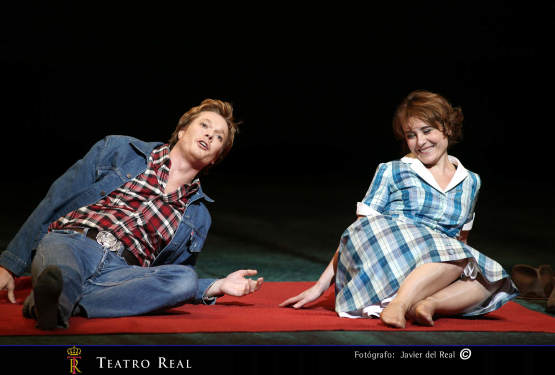 By following its established policy of giving priority to co-productions (one of the biggest successes of Antonio Moral's artistic direction) the Teatro Real offers us the well-traveled production by Canadian Robert Lepage, who conceives his work as a homage to the American cinematographic industry of the 50s, in which Stravinsky was particularly interested. The production has been reviewed already in Seen and Heard when performed San Francisco, so that some readers may be quite familiar with it. Madrid is the last stop in its tour of the different co-producers which began in April of 2007 at Brussels's La Monnaie, followed a month later by Lyon. In November 2007 it was San Francisco's turn and it arrived in London last July. The fact that so many prestigious theaters have decided to unite to commission this work from Lepage, is evidence of the importance of this Canadian director.

Lepage bases his work on a tribute to Hollywood and from the opening scene the references to famous films are continuous - we have Giant (opening scene) Psycho (Anne's journey by car), Destry Rides Again (brothel scene) Sunset Boulevard (Tom's scene) and even Anne and Tom's meeting at the premiere of a new film starring Tom and Baba the Turk. The transposition of the action to the world of cineman (Nick Shadow as a Director) makes sense and Lepage pulls off a brilliant and most colourful show much of the time, with particularly skilful use of a big screen at the back of the stage, on which images of great beauty are projected. There are many very appealing moments, specially the opening of the second part in a huge terrace with views to the sea and a large swimming pool. The production's biggest problem though is that the brilliance of the sets can impede the pure narration of the story. Sets are very original however with more than one genuine surprise and there are remarkable costumes, particularly those for Baba the Turk. In summary, it's a production that appeals to the eyes, although not totally in the service of the drama.

Despite an attractive production on stage, the musical performance left much to be desired. Christopher Hogwood offered a slow, uniformly routine reading, without any of the sense of humor that characterizes this opera. Mikhail Agrest in Oviedo offered a much more lively and interesting interpretation . The Orchestra did not have one of its better days either, once again proving the importance of the conductor. Mr. Hogwood improved in the second part, but at no point was he able to give much vivacity to the musical performance.

The protagonist, Tom Rakewell, was Toby Spence, who was simply wonderful. He has the right figure for the role, is the right age, has a pleasant voice, is an outstanding actor and always lived the character. For me, he was by far the best in the cast.

Maria Bayo was miscast as Anne Truelove. At no time could she pass as a simple teenager in love. This role comes to her too late: at 50 it is impossible to play a teenager and particularly in an opera of this kind. She was very disappointing during the first half, particularly in her great scene " No word from Tom", with problems of pitch and with some seriously uncontrolled notes at the end of the cabaletta "I go to him". She improved remarkably in the second part and specially, in the scene of the mental hospital, but in this final scene Anne is no longer the teenager which suited the the soprano from Navarra much better. Elizabeth Futral was far more convincing in Oviedo

Danish baritone Johan Reuter ably fulfilled his duty in strictly vocal terms as Nick Shadow, but he was short of humor and irony in his interpretation of this Devil. Personally, I prefer a bass or a bass-baritone better than a pure baritone. The presence of Daniela Barcellona as Baba the Turk was a kind of nice surprise however. She was convincing both as a singer and an actress and seemed to be having a very good time on stage which was immediately evident to the audience.

In the secondary roles we had a modest Darren Jeffery as Truelove, a suitable Julianne Young as Mother Goose, and a lively Eduardo Santamaría as Sellem.

This was the first performance of the run and played to a full house. There was no great enthusiasm throughout the performance and at the final bows the warmest receptions was for Toby Spence and Daniela Barcellona. Maria Bayo was well received too, despite some isolated booing from the upper floor. Surprisingly, the creative team was not on stage for their bows.

José M Irurzun



Picture © Javier del Real

Back to Top Cumulative Index Page