Other Links
Editorial Board
Editor - Bill Kenny

Deputy Editor - Bob Briggs
Founder - Len Mullenger
Google Site Search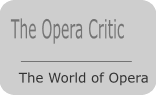 SEEN AND HEARD UK OPERA REVIEW
Garsington Opera Festival 2009 -
Martinů, Mirandolina:
Soloists, Garsington Opera Orchestra, Martin André (conductor). Garsington Manor, Oxfordshire, 28.6.2009 (MB)
Mirandolina – Juanita Lascarro
Ortensia – Mary Hegarty
Deianira – Jean Rigby
Fabrizio – Daniel Norman
The Count of Albafiorita – Mark Wilde
The Cavaliere of Ripafratta – Geoffrey Dolton
The Marquess of Forlimpopoli – Andrew Slater
Servant of the Cavaliere – Stuart Haycock
Martin Duncan (director)
Francis O'Connor (designs)
Steve Elias (choreography)
Bruno Poet (lighting)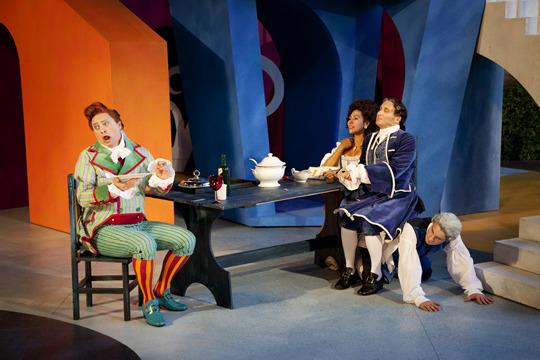 This was an enjoyable evening. Well performed and gloriously produced, Bohuslav's Martinů's final opera, Mirandolina, is receiving its first British production, at Garsington. The story, derived from Carlo Goldoni's La locandiera, has the innkeeper Mirandolina run rings around her suitors, a count and marquess and convert the absurd misogynist, the Cavaliere of Ripafratta, into a lovesick madman, before rejecting all three for her servant, Fabrizio. One might perhaps have expected a company with so impressive a record in staging Haydn's operas – seven to date, though sadly nothing since the revival of Il mondo della luna in 2000 – to have marked the bicentenary of that composer's death; one might not have been surprised to see Handel, perhaps even Purcell or Mendelssohn, have a look in. But Garsington has shown enterprise in honouring a less-celebrated anniversary, Martinů having died fifty years ago this year. In many respects, this must be applauded, although I must register two fundamental reservations. However, let us try to stick with applause for the moment.

Martin Duncan's production seeks no hidden depths in the work, for there clearly are none, but is very good fun. The individual and ensemble direction of the cast is an object lesson in such matters. Insofar as would seem humanly possible, the characters are given their own life. Their actions, reactions, and interactions are keenly observed –though the libretto, derived by the composer himself, is almost certainly of more help here than the score. Steve Elias's choreography is a great boon in this respect, providing moments of slapstick ensemble movement, not least with the two actress 'ladies', Ortensia and Deianira, which could only work if executed as well as here. Greater joy still is provided by Francis O'Connor's designs. Mirandolina's inn is presented in a riot of (neo?-)Fauvist colour, which wittingly or unwittingly reminds one that Martinů has much more in common with a vein of twentieth-century neo-classical music considerably earlier than anything one might consider characteristic of the 1950s, when the operas was written; more of that anon. And O'Connor's costumes, beautifully designed, amuse and wryly evoke a post-Great War perspective upon the eighteenth century and commedia dell'arte: the celebrated first production of Pulcinella on steroids.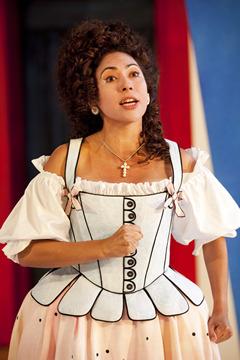 Musically, there was much to impress too. Martin André led a tight, rhythmically alert reading, full of bright, primary colours, brought into being by fine playing from all sections of the Garsington Opera Orchestra. One only really noticed a slight untidiness of ensemble at the opening of the third act because it was so uncharacteristic. (I wish I could say that the audience noticed the opening of the act, let alone the untidiness, but the appallingly ill-mannered conversation continued for only a little less long than it had into the overture.) Martinů's almost bewildering cornucopia of styles, which yet remain severely limited – I am tempted to say stunted – in expressive scope, was unerringly captured by these splendid musicians. In the title role, Juanita Lascarro struck me as ideal: alluring in every respect. She handled her tricky coloratura with ease and could certainly act – partly, of course, a tribute to her direction. Her noble suitors made the most of their comic opportunities, and then some. (It did cross my mind that, given their camp demeanour, the Count and Marquess might have been better off with each other.) Perhaps their performances, considered in purely musical terms, were less impressive, yet, given the limited rewards offered by the score, they were probably wise to concentrate upon other matters. Daniel Norman made a properly likeable Fabrizio, who deserved to emerge victorious. Mary Hegarty and Jean Rigby's characters seemed to me dramatically redundant but they once again relished the opportunity for humour, acting quite brilliantly.

And yet... As the reader will have observed, the 'fundamental reservation' to which I referred has stubbornly persisted in seeping through, so I ought now to state it explicitly. The music and indeed the work as a whole are barely worth the effort. Acting for the defence, Jan Smaczny writes, in his programme note, 'From the late 1920s, his musical style was always recognisable ... by the 1950s his musical language, while by no means eschewing harsher dissonance, is possessed of a warm tonal palette which nevertheless manages to avoid banality.' I hate to seem curmudgeonly, but I cannot recall a single instance in which the tonal palette, which seemed to me bright rather than warm, rose above banality. Nor could I recognise a single instance of 'recognisable' style; rather, we heard a melange of the most banal music of Les Six, Stravinsky minus the crucial acerbity, and, in the third act, the mildest hint that the composer was Czech. It is difficult to discern whether there was any attempt at musical characterisation; at any rate, none really shone through. Nor, for the most part, did the music even sound related to the action. With a few exceptions, one could probably have rearranged the music of different passages to different words and no one would have been any the wiser. This was not a point-making dissociation of words and text but mere note-spinning that would have made a Telemann blush. For the music is certainly of no more interest than that of those run-of-the-mill eighteenth-century composers, most considerably less interesting even than Telemann, who set Goldoni in the first instance. Few of us are interested in them, though the odd enthusiast exists; Martinů's fate, again despite a contemporary resurgence of interest from certain quarters, should probably be about the same. It is difficult to begrudge a work a British premiere. Now, however, as I recall thinking about Korngold's Das Wunder der Heliane, whose bloated pretentiousness is at least quite lacking in the relentlessly slightness of Mirandolina, it would be kinder to let it rest in peace.

None of this is helped by Jeremy Sams's translation. Such was the skill of the cast that one could hear every word, rendering the surtitles superfluous; surely, however, the titles themselves should have rendered translation superfluous. Nevertheless, translation we had to endure. Its relentless colloquialism and playing for laughs – always the least likely way to amuse – grate almost beyond endurance. I could discern no attempt at rendering or re-creating Goldoni's style. Here is an example: 'I'm getting soup, and a sandwich that someone's sat on, a smelly sandwich that someone's sat on.' Despite the delights of the production, I began to wonder at this point what on earth I was doing listening to such words and such a non-entity of a score. Shouts of 'Bastard!' jar not because they are somehow transgressive – your average three-year-old will have heard 'worse' – and not only because they simply sound silly, attention-seeking in what is supposedly an eighteenth-century context; they are also unmusical, failing to heed the composer's notes.

The wonder, then, is that the evening remained as enjoyable as it did. For that impressive achievement, great thanks should go to the performers, the production team, and to Garsington Opera itself. But the company is wisely returning to Figaro (alongside Rossini's Armida and Britten's A Midsummer Night's Dream) next year. As the Leipzig Gewandhaus has it, quoting Seneca: Res severa est verum gaudium ('True joy is a serious thing'.)

Mark Berry

For details of the last week of Garsington performances for this season, visit: http://www.garsingtonopera.org/

Pictures © Johan Persson

Back to Top Cumulative Index Page