Other Links
Editorial Board
Editor - Bill Kenny

Deputy Editor - Bob Briggs
Founder - Len Mullenger
Google Site Search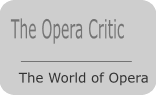 SEEN AND HEARD UK OPERA REVIEW

Wagner, Lohengrin: (Second Opinion) Soloists, chorus and orchestra of the Royal Opera House. Conductor: Semyon Bychkov. Royal Opera House, Covent Garden, 5.5.2009. (JPr)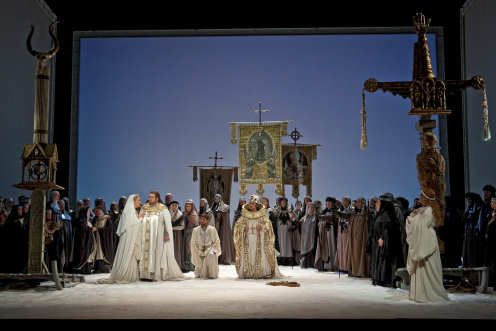 This is a 32-year-old production overloaded with Christian and pagan symbolism including strange crosses, extravagant totems, crucifixes, religious banners, skulls and reliquaries. There are also monks, nuns and angelic figures with candles in their hands that continually parade from one side of the stage to another. We are some time in Byzantium or at the court of Ivan the Terrible.

Of course this romantic opera - par excellence - by Wagner has been presented in a number of different ways. The film maker Werner Herzog's Lohengrin at Bayreuth in 1990 was spectral and inspired by Caspar David Friedrich, Tim Albery gave us a 'there is a green hill far away' 1993 production for English National Opera, Keith Warner's 1999 staging was geometrical and inspired by TS Eliot's 'The Waste Land,' and explored the duality of the characters. I saw those stagings several times whilst a recent one that I have not seen is by Stefan Herheim in Berlin, involving string puppets and showing Wagner on stage.

In my recent interview with the tenor singing Lohengrin this time, Simon O'Neill, he delightfully sums up the plot as '... about a swan, a guy, a question, a woman and that's it'. Elsa, a young princess of Brabant is accused of her brother's murder and cannot prove her innocence until the young knight Lohengrin appears arriving in a boat drawn by a swan. Lohengrin is none other than the son of Parsifal and guardian of the Holy Grail who proclaims Elsa's innocence, is prepared to fight for her honour and declares his love for her with on condition only; that she must never ask his identity or lineage. The witch Ortrud, whose lover Friedrich von Telramund accused Elsa of the fratricide, encourages Elsa to renege on her promise and urges her to ask her new the forbidden questions. The French poet Charles Baudelaire said of this opera; 'There is here great beauty in the dialogue, as so often in the operas of Wagner, soaked as they are in primitive magic, magnified by idealism, and with a solemnity that in no way reduced their natural grace' ; and he dealt with the opera's fundamental issue as 'Doubt has killed faith, and with the disappearance of faith goes happiness'.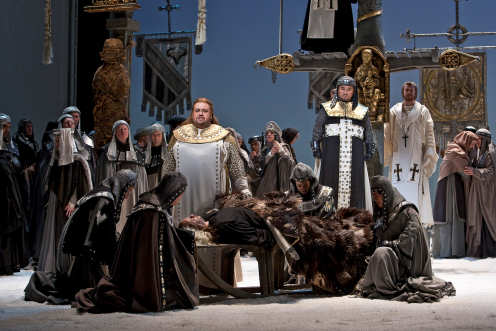 Basically the plot concerns the victory of good over evil in the conflicting worlds of the flesh and the spirit such that spiritual love overcomes earthly passion. So what is meant by 'spiritual' here? For Wagner it was the 'unconscious' and he wrote: 'Elsa is the unconscious, the involuntary (Ger: unwillkürliche) into which Lohengrin's conscious, voluntary being yearns to be redeemed: but that yearning is itself the unconscious, involuntary in Lohengrin, through which he feels akin in being to Elsa'. Wagner elsewhere also refers to Lohengrin as both saint and redeemer.

So does the conflict in this opera also become one between Wagner the artist and his audience? If we assume as many often do, including myself and Stefan Herheim, that in a Hitchcockian way Wagner puts himself, consciously or unconsciously, into all his operas then it can be considered that Lohengrin may represent Wagner as a misunderstood genius in the same way that Rienzi and Tannhäuser may represent him as a social outcast, as the Dutchman might show him as a betrayed idealist whilst Wagner / Wotan is the unheeded predictor of the future. Perhaps, but even with its philosophical meaning in some doubt, Lohengrin can still work magnificently in simple dramatic terms alone.

There has been a lot of debate on the internet about the lack of rehearsal time for this revival and this is something I do not wish to add to directly, except by adding that I have personally known a number of opera singers and a more than a few directors over the last thirty years, and the current lack of rehearsal time and the financial constraints exposed here is really nothing new. To a degree, I am pleased that Elijah Moshinsky's whistle-blowing on these topics finally reveals to opera-goers with rose-tinted spectacles the effortful realism underpinning all the supposed glamour and 'élitism' of an opera performance at Covent Garden. Particularly prominent in Moshinsky's complaints is the lack of rehearsal time with the chorus and principals, yet in these performances of Lohengrin the Royal Opera's Chorus are making an outstanding contribution: for this, chorus director Renato Balsadonna, and his assistant Stephen Westrop, deserve the highest praise.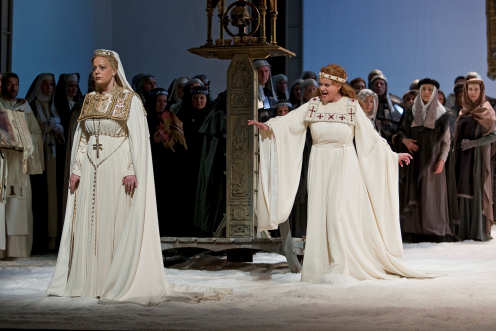 Wagner scholars fall into two camps about Lohengrin, especially on the subject of an important cut to the score. Some p

oint out

that just prior to the

opera's

first performance in August 1850, Wagner wrote to its conductor, his friend

Franz Liszt, to suggest shortening the second part of Lohengrin's Grail Narration ('In fernem Land). Wagner was influenced by doubts about his tenor

soloist

, and worried that the full version with an inadequate performance would not make its musical mark; he felt it might cause a 'cooling off' in the drama just as it was reaching its climax.

Since then

,

the cut has been observed in almost all performances

and all recordings

,

except those by Leinsdorf, Barenboim and the

one

recently released one on the Profil label

by

the conductor of these
Covent Garden performances, Semyon Bychkov

, which also features

Johan Botha,

and

Petra Lang. These conductors I am sure

,

would point to

another quotation in which

Wagner wrote

,

'Present the opera as it is, cut nothing!'

While some s

ubsequent performances c

ontinued to c

ut the opera because of its length and further difficulty for the singers

, after hearing

an unabridged version performed conducted by the composer himself in 1875, a contemporary critic pointed out 'All … the newly added parts – appeared to be altogether necessary for the complete psychological development of the whole …'.


Wagner's uncharacteristic lack of confidence in the conclusion to Lohengrin was, debatably, a mistake. With the cuts restored, you gain some wonderful music and

the work

is more effective dramatically. The characters on-stage - and consequently the audience in the opera house - have more time to appreciate the marvellous nature of Lohengrin and the Grail, before confronting the sad reality that they will lose

both

.

We

are used

these days

to 'the director's cut'

in DVDs,

and here

,

restoring

the entire score

becomes rather like

presenting 'the composer's original concept'. Hearing two performances of the 'new ending' in quick succession I am now of the opinion that everything needs to be there except that second verse of the Grail Narration

;

that really adds nothing to what we already know and does indeed stop the drama – so Wagner's second thoughts on this were probably correct.


Tempus fugit
.

I was

at Covent Garden

32 years ago when Elijah Moshinsky's production was first staged in 1977 with René Kollo

singing Lohengrin.

I saw it subsequently in Manchester in 1981 with Peter Hoffmann and then during other revivals including

one in

1997 when Gergiev conducted a cast that included an idiomatic portrayal of Ortrud by Gwyneth Jones. (Edith Haller, who sings Elsa in this production, reminded me – and at least one

other

critic - of Gwyneth Jones

even though

Elsa is a role, I believe,

that

she never actually sang on stage.) If Moshinsky's production is visually disappointing to some twenty-first century eyes

-

particularly because of John Napier's sets - or more realistically the lack of

them

- then

, since

there is no significant disappointment in the music, the orchestra or the singing of chorus and principals

,

I

have

c

o

me to the opinion that to experience some of the finest Wagner heard in London since those evenings in the 1970

s

or 80

s

conducted by Reginald Goodall

,

the mind

does not need

to be intellectually challenged

by puzzling over what

the production is all about. Moshinsky gives us the fetishism, taboos and conflict between old and new religions

,

and

even

possibly dwells on other prohibited behaviour

,

if we consider the lingering kiss between Elsa and her brother Gottfried

after

his reappearance at the end of the opera. Unfortunately

though

the use of the gauzes to show the swan silhouette and then distanc

ing

Elsa from Lohengrin

, does mean that

the production show

s

its age.

The rapport

achieved by

Semyon Bychkov, recently chief conductor of the WDR Sinfonieorchester Köln,

with the Royal Opera House Orchestra is clear from the unanimous acclamation the players give him on his return to the podium at the start of Act III.

The music

has a vibrant energy that make

s

a long evening fly by and leaving you wanting to hear it all again. The orchestral sound has a crystalline purity, there is a crackling dramatic intensity to Ortrud's oaths of vengeance, a sensuality and lingering romanticism to personal moments, the triumphant pomp of ceremonial celebrations and all the mystery and quasi-religiosity the music demands. Maestro Bychkov elicits a very rare sheen to the strings, wonderful lustre from the woodwinds and an impeccable surround-sound balance from the horns in the Grand Tier boxes and the off-stage musicians with those in the pit at the appropriate moments.

He

has spoken about wanting to be faithful to the score and has written about how he has tried to adhere to Wagner's metronome markings;

both measures

, like

reinstating

the cuts, ha

ve

apparently been against the wishes of his director.

Personally,

I see these as 'plus points'

making

these performances of even a 32-year-old production essential for any Wagnerian.

Simon O'Neill shares the role of the

S

wan

K

night with Johan Botha in this series of performances. Botha has – because of his bulk – a tremendous solidity about his performance, he cannot kneel, his sword-fighting was risible yet there was statuesque nobility to his portrayal of Lohengrin.

His voice was ardent, he never forced it and he sang with a greater depth of feeling and embodied a more visionary loneliness than Simon O'Neill managed. This is not a surprising for this was Simon O'Neill's role debut and his tenor was fresh, true, firm and focussed,
with radiant high As. However as he is more athletic and mobile than Mr Botha

,

he was

also

more realistically capable of acting out his deep sympathy for Elsa and her plight. Considering the pressure of such a debut – and at
Covent Garden
of all places – Mr O'Neill is to be commended

on

his auspicious achievement. It is a portrayal that can only get stronger as it embraces more of Wagner's vision

for

this work.

Edith Haller portrays a slightly less convincing Elsa, her phrasing rather too careful and unvaried. By this – the third performance – she had gained some confidence and there were no vocal mishaps

:

there is an appealing side to her awkwardness and innocence but she is rather nondescript in the role. Falk Struckmann who returned after illness to the other performance I saw

,

snarled away with compelling arrogance as Telramund, his imposing voice declaiming strongly against the wrongful injustices

he feels

in his life. Here Gerd Grochowski had a different approach it seemed, he was a much weaker character with a 'Why is the world against me?' self-defeatist attitude. His voice also lacked Mr Struckmann's acerbic tone and authority. Kwangchul Youn gave his Heinrich I a more fatherly side than seems appropriate for the dignity of

a

king who expects unquestioning obedience

,

and his eloquent voice lacks the dark vocal authority demanded

by the role

. Neither was Boaz Daniel's Herald notably stentorian enough to make the impression th

at this

small

past

sometimes

does

with other singers.

A

ll voices blended stunningly

however

in the ensemble towards the end of Act II.



Like

many other critics

, I found that

Petra Lang in the role of Ortrud, Elsa's nemesis,

'stole the show'. Nobody messes with this wicked witch! Petra Lang has a magnetic stage presence and the ability to express

with both

her voice and acting

,

every emotion from fawning submission t

hrough to

the vengeful fury of th

is

pagan sorceress

,

with stunning realism. S
he invests the part with the intensity of Lady Macbeth and although her Ortrud might be equalled by other singers

,

it cannot be better portrayed today.

T

he remarkable range of her voice

is c

ontinually impressive from the eloquence of her darker mezzo tones to laser-bright top notes in which I

fancied I could

hear Isolde - if not Brünnhilde. Her 'aria' 'Entweihte Götter!' when she appeals to Wotan and Freia for their help in

obtaining

her revenge was a triumph of technique and theatricality

:

a small gem in the scintillating brilliance of this unmissable Lohengrin.


Jim Pritchard


Simon O'Neill sings Lohengrin again on 16th May - for further information on the remaining performances please see the ROH website
http://www.roh.org.uk/.


Johan Botha as Lohengrin, Kwangchul Youn as King Henry and Petra Lang as Ortrud sing under Semyon Bychkov's baton on the new complete Lohengrin recording on the Profil label (
PRF 09004).



Pictures © Clive Barda
Ba
ck to Top
Cumulative Index Page