Other Links
Editorial Board
Editor - Bill Kenny

Deputy Editor - Bob Briggs
Founder - Len Mullenger
Google Site Search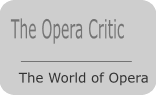 SEEN AND HEARD UK OPERA REVIEW

Wagner, Der Fliegende Holländer: (New Production Premiere) Soloists, Orchestra and Chorus of Universal Opera, Marcus Tenfold (conductor) The Stadium of Light, Chipping Sodbury, UK. 30.3.2009 (RoH)

Director: Fiona Bombazine
Sets and Lighting: Marvellous Designs of Goole
Costumes: Gladys Stitchworthy (Ms) and the Crackington Haven Women's Institute

Cast:

Der Holländer: Pigsley Bummel
Senta: Irina Wodelova
Daland: Artur Pnimm
Mary: Ron Palermo
Erik: Hans -Peter Ringman
Steersman: Max Brute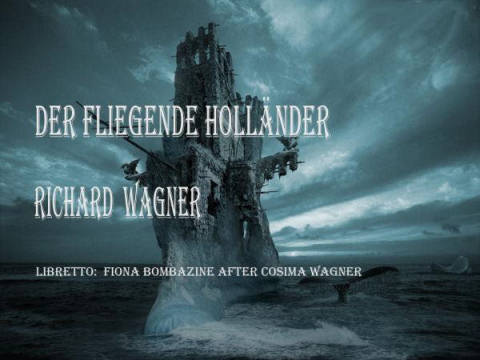 Picture © Marvellous Designs of Goole


According to Fiona Bombazine, post-feminist director of Universal Opera's Glastonbury Parsifal in 2005, Cosima Wagner had some very original views on her husband's achievements, especially in later life. Always a woman who knew her own mind and who followed her own instincts, it seems that after she assumed control of the Bayreuth Festival in 1883 Frau Wagner quickly became remarkably modern in her outlook. She followed elements of the burgeoning women's movements across Europe and America with particularly keen enthusiasm and reportedly was once heard to remark in public, 'If Marie Stopes had been born forty years earlier, my life could have been very different.'

Ms Bombazine bases her views on an unauthenticated biography of Frau Wagner written by someone that she coyly calls, 'Frau Wagner's Gentleman'. This volume claims that not only did Frau Wagner embrace The Rational Dress Reform movement sparked off by the American Mrs. Amelia Bloomer in the middle 1800s, but was in fact also keen on Women's Suffrage, corresponding frequently in English with Emmeline Pankhurst. Most startlingly though, Ms Bombazine claims that Frau Wagner took to annotating the scores for her late husband's music dramas by about 1890, littering their pages with comments like 'Piffle' and 'No!' at appropriate points in the text. Der Fliegende Holländer receives some particularly ripe commentary, especially the character Senta, against whose name in the dramatis personae Frau Wagner has written 'That awful Minna Planer person. Humbug!'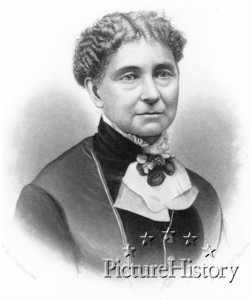 Mrs. Amelia Bloomer


In the programme notes, Ms Bombazine says, "It is obvious that Frau Wagner came to believe that her husband's long held view that man's redemption was only possible through the love of self-sacrificing women was less than the whole story, Schopenhauer notwithstanding. At the point where Senta leaps to her doom, Frau Wagner adds the note 'And what about us women then, Ricky? 'in block capitals to the marked score. 'This', says Bombazine, 'was the jumping off point for my konzept.'



So how does Bombazine's new interpretation of the Holländer avoid a bitter end? The sordid tale of a girl sold by her father for a treasure chest of jewels is hardly promising material for women today and in view of this, it is actually surprising that the work continues to be performed. Now however, thanks to Frau Wagner, a new and stunningly optimistic version of events can be presented instead.

During the first act, Senta is indeed a repressed girl working in her father's canning factory. She sits amongst the busy hum of the typing pool/call centre and dreams of the Dutchman only because he is risky -an emotional escape from the mediocrity around her. The other girls are presented as office worker clones, all saying exactly the same things at the same time and reading Hello magazine in their spare moments. The remarkable Ron Palermo plays Mary - a man whose one objective is to see that conformity is never breached, and that everyone in the office remains fully committed to the acquisition of money regardless of how it is made.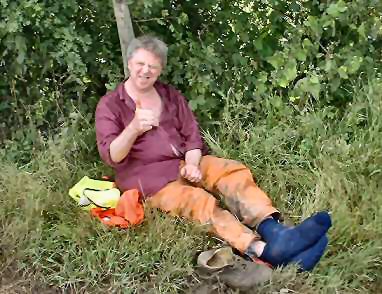 Hans - Peter Ringman in rehearsal


Hans -Peter Ringman's Erik is therefore a young man in a white shirt and tie, whose chief interests seem to be his hair gel, ensuring that his shoes are clean and checking the stock market on his I -Phone in order to keep Daland happy. But the Dutchman (Pigsley Bummel) is a different kettle of fish. He turns out to be Captain Ahab pursuing Moby Dick until death, sailing the northern seas with a ship and crew reeking of whale oil, complete with Steersman and Chief Harpoonier Queequeg (Max Brute). It is the magnificent haul of barrels of oil and meat which proves irresistible to the worldly Daland (Artur Pnimm) who sees a fat profit in them.

The Dutchman comes to Norway because he has been harried from every other western sea, to seek refuge in one of the few places where whales are still hunted and has a market for the rich contents of his overflowing hold. But the corrupting effects of wealth are actually everywhere in this production and the contrast between the Dutchman and Daland is diminished, except that the Dutchman is obsessed by the Great White Whale.

So what of Senta, the heroine who is meant to redeem the Dutchman through selfless love? Can she stand a chance, or is she as doomed as the rest, including the man she believes she loves in her peculiar and apparently insane way?

Yes, she can! - because this Dutchman comes from President Obama's world where anything is possible. For years, Senta has been quietly going mad conforming to the world around her, using the idea of the Dutchman as her escape route. On discovering that he is just another whale murderer, Senta (who has secretly been a vegan since childhood) suffers the sort of blow to her ego which would have sent many a heroine pining to the grave. But spurred on by Cosima Wagner's vision, she achieves a moment of enlightenment and with fierce passion converts the Dutchman to a way of thinking which he could never have dreamed of without her guidance. 'Call me Ishmael,' she cries out in (or after taking) extacy.

Rather than leap to her death, Senta rushes away from her family (and the boring Erik) to join her Dutchman on board a cleansed and restored ship, with a crew of healthy people all intent on achieving one goal - combatting global warming. Casting aside her stilettos and tight suit as she runs, she is clad by her crew-mates in homespun and stripey socks and the Dutchman's ship Pequod becomes the 'Rainbow Warrior II' . With rainbow sails unfurled, the Steersman sets course for an off-shore oil rig in the distance.

Another remarkable achievement for the ever astounding Ms Bombazine. There was not a dry eye in the packed Chipping Sodbury Stadium of Light and the storm of applause following the stunned silence was deafening.

Rosie Hughes

For production pictures and details of further performances Click Here

Back to Top Cumulative Index Page