Other Links
Editorial Board
Editor - Bill Kenny

Deputy Editor - Bob Briggs
Founder - Len Mullenger
Google Site Search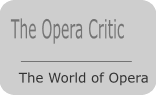 SEEN AND HEARD INTERNATIONAL CONCERT REVIEW

Schubert, Mozart, Schumann: Lilit Grigoryan (piano), Steinway-Haus Hamburg, 28.5.2009 (TKT)

Schubert: Impromptu in C minor, op. 90, D. 899
Mozart: #9; Sonata No. 18 in D major, K. 576
Schumann: Sonata No. 1 in F sharp minor, op. 11


Born in Armenia's capital Yerevan in 1985, Lilit Grigoryan has given numerous recitals on five continents and earned a number of awards in national and international piano competitions. Two months ago she performed a triumphant concert at the Salle Cortot in Paris. And yet, she is not a famous pianist by any stretch of the imagination - which is fortunate in a way, as she still plays in the smaller concert halls with their more personal and intimate settings. It doesn't take a prophet to predict that this is going to change before long.

If it does, we also have to thank the London-based Keyboard Charitable Trust, a foundation co-founded by Claudio Abbado, Alfred Brendel, and others, which is dedicated to finding concert venues for highly talented young keyboard players by organizing showcase concerts. The Trust depends entirely on private donations.

Lilit Grigoryan has it all - the magic touch, the sensitivity, the intelligence, depth, technique, sense of drama, as well as the emotional and musical range. Here is an artist to whom music is first nature. At her first recital at the Steinway-Haus a year and a half ago Grigoryan had performed music from Bach to three 20th-century composers. Her new program is dedicated to German Classicism and Romanticism, consisting of works she will play at next month's Géza Anda piano competition.

Schubert's C minor impromptu is not an excruciatingly difficult piece from a technical point of view. The challenge here is to take the many different variations of the work's one major idea, explore them in all their nuances, and form them into one consistent whole. Lilit Grigoryan had the audience spellbound the moment she touched the piano. She did not play the main theme like a funeral march but rather with a quiet sadness and wistfulness which was her starting point for telling us a story, giving passages which can so easily sound repetitive dramatic development. Yes, quiet waters do run deep.

Mozart's D major sonata represents one of the composer's peaks of his compositions for piano solo. At times frolicsome, even cheeky, it also contains sublime beauty, requiring extreme technical facility and maturity and a full tone even in the work's tender moments. There were two brief instances where Grigoryan seemed to lose her concentration - but remarkably, there was never any danger of being thrown off course, neither for her nor for the audience, as we were all safely carried by the spirit of the sonata as brought to life by this astonishing pianist.

The most challenging work of the evening was no doubt Schumann's first piano sonata, a fantasy of unabashed romanticism. Schumann began composing it when he was Lilit Grigoryan's age and revised it some ten years later. He was already in love with Clara Wieck, but his future father-in-law's fierce opposition to her liaison with the young composer had not yet reached the point where he strictly forbade any contact between the two. Schumann's "gloomiest period" of his life (his words) were still ahead of him. Highly complex (Schumann was also struggling with his ambiguous sexuality), this fantasy contains themes of love and yearning, solitude and hope, is full of impetuosity and lyricism, and contains monologs as well as dialogs. Ever the musical poet, Schumann also weaved quotations into this intricate work - from his own love song "An Anna" and from Clara's "Witch's Dance" - which in Grigoryan's structurally crystal-clear interpretation became a meaningful whole. Even the most powerful emotions never sounded brutal or forced, and we never got lost in them.

A brilliant performance of one of Liszt's Transcendental Etudes and two transcribed pieces from Gayaneh, the ballet by Grigoryan's compatriot Khachaturian (yes, including the Sabre Dance), were the encores that ended one of the musical highlights of this season.

Thomas K Thornton


Back to Top Cumulative Index Page