Other Links
Editorial Board
Editor - Bill Kenny

Deputy Editor - Bob Briggs
Founder - Len Mullenger
Google Site Search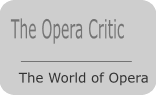 SEEN AND HEARD INTERNATIONAL OPERA REVIEW

Wagner, Götterdämmerung: Soloists, Orquestra de la Comunitat Valenciana. Coro de la Generalitat Valenciana, Conductor: Zubin Mehta, Palau de les Arts de Valencia. 30. 5.2009 (JMI)

New Production Palau de les Arts and Maggio Musicale Florentino.
Direction: La Fura dels Baus- Carlus Padrissa.
Video Projections: Franc Aleu.
Sets: Roland Olbeter.
Costumes: Chu Uroz.
Lighting: Peter van Praet.

Cast:
Siegfried: Lance Ryan.
Brünnhilde: Jennifer Wilson.
Hagen: Matti Salminen.
Gutrune: Elisabete Matos.
Gunther: Ralf Lukas.
Alberich: Franz-Josef Kapelmann
Waltraute: Catherine Wyn-Rogers.
First Norn: Daniela Denschlag.
Second Norn: Pilar Vázquez.
Third Norn: Eugenia Bethencourt.
Woglinde: Silvia Vázquez.
Wellgunde: Ann-Katrin Naidu.
Flosshilde: Marina Prudenskaya.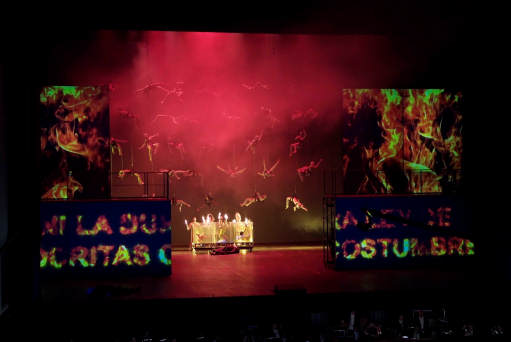 With these performances of Götterdämmerung the Palau de les Arts brings the Wagner tetralogy to its climax; a most important project crowned with great success and one that has raised huge expectations both at national and international levels. As a coda to the project, two cycles of the Ring of the Nibelung will be offered during the month of June.

In a pre-performance press conference with the Catalan theatre production company La Fura dels Baus, a prestigious Spanish critic asked its chief Carlus Padrissa, whether he was aware that this production is one of the three most important in the history of the Ring, together with those by Wieland Wagner and Patrice Chereau. I will not go that far in my appreciation of La Fura's work, but it is clear that this production is certainly one of the most important of the last few years. It is little wonder, then, that the production attracted so many Wagnerians from all over the world.

Ever since Das Rheingold, La Fura's production has been characterized by the frequent use of video projections, some of great beauty, to the point that the real hero of this production becomes Franc Aleu, the person who created them. At some point during the first three operas though, I had the impression that La Fura has some kind of 'vacuum phobia' and cannot accept the idea of having a only a couple of singers on stage without any other kind of extra presence.

This was particularly exaggerated in Götterdämmerung, where the projections were almost ceaseless, to the point of becoming annoying and distracting. Together with some excellent scenes, such as Siegfried's Funeral (his corpse taken through the theatre on the shoulders of extras, while we were shown the orchestra on a big screen), or the brilliant Brünnhilde's Immolation, others were less successful.

The Gibichungs are shown here as the incarnation of the capitalist society at its worst, and the beginning of Act II with Alberich on a crane far above the stage with Hagen underneath him behind which films of industrial images are projected, loses all the tenebrous mystery that this scene demands. Something similar happens in the scene where the two Valkyries meet, where we miss the intimacy and emotion that the encounter needs.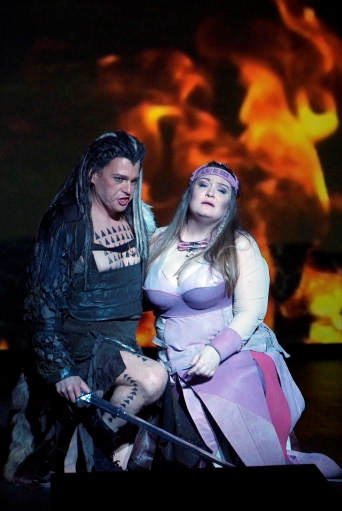 Although it is just a question of personal taste, I prefer to listen to the music of Siegfried's Journey with a drop curtain, and not with Siegfried on a boat, moved by the La Fura troupe from underneath. I am sure that this production has great imagination, modernism and brilliance, but it also needs a certain amount of calm on the part of La Fura, since an excess of projections and ideas is not always a guarantee of effective staging, however innovative it might be.

There are no sets as such, except for stage props which are very well handled but again, this requires lots of people to be on stage, which can be distracting. The costumes are rather arbitrary, but always attractive. Finally though, the Peter van Praet'a lighting is excellent throughout and La Fura finishes the production with a plea to the Gods to let humans live out their loves.

Zubin Mehta's musical direction of this huge score was customarily excellent. To my mind, he is one of the best conductors in the world and it is obvious that we can usually rely on him to exceed the more ordinary run of expectations. However, while his interpretation of Götterdämmerung was as brilliant as could be wished, it was not quite as deep and moving as one might hope. There were many moments in his direction where one could not help but admire him, but in the most intimate passages he did not reach the same level of excellence. Zubin Mehta was unsurpassable in Act III, magnificent, gaining a wonderful response from an outstanding orchestra which is, without a doubt, the best in Spain and now comparable to the top orchestras in Europe. An additional very pleasant surprise was the sound of the Chorus, which was reinforced on this occasion. In sum, this was a great musical performance but, in my opinion, lacking sufficient tenderness to reach truly great heights.

The American tenor Lance Ryan was a Siegfried full of vitality who coped very well with the prodigious difficulties of his role and the way he sang the narration which precedes his death was worthy of very high praise. Perhaps his voice is not as dramatic as one might wish, but he is a true discovery in this role, and I sincerely hope he does not sing it too often, too soon. I would like to hear more from him in thr future.

Brünnhilde was once again sung by Jennifer Wilson, following her previous performances in Die Walküre and Siegfried. Her performance was good although her voice is not so good at the extremes of the range - a little weak at the bottom particularly - and she is arguably rather short on emotion at times. She was at her best in the vengeance scene, while at the Immolation she was very powerful but not so quite moving. Even so, Ms Wilson is a powerful Brünnhilde, who should mature to become a great one.

Matti Salminen was Hagen; and it is difficult to imagine a more convincing interpretation than this veteran artist gave us. His voice is huge in quantity and quality. How one could easily hate this Hagen! I could only admire Salminen's singing however and whilst it is true that his top notes are no longer as they once were, none of this dims a magnificent performance

Elisabete Matos proved again with Gutrune that she is a most competent soprano, worthy of much more attention from the great opera houses. Hers was an excellent interpretation though sadly however, Ralf Lukas was a under - par Gunther in vocal terms.

Waltraute is a true gift for any mezzo soprano and Catherine Wyn-Rogers was a good interpreter, although again rather short on emotion for my taste. Franz-Josef Kapellmann (as usual) was a sonorous and worthy Alberich and both trios of Norns and Rhinemaidens completed an excellent evening.

The house was full with a very gratified audience. There were ovations and loud cheers for Jennifer Wilson, Matti Salminen and Zubin Mehta, who brought the orchestra on to the stage to let them take their ovation. Both Lance Ryan and Elisabete Matos and the creative crew were also very warmly received.

Within a couple of weeks I will have the opportunity to see the complete cycle, and perhaps then my conclusions may change. If so, I will let you know!

José M Irurzun

Pictures courtesy of the Palau de les Arts Valencia

Back to Top Cumulative Index Page