Other Links
Editorial Board
Editor - Bill Kenny

Deputy Editor - Bob Briggs
Founder - Len Mullenger
Google Site Search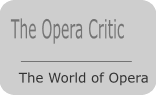 SEEN AND HEARD INTERNATIONAL CONCERT REVIEW

Janáček, Szymanowski, Stravinsky: Chicago Symphony Orchestra, Frank Peter Zimmermann (violin), Soloists, Pierre Boulez (conductor), Carnegie Hall, New York, 9.3.2009 (BH)

Janáček: Sinfonietta (1926)
Szymanowski: Violin Concerto No. 1, Op. 35 (1916)
Stravinsky: Pulcinella, Ballet in One Act with Song (1919-1920)


In mock-indignance, a friend looked at the huge roster of extra trumpet players for Janáček's Sinfonietta and said, "I didn't realize we were getting a pickup band!" The evening was the first of two with Pierre Boulez and the Chicago Symphony Orchestra—and here, eight more players culled from ensembles in Pittsburgh, Washington, DC, Houston, the MET, and Chicago's Civic Orchestra. There was even a noted Broadway trumpeter, Rick Henly. For the Sinfonietta, I counted nine trumpets standing against the back wall of the stage. Later, when the majestic fanfare returns, the number had increased to a dozen.

The piece, written just two years before the composer's death, seems ahead of its time, with echoes of minimalism and a freewheeling structure of seemingly disparate parts. Each of its five movements is orchestrated differently, adding to (perhaps) an initial sense of slight disorientation. Ultimately the music has a directness that wins over all—a purity that sometimes occurs when a composer late in life has found his voice and is able to cast others aside. Boulez paid particular attention to the sudden metric shifts that further create the impression of huge, unrelated blocks of sound strung together, and the Chicago musicians (not just the brass contingent) seized the moment with unusual commitment and precision.

For some listeners, however, the highlight may have been a rare reading of Karol Szymanowski's First Violin Concerto, given a magical performance by Frank Peter Zimmermann. The violin enters on a high note into a seething wonderland in the orchestra, and most of the time maintains its eagle's nest vantage point. Often the violinist is in serene opposition to the orchestra, which is sparingly used but still finds time to flare up in gigantic late-Romantic washes of sound. Near the end is a long, quiet cadenza, for which Zimmermann had the audience in rapt silence. As the eruptions in the orchestra subside, the violin re-enters with a mere wisp—and with a soft pizzicato from the cellos it's all over. It is a mystery to me, why this piece is not programmed more often.

Stravinsky's Pulcinella, despite some immaculate playing, somehow lacked the joie de vivre that David Robertson and the Juilliard Orchestra brought to the Suite at the reopening of Alice Tully Hall a few weeks ago. Some have noted Boulez's historic resistance to Stravinsky's neo-classicism, which may or may not have played a part. The three soloists were excellent and game: mezzo-soprano Roxana Constantinescu, tenor Nicholas Phan, and bass-baritone Kyle Ketelsen. The agile orchestra was able to capture all of the composer's engrossing colors (a duet for soprano and tenor nods to Scheherazade), and the singers got high marks for diction, especially tenor Phan in the rapid-moving "Una te fa la 'nzemprece" ("There are those who feign innocence").

But perhaps I am happiest that Janáček has caught the maestro's attention, coupled with the impressive Chicago forces. I haven't yet experienced Boulez's highly praised work in From the House of the Dead, but I hope this represents a significant new path in his unusual career.

Bruce Hodges


Back to Top Cumulative Index Page